"The Rookie" & Afton Williamson: ABC Acts Like They're New at This [OPINION]
On August 14, the folks at ABC's The Rookie posted a new tweet for the first time since star Afton Williamson's August 4 allegations of racism, sexual harassment, and sexual assault against the production. The retweet – the first action on the show's official twitter account in two weeks is a TV Insider cast interview from San Diego Comic-Con (SDCC). Williamson, who quit the show in response to the alleged horrific treatment, was obviously not featured. The remaining cast, however, are upbeat, positive, and joking around about being killed off on the show. While this type of tweet is routine in the lead up to a fall season premier, the timing and tone are – at best – questionable.
After all, it is Nathan Fillion who is supposed to be acting as "the rookie"… not ABC.
ABC Entertainment President Karey Burke's recent comments at the Television Critics Association (TCA) summer press event regarding Williamson's allegations were the first (and only) public statement from the network or the show. Burke stated that she was "confused" and "frustrated" and "waiting for answers" from the Entertainment One independent investigation into the matter.
However, in the days and weeks since Williamson came forward and Burke made her initial statement, no one from ABC or The Rookie has attempted to reassure fans. There have been zero public statements of support from Williamson's castmates. Fillion not only the show's star but also an executive producer, has not addressed the issue – even with the beating he's taken on social media. Showrunner Alexi Hawley – who Williamson names directly in her claims – has not surpridingly remained silent.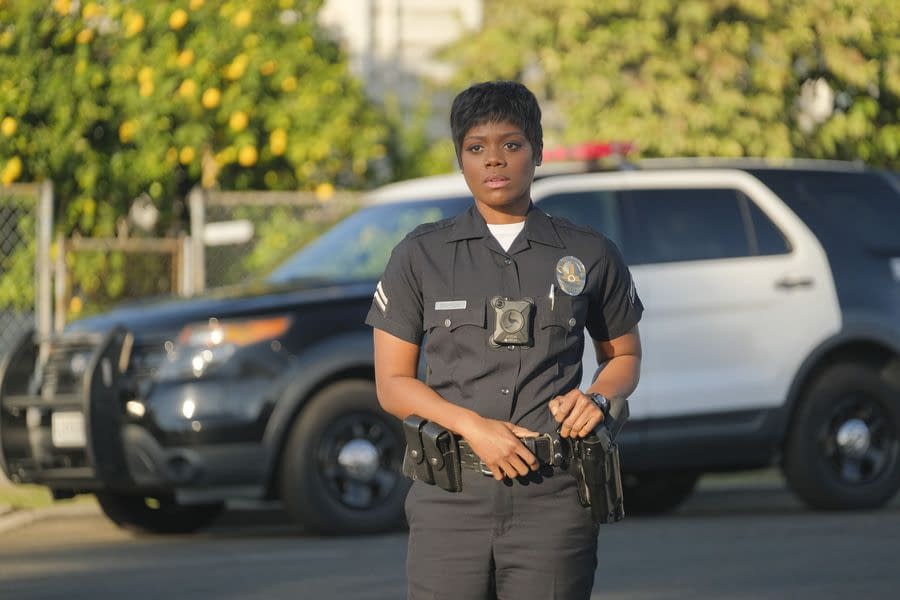 With many considering Williamson the breakout star of the show's first season, fans are waiting for someone to address the controversy. Even if the entire cast is contractually obligated to remain silent, you would think that an official statement could been issued. Instead, the public relations/crisis management team behind The Rookie chose a lighthearted, giggly video about love triangles and short sleeves to break their radio silence.
The move is amateur at best, a sign the network sacrifice empathy for series promotion at worst – either way, both unworthy of a large network like ABC and a multimedia corporation like The Walt Disney Company.
The Rookie fans, who fought hard to get the show renewed, deserve better.
So does Afton Williamson.