The Rookie S05E15 Preview; Could Lakers Pride Spell Chenford End?
Along with a preview for ABC's The Rookie S05E15 "The Con," we have a fun featurette with the cast sharing Valentine's Day expectations.
---
With only hours to go until ABC's Nathan Fillion-starring The Rookie returns, we have a look at what viewers can expect from S05E15 "The Con." And while our last look focused on Nolan (Fillion) & Bailey (Jenna Dewan) dealing with the issue of two "John Nolans" in the wake of Nolan's mother's death. But in this preview, the focus shifts to Lopez (Alyssa Diaz) and her late-night, one-on-one with Elijah Stone (Brandon Jay McLaren), where she makes him an offer that might just cut her free from him once and for all.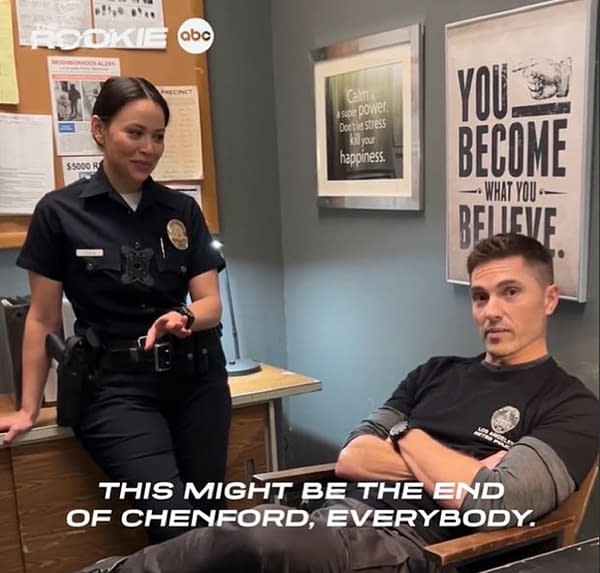 But first, the cast shares their expectations for this Valentine's Day in this mini-featurette. And learn what it is about the Los Angeles Lakers & Clippers that could spell the end of Chenford for Melissa O'Neil and Eric Winter:
The Rookie S05E15 "The Con" & S05E16 "Exposed" Preview
The Rookie Season 5 Episode 15 "The Con": With help from the FBI, Detective Lopez (Alyssa Diaz) puts everything on the line to help Elijah Stone (Brandon Jay McLaren) take down a gang leader in exchange for her safety. Meanwhile, Nolan (Nathan Fillion) and Bailey (Jenna Dewan) must deal with the secrets and shady dealings his late mother left behind.
The Rookie Season 5 Episode 16 "Exposed": The team must stop a militia from detonating a highly combustible truck in their possession. Meanwhile, Officers Nolan (Fillion), Thorson (Tru Valentino), Juarez (Lisseth Chavez), and Detective Harper (Mekia Cox) search for three men who may have been exposed to Ebola and detain them for quarantine.
The series stars Nathan Fillion as John Nolan, Mekia Cox as Nyla Harper, Alyssa Diaz as Angela Lopez, Richard T. Jones as Sergeant Wade Grey, Melissa O'Neil as Lucy Chen, Eric Winter as Tim Bradford, Shawn Ashmore as Wesley Evers, Jenna Dewan as Bailey Nune and Tru Valentino as Aaron Thorsen. Alexi Hawley is a writer and executive producer. Fillion, Mark Gordon, Michelle Chapman, Jon Steinberg, Bill Norcross, Bill Roe, and Brynn Malone are executive producers on the series. Entertainment One (eOne) is the lead studio on The Rookie, a co-production with ABC Signature.