"The Sinner" Season 3 "Part II": Ambrose Digs Deeper; Jamie Sets the Mood [PREVIEW]
One of the things that's attracted us the most to USA Network's The Sinner has been the Columbo-like vibe to the season-long storylines as well as Bill Pullman's Detective Harry Ambrose. For the third season of the award-winning mystery-thriller anthology, it's Matt Bomer's Jamie who finds himself in Ambrose's investigative sights. When a "basic car accident" leave one man dead and a lot of little questions that need answering, Ambrose bites into a case Jamie was hoping would just go away – like the secrets he shares with Nick (Chris Messina).
Which ties into the following preview for this week's "Part II", which finds Ambrose digging deeper into Nick and Jamie's past – while Jamie struggles with what he's done… and the realization that his problems are just beginning:
"The Sinner" season 3, episode 2 "Part II": Ambrose looks into Jamie and Nick's relationship before the crash. Jamie begins to unravel.
The third season of The Sinner follows Detective Harry Ambrose (Pullman) as he begins a routine investigation of a tragic car accident on the outskirts of Dorchester, in upstate New York. Ambrose uncovers a hidden crime that pulls him into the most dangerous and disturbing case of his career.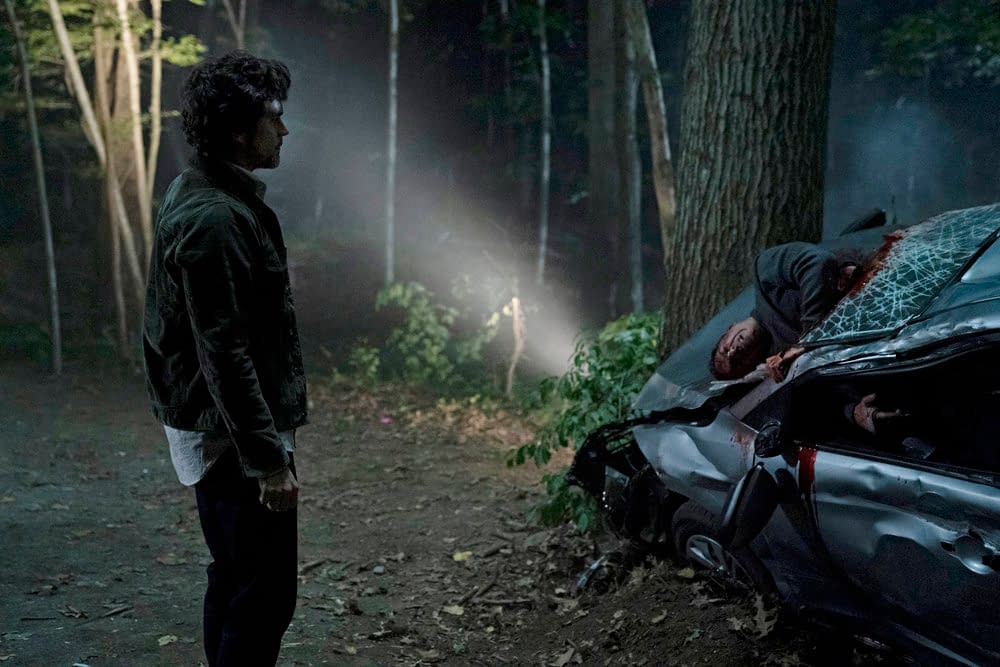 Pullman and Bomer are joined by Chris Messina (Sharp Objects), Jessica Hecht (Special), Parisa Fitz-Henley (Marvel's Jessica Jones), and Eddie Martinez (Orange Is the New Black) on the series. Season 1 star Jessica Biel returns to executive produce, alongside Michelle Purple, Charlie Gogolack, Willie Reale, and Adam Bernstein. Produced by Universal Content Productions (UCP), Derek Simonds returns as series showrunner, with Adam Bernstein (Fargo, Breaking Bad) set to direct the first two episodes.
In the following behind-the-scenes videos, the cast and creative team examine the dangerous relationships among the men in the story; how Ambrose becomes more empathetic after the events of last season; and how this season will feel very "Jekyll/Hyde" on a number of levels – with twists-n-turns viewers will not see coming: