The Umbrella Academy: David Castañeda Proves At Least One Ep Exists
In March, The Umbrella Academy series creator/EP Steve Blackman took to Instagram to show the team (Ellen Page, Tom Hopper, David Castañeda, Emmy Raver-Lampman, Robert Sheehan, Aidan Gallagher, and Justin Min) working hard on post-production on the live-action adaptation of Gerard Way and Gabriel Ba's comic book series. In April, Min offered us a glimpse into how ADR ("looping") recording was going. At the beginning of May, Min shared an image from a Zoom meeting with EP Jeff King, Kripke, and the cast that shifted our hopes into overdrive. Then the fanbase got what they were waiting for: a date announcement music video that brought back our "I Think We're Alone Now" feels (check it our below), with the month wrapping up with new character posters that have our heroes looking fashionably lost in time.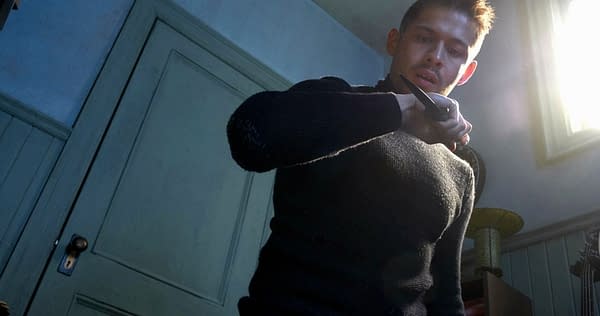 But even with July 31 only weeks away now, we have to admit: Castañeda had us feeling a little jealous of his recent Instagram post. As you can tell from the image below, there are definite advantages to being a big name on a big show, like screener access. So now there's definitive proof that at least one episode of The Umbrella Academy exists, and as much as I was hoping there was more on that screen than just text? We're pretty sure there's a ton of legal stuff to stop that from happening (unless Castañeda would like to prove me wrong and send along something exclusive, which we would be more than fine with even though we're sure this cheap trick of ours isn't going to work).
Here's a look at what appears to be the season's episode titles and writers, according to the WGA site. We're avoiding assigning them specific episode numbers until they're confirmed, but the running order for the season could be as follows (with writers included): "743" (Bronwyn Garrity and Roberto Askins), "A Light Supper" (Aeryn Michelle Williams), "OGA for OGA" (Nikki Schiefelbein), "Right Back Where We Started" (Blackman), "The End of Something" (Blackman), "The Frankel Footage" (Mark Goffman), "The Majestic 12" (Garrity), "The Seven Stages" (Goffman and Jesse McKeown), "The Swedish Job" (McKeown), and "Valhalla" (Robert Askins). Just a quick reminder that all of this is unofficial until it's official, but they do have us curious.