The Walking Dead: Daryl Dixon Star Norman Reedus Gets A Visitor
Video game designer Hideo Kojima (Death Stranding) checked in on Norman Reedus on the set of The Walking Dead: Daryl Dixon - here's a look!
---
So the last time we checked in on how things we're going with the upcoming Daryl Dixon (Norman Reedus)-focused TWD spinoff, The Walking Dead: Daryl Dixon (or maybe another name, more on that in a minute), we were getting some major casting news (which we've updated in out TWD franchise overview below). But now, we get to take a break from all of the business stuff for a quick look behind the scenes as how things are going. And for this go-around, we have video game designer, director, producer & writer Hideo Kojima checking in via Instagram Stories to share a look at his visit to the set for a little quality time with his Death Stranding star.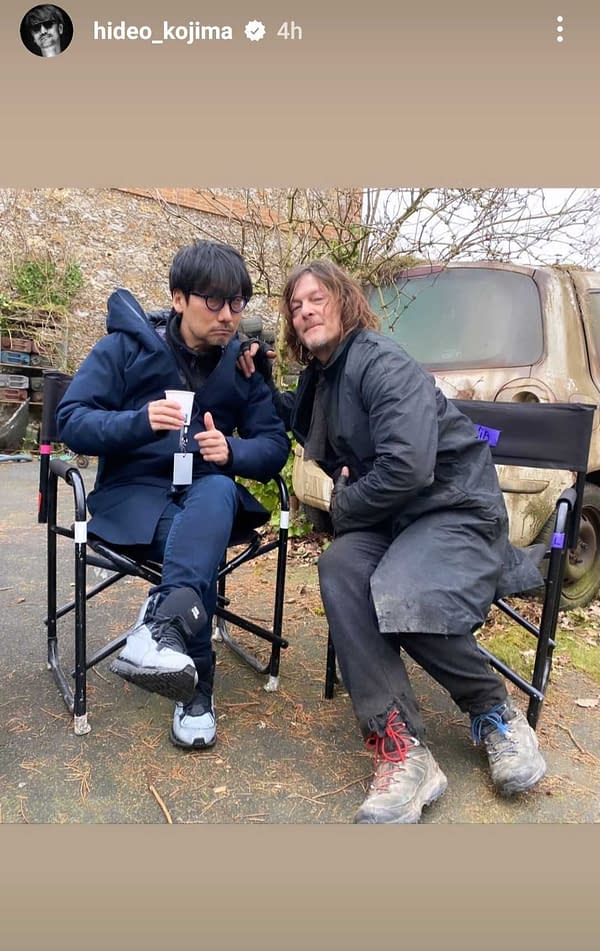 And here's a look at the tweet that Hideo Kojima shared from his visit:
Is Daryl Dixon Looking to "Raise the Dead"?
Below, we have two screencaps from Reedus's look at how production was going from earlier this month. We're running the second image because we like it when set chairs and filming slates get posted; just a weird thing we have. But it's the first image that caught our eye. Take a look at those boxes… "Raise the Dead"?! Could the series' official name be The Walking Dead: Raise the Dead? Of course, it could also be the name that the series went under during production. It also vibes like it could be the title of an episode.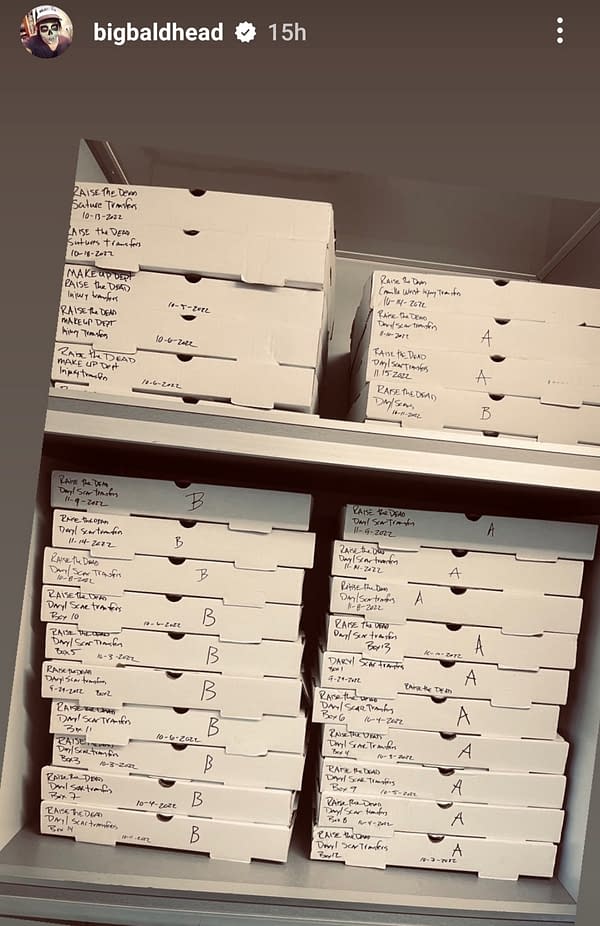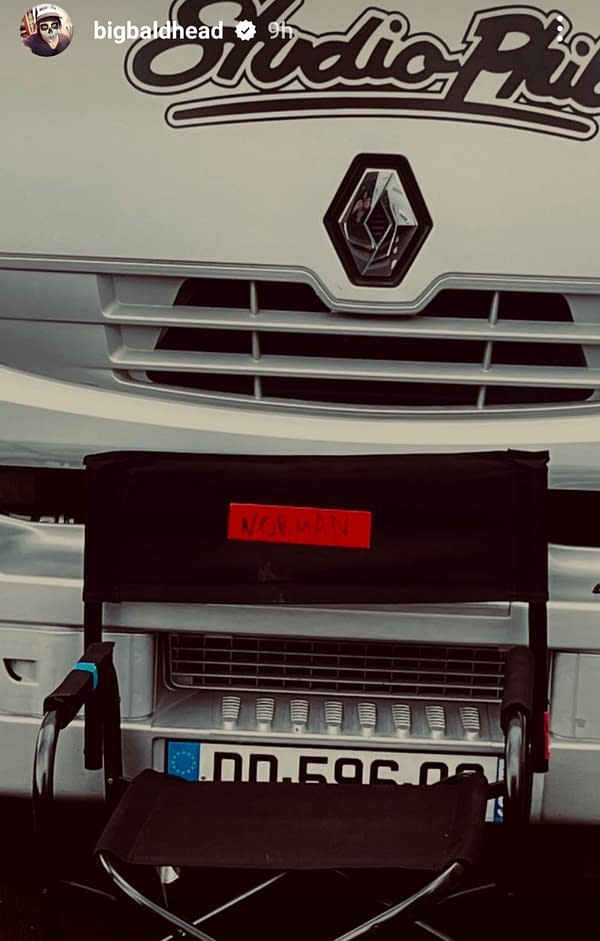 The Walking Dead Universe Overview
The eighth season of Fear the Walking Dead begins after the conclusion of Season 7 when Morgan's (Lennie James) and Madison's (Kim Dickens) hopes to rescue Mo from PADRE did not go as planned. Now, Morgan, Madison, and the others they brought to the island are living under PADRE's cynical rule. With our characters demoralized and dejected, the task of reigniting belief in a better world rests with the person Morgan and Madison set out to rescue in the first place — Morgan's daughter, Mo.  The season stars James, Dickens, Colman Domingo, Danay Garcia, Austin Amelio, Christine Evangelista, Karen David, Jenna Elfman, and Rubén Blades. It is executive produced by TWD CCO Scott M. Gimple, Showrunners Andrew Chambliss and Ian Goldberg, Robert Kirkman, Gale Anne Hurd, Greg Nicotero, Michael Satrazemis, and David Alpert and is produced by AMC Studios.
The Walking Dead: Dead City follows Maggie (Lauren Cohan) and Negan (Jeffrey Dean Morgan) traveling into a post-apocalyptic Manhattan long ago cut off from the mainland. The crumbling city is filled with the dead and denizens who have made New York City their own world full of anarchy, danger, beauty, and terror. In addition to Cohan and Morgan, the series stars Gaius Charles, Zeljko Ivanek, Karina Ortiz, Jonathan Higginbotham, and Mahina Napoleon with Gimple, Showrunner Eli Jorné, Cohan, Morgan, and Brian Bockrath as executive producers.
In The Walking Dead: Daryl Dixon, Daryl (Reedus) washes ashore in France and struggles to piece together how he got there and why. The series tracks his journey across a broken but resilient France as he hopes to find a way back home. As he makes the journey, though, the connections he forms along the way complicate his ultimate plan. The series stars Reedus, Clémence Poésy, Adam Nagaitis, Anne Charrier, Eriq Ebanouey, Laika Blanc Francard, Romain Levi, and newcomer Louis Puech Scigliuzzi and is executive produced by Gimple, Showrunner David Zabel, Reedus, Greg Nicotero, Angela Kang, Brian Bockrath, and Daniel Percival.
The Walking Dead: "Summit" (Production Title Only): Andrew Lincoln and Danai Gurira reunite for a new spinoff series that will finally continue the journey of Rick Grimes and Michonne characters. This series presents an epic love story of two characters changed by a changed world. Kept apart by distance. By an unstoppable power. By the ghosts of who they were. Rick and Michonne are thrown into another world built on a war against the dead… And ultimately, a war against the living. Can they find each other and who they were in a place and situation unlike any they've ever known before? Are they enemies? Lovers? Victims? Victors? Without each other, are they even alive — or will they find that they, too, are the Walking Dead? Gimple serves as showrunner and executive producer alongside Lincoln and Gurira.