The Walking Dead Finds Someone to Keep Jeffrey Dean Morgan In Line
After yesterday's update taught us the meaning of what Michael James Shaw aka Commonwealth main man Mercer calls the "Mercer Pump" and introduced a sweet piece of Season 7 tribute art from artist Rafael de Latorre (Black Widow, Peter Parker: Shutterbug), today's look into the comings-and-goings of The Walking Dead focuses on Jeffrey Dean Morgan. And after all of these seasons, the AMC series finally found someone who can keep the actor in check on set- Gusy Dean. Morgan took to Instagram to thank the folks who put together the Negan-focused episode of The Walking Dead: Origins for letting his son assist with the filming of the special and to share a look at the future filmmaker in action.
"Gusy Dean shooting some of the ["The Walking Dead; Origins"] for Negan episode. Thanks to production for letting him do his thing. Won't be long before I'm begging him for a gig," Morgan wrote in his Instagram post, along with some images from behind the scenes of the special's production:
Here's a look at the epic first trailer for the return of The Walking Dead that was released during Comic-Con@Home (make sure to stay through to the very end)- and if you think the Reapers look like a different and very dangerous group? That's because they are…
Now here's a look at The Walking Dead: The Final Season Trilogy, with Part One set for Sunday, August 22; Parts Two and Three are set to be unleashed in 2022:
Here's a look back at the episode titles for Season 11 Part 1: 1101 – "Acheron: Part I"; 1102 – "Acheron: Part II"; 1103 – "Hunted"; 1104 – "Rendition"; 1105 – "Out of the Ashes"; 1106 – "On the Inside"; 1107 – "Promises Broken"; and 1108 – "For Blood"- and the cover page for the season-opening script: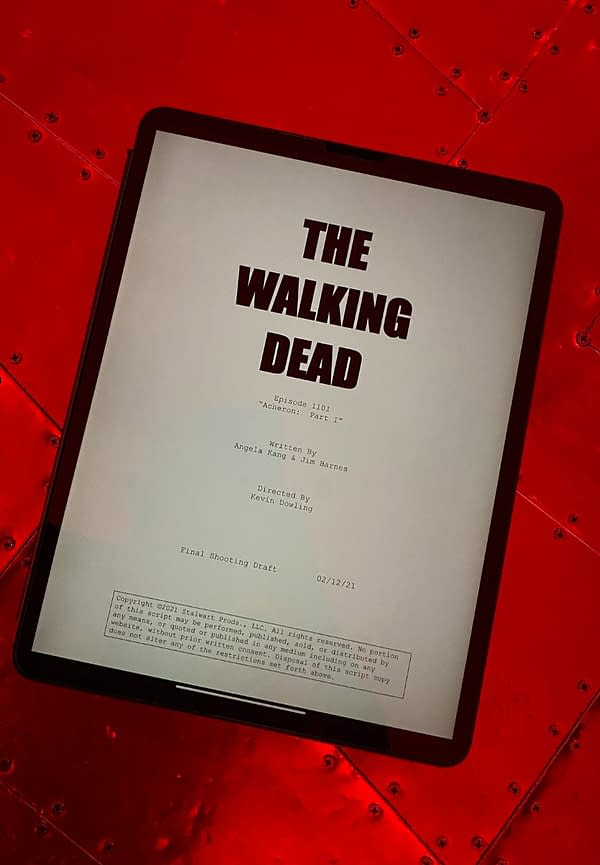 AMC also released four mini-teasers for the long-running series' final run, with "Survivor", "Outnumbered", "Guarded", and "Threatened" offering a greater sense of just how different our heroes' world is about to become:

Bleeding Cool TV on Instagram: For all of the stuff too random and bizarre to make the site, make sure to follow us on Instagram (with an official launch on June 19): Bleeding Cool TV (@bleedingcooltv).
BCTV Daily Dispatch: For a look at what's going on across the television and streaming landscape, sign up for Bleeding Cool's daily email round-up of the news you need to know here.