The Walking Dead Offers Look Back at Live-Action, Comic Book Tyreese
Over the past several weeks, Skybound has offered fans of The Walking Dead a "Who Is…?" video series, where in each episode they profile a character from the television series and compare/contrast them to their comic book counterpart. Previous editions have given us a chance to get to know more about Paola Lazaro's Juanita Sanchez aka Princess, Jeffrey Dean Morgan's Negan, Tom Payne's Jesus, Melissa McBride's Carol, David Morrissey's The Governor aka Philip Blake, and (one of our favorites) Rosita (Christian Serratos). Now we take a look at the life and death of Chad Coleman's Tyreese Williams, and we have a confession to make.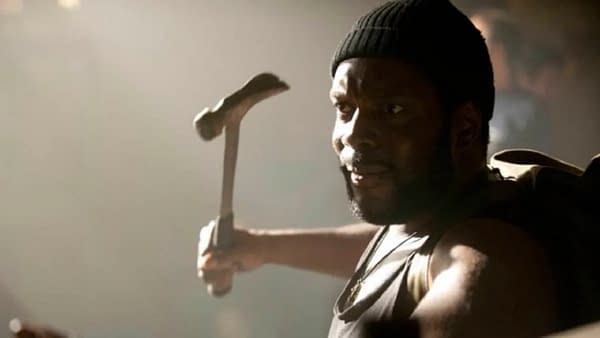 We were big Tyreese fans in the beginning, but as he went along we started feeling more and more that his inability to "go there" was making him a danger to himself and our survivors. So we weren't exactly sad to see him go since it never felt like he was ready to adjust to a new world (unlike Sonequa Martin-Green's Sasha, who went through her own journey but came out the better for it even though it came at a fatal price). That said? "What Happened and What's Going On" was one of the biggest kicks to our "feels" that the series has ever given us and left us feeling like guilty a-holes for ever thinking bad of him. But at least Skybound was able to honor his memory on both page and screen in the following video:
Looking ahead, it won't be long before fans of the Walking Dead universe get a little more clarity on what the future holds, with all three series bringing as many of their team members as they can muster for online panels during Comic-Con@Home, running from July 23-26 and free for everyone to watch from home. Here's a look at what we know so far, with more details available as we get closer:
The Walking Dead will be making its 11th SDCC appearance with a panel spotlighting season 10 finale "A Certain Doom," which is set to air as a standalone episode later in 2020. Moderated by Chris Hardwick (Talking Dead), the panel will feature TWDU Chief Content Officer Scott M. Gimple, Showrunner and Executive Producer Angela Kang, Executive Producer Greg Nicotero, who directed the season finale, and cast members Norman Reedus, Melissa McBride, Jeffrey Dean Morgan, Lauren Cohan, Josh McDermitt, Ross Marquand, Paola Lazaro, and more.
Season six of Fear the Walking Dead explores what has become of the unlikely family once united by a mission to help those in need. After being torn apart by Virginia (Colby Minifie) and her Pioneers, the group is now dispersed across her far-reaching settlements. Morgan's (James) last message at the end of season five implored the group to "Live" and this season we'll see what that means to each of them. Some will find the stability and opportunity within Virginia's communities to be intriguing, some will sink into darkness, while others will fight back against what has been forced upon them. Life behind Virginia's walls will test each and every one of them in different ways, forcing them to define who they are in this new world.
Fear the Walking Dead will present a panel to promote the upcoming sixth season, premiering later this year. Moderated by Hardwick, the panel will include Gimple, Showrunners and Executive Producers Andrew Chambliss and Ian Goldberg and cast members Lennie James, Alycia Debnam-Carey, Colman Domingo, Danay Garcia, Karen David, Jenna Elfman, and Rubén Blades.
The Walking Dead: World Beyond delves into a new mythology and story that follows the first generation raised in a surviving civilization of the post-apocalyptic world. Two sisters along with two friends leave a place of safety and comfort to brave dangers, known and unknown, living and undead on an important quest. Pursued by those who wish to protect them and those who wish to harm them, a tale of growing up and transformation unfurls across dangerous terrain, challenging everything they know about the world, themselves and each other. Some will become heroes. Some will become villains. But all of them will find the truths they seek.
The Walking Dead: World Beyond makes its SDCC debut, with a panel in support of the second spinoff series. Moderated by Hardwick, the series' panel will feature Gimple, Showrunner and Executive Producer Matt Negrete and cast members Aliyah Royale, Alexa Mansour, Hal Cumpston, Nicholas Cantu, Nico Tortorella, Julia Ormond, and Joe Holt.