The Walking Dead: Payton & Lázaro Announce S11b Trailer This Wednesday
With AMC's The Walking Dead set to return for "Part 2" of its 11th & final season on February 20, fans of the long-running series haven't exactly been keeping quiet about wanting to see a teaser, maybe a trailer, and possibly some preview images giving them a sense of what's to come as all roads appear to be leading to the Commonwealth. Well, thanks to Khary Payton (Ezekiel) and Paola Lázaro (Princess), we know when one of those wishes will be met. The duo took to social media to let fans know that an official look at what's to come was on its way as of Wednesday, January 19 (maybe with some preview images and a key art poster?).
Now here's a look at Payton and Lázaro getting you to stop scrolling for a second to let you know that the official trailer for "Part 2" will be hitting online pretty much everywhere this Wednesday, January 19th:
Now here's a look back at the teaser honoring the long journey that Norman Reedus's Daryl has taken (though is anyone else wondering why it was on the "Missing/Have You Seen?" board?):
Here's a look back at one of the first official images released for the series' upcoming return, with Maggie (Lauren Cohan) looking like she's done running and is ready to put an end to the Reapers once and for all (sorry, Leah):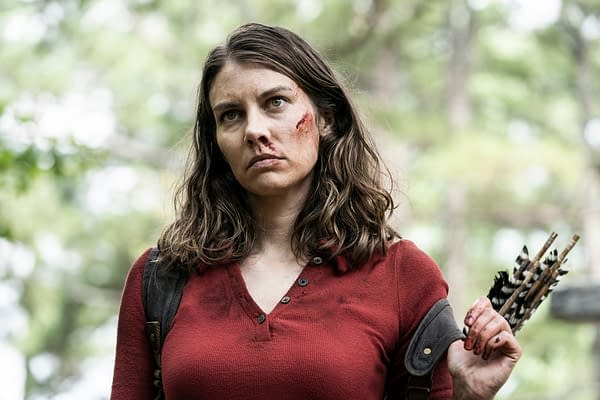 And here's a look at the first teaser for The Walking Dead Season 11 Part 2 followed by a look at the most recent overview, with the long-running AMC series set to return on Sunday, February 20, at 9 pm ET/8 CT (with new episodes premiering early on AMC+ all season long):
The Walking Dead returns with many of our heroes fighting imminent hellfire under Reaper attack; while others battle Mother Nature's torrential wrath in Alexandria. For all, their world is literally crashing down around them. Meanwhile, life in the Commonwealth is not as idyllic as it seems. For some, hope will be renewed. Others will be pushed past the point of no return. One truth holds tight: Lives hang in the balance with each decision drastically changing their future, their chances of survival, and the state of each community.