"This Is Us" Season 4 "The Cabin" Preview; Justin Hartley Talks Directing Debut [VIDEO]
We imagine that series creator Dan Fogelman and the writing team behind NBC's This Is Us have two prominent things going on in their writers' room. First, an It's Always Sunny in Philadelphia-like "Charlie board" (we're obsessed with that visual) with red strings going everywhere – and four seasons in, I'm guessing it must look like some kind of insane spiderweb. Second, Costco-size boxes of tissues order by the pallet and a closet filled with cucumber slices to help with all the tears we're assuming are flowing when they map it all out.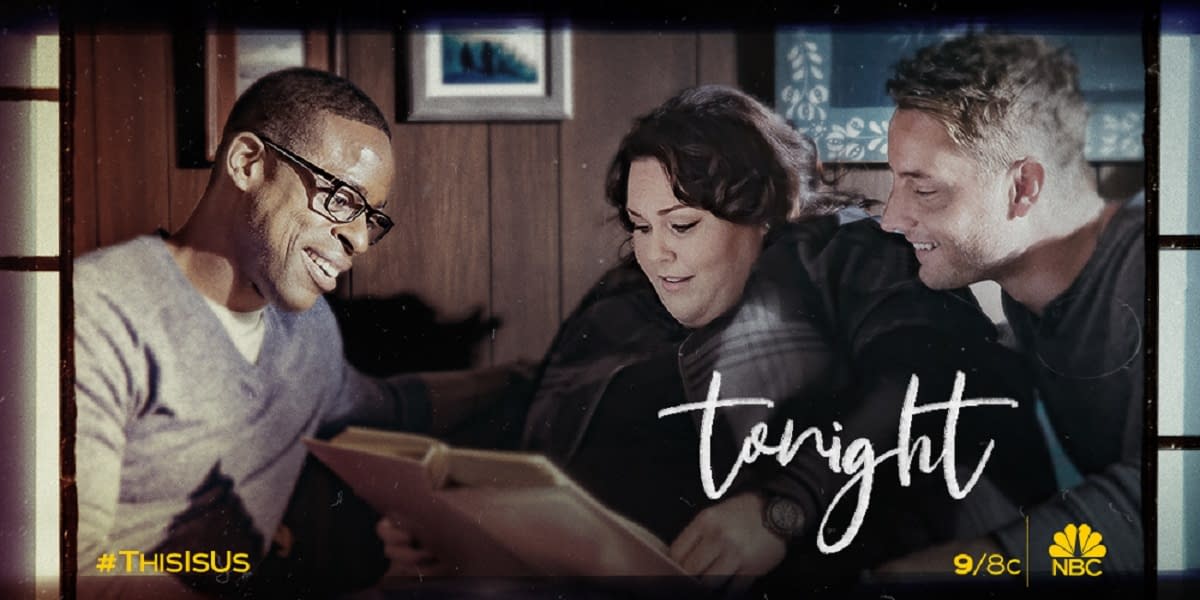 That's the best way my brain processes the emotional meat-grinder that they've put our "Big Three" – Randall (Sterling K. Brown), Kate (Chrissy Metz), and Kevin (Justin Hartley) – through this season. But as you're about to see in the following promo for "The Cabin" (and to steal a concept from Charmed), the "Power of Three" might just lead each of them to the answers they need:
"This Is Us" season 4, episode 14 "The Cabin": The Big Three reconnect at the family cabin.
If you skipped the end credits of last week's "A Hell of a Week: Part Three", then you might've missed out on the fact that Hartley was pulling double duty. That's right, the actor took the director's chair for the very first time – and in the following clip, he (along with his castmates) let us in on what the experience was like:

Everyone has a family. And every family has a story. "This Is Us" chronicles the Pearson family across the decades: from Jack (Milo Ventimiglia) and Rebecca (Mandy Moore) as young parents in the 1980s to their 37-year-old kids Kevin (Justin Hartley), Kate (Chrissy Metz) and Randall (Sterling K. Brown) searching for love and fulfillment in the present day. This grounded, life-affirming dramedy reveals how the tiniest events in our lives impact who we become, and how the connections we share with each other can transcend time, distance and even death. From the writer and directors of "Crazy, Stupid, Love." comes a smart, modern show that will welcome you into a family you feel you've known for years.
NBC's This Is Us stars Milo Ventimiglia, Mandy Moore, Justin Hartley, Chrissy Metz, Sterling K. Brown, Chris Sullivan, and Susan Kelechi Watson. Produced by 20th Century Fox Television, Dan Fogelman, Isaac Aptaker, Elizabeth Berger, John Requa, Glenn Ficarra, Ken Olin, Charlie Gogolak, and Jess Rosenthal executive produce.
Viewers should also be keeping their eyeballs glued for Sophia Bush (One Tree Hill, Chicago P.D.) and Pamela Adlon (Better Things), set to guest star this season. While little is know about either of their characters, Fogelman did have this to say regarding Adlon's role in an upcoming Randall (Sterling K. Brown) storyline: "Sterling has an unbelievable arc in the back half of the season, and she plays an important role in the story."