Trevor Noah, Quibi Teaming Up to Prove Late-Night Host Got Game
Self-professed best non-professional FIFA player on the planet, The Daily Social Distancing Show host Trevor Noah and Quibi are teaming up for a new series to prove that the late-night host is the best at a whole lot of other games, too. In Player vs. Player with Trevor Noah, Noah will go head-to-head with some of the biggest names in gaming, sports, and other areas of entertainment. Noah's opponents will range from esports pros and celebrities invested in esports teams to top Twitch streamers. The series will cover various titles across a number of platforms, with a high level of trash-talking expected for all involved.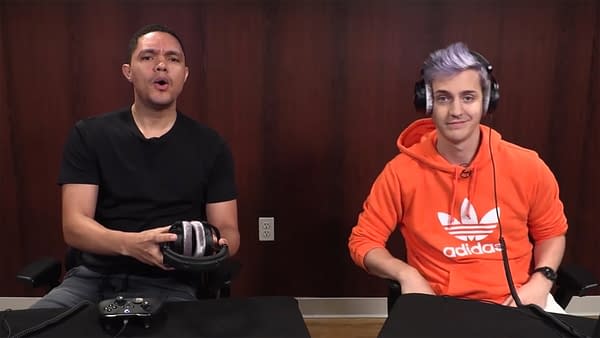 For a preview of Noah's gaming skills, check out the following video from last October when the late-night host teamed up with pro-gamer Tyler "Ninja" Blevins to play Fortnite while streaming on Mixer:
In an interview with Pluralsight from September 2019, Noah expressed his appreciation for the way video games can give players a sense of learning and balance that can be applied to their respective lives: "The great thing about video games is that they'll hold your hand at the experience level you're at, and the game evolves as you evolve. The learning curve of video games is fantastic, and they are entirely focused on solving a problem." That said, Noah believes the gaming community has only scratched the surface of its full potential: "I think gaming has only scratched the surface of informing and teaching us as human beings. I think we can, as human beings know so much more. The possibilities are infinite if we can just harness those tools."
Comedy Central Studios and Noah's Day Zero Productions are set to produce the series. Noah Saleem and Haroon Saleem are executive producing for Day Zero Productions alongside Norman Aladjem, Derek Van Pelt, and Sanaz Yamin for Mainstay Entertainment and Bob Bain for Bob Bain Productions.