Tucker Carlson Writer Resigns Over Offensive Posts; FOX News Responds
One day after Tucker Carlson Tonight writer Blake Neff resigned from the highly-rated FOX News show, the network is weighing in on the controversy. Neff's resignation came on the same day CNN published a report showing the writer had posted racist, sexist, and other offensive messages under a pseudonym on the forum AutoAdmit. Show host Tucker Carlson is expected to address the matter on his show this Monday night (in what one could view as nothing more than a cheap ratings-grab on FOX News' part to reap rewards from doing ****** things). In an internal memo obtained by The Hollywood Reporter, FOX News Media CEO Suzanne Scott and FOX News Media president and executive editor Jay Wallace wrote the following to the members of the network: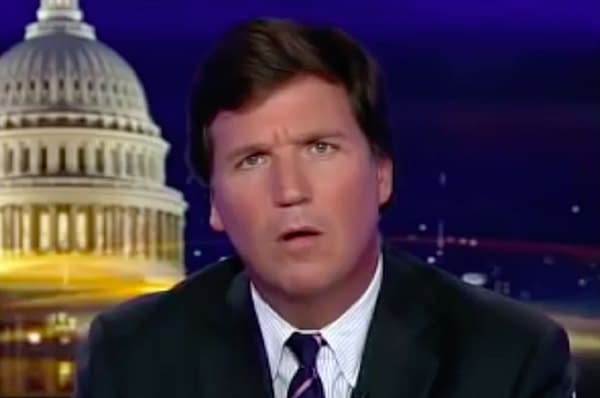 "Yesterday we learned that now-former employee Blake Neff, a writer on Tucker Carlson Tonight, made horrendous and deeply offensive racist, sexist and homophobic comments under a pseudonym on the forum AutoAdmit. We want to make abundantly clear that FOX News Media strongly condemns this horrific racist, misogynistic and homophobic behavior. Neff's abhorrent conduct on this forum was never divulged to the show or the network until Friday, at which point we swiftly accepted his resignation. Make no mistake, actions such as his cannot and will not be tolerated at any time in any part of our work force. Tucker will be addressing this on his show on Monday night."
According to CNN's report, Neff was still posting under an assumed name "as recently as this week. Along with a number of general offensive comments, the ex-Tucker Carlson Tonight writer called out Reps. Alexandria Ocasio-Cortez, Ilhan Omar, Ayanna Pressley, and Rashida Tlaib specifically by name before continuing with an offensive and absurd assertion. News of Neff's resignation comes less than two weeks after the propaganda and opinionated commentary channel terminated America's Newsroom anchor Ed Henry was fired over complaints involving "willful sexual misconduct in the workplace years ago." FOX News' history of sexual abuse allegations includes the 2016 resignation of founder and CEO Roger Ailes over multiple sexual harassment allegations, with network host Bill O'Reilly exiting in 2017 after reports of multiple sexual harassment settlements.
Carlson already on the defensive after questioning the patriotism of Sen. Tammy Duckworth, a US Army veteran who lost both her legs while serving in Iraq. On his Monday show, Carlson claimed Duckworth was one of a number of Democrats who "hate America," and going on to call her a "coward," "fraud" and a "callous hack" on his show the following night. Duckworth would respond to both Carlson and Trump in her New York Times Op-Ed on Friday, writing: "Attacks from self-serving, insecure men who can't tell the difference between true patriotism and hateful nationalism will never diminish my love for this country — or my willingness to sacrifice for it so they don't have to. These titanium legs don't buckle."