The Walking Dead Season 9, Episode 7 'Stradivarius': A Mysterious, Heartfelt Tune (REVIEW)
Welcome to Bleeding Cool's weekly review of AMC's The Walking Dead, as we take a look at the seventh and penultimate episode in the game-changing ninth season of the long-running drama-horror series, 'Stradivarius.'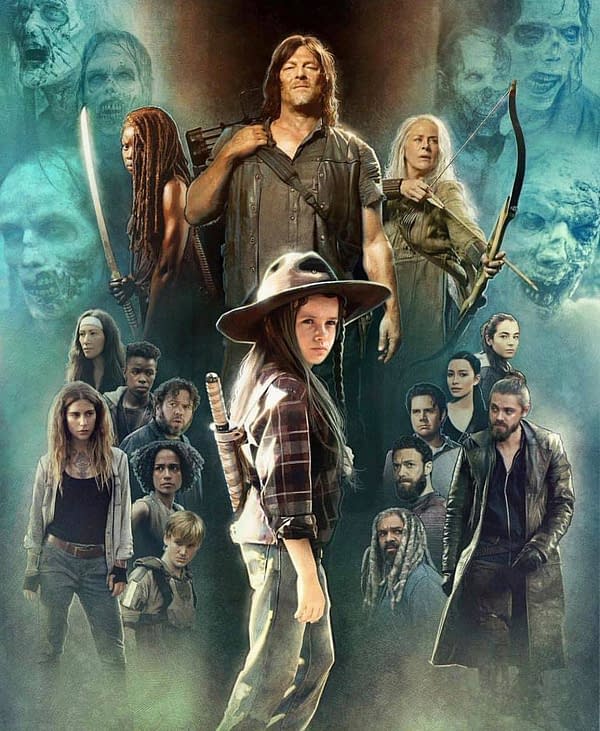 The Hilltop/Alexandria community continues to thrive, evolving into the society that Rick (Andrew Lincoln), Daryl (Norman Reedus), Maggie (Lauren Cohan), Michonne (Danai Gurira), and Carol (Melissa McBride) fought so hard – and sacrificed so much – to achieve. Now with the next generation of Grimes on the scene – Judith (Cailey Fleming) – the community begins reaching further out for survivors. But as the community welcomes a new group of survivors (Nadia Hilker's Magna, Angel Theory's Kelly, Lauren Ridloff's Connie, Eleanor Matsura's Yumiko, and Dan Fogler's Luke) within their walls, Gabriel (Seth Gilliam), Rosita (Christian Serratos), and Eugene's (Josh McDermitt) attempts to reach out to more surivivors could prove their downfall – as the whispers get louder…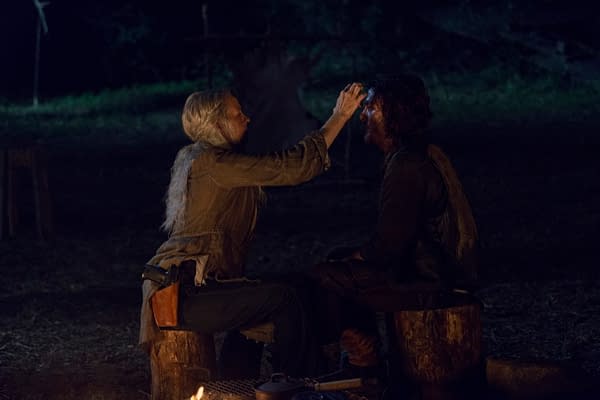 Looking at AMC The Walking Dead's 'Stradivarius,' Carol and Henry (Matt Lintz) pay Daryl a visit in his self-imposed exile. Though Daryl's secured himself a longtime companion (good dog!), Carol's worried that Daryl may be too far gone for him to find his way back to the community – to find his way back home.
Meanwhile, the Hilltop's Jesus (Tom Payne) and Alexandria's Aaron (Ross Marquand) meet to discuss the importance of Ezekiel's (Khary Payton) fair in bringing the communities together. Their conversation is brought to a screeching halt by a flare signal that leads them to an exhausted and wounded Rosita – who's sans Eugene and has something very interesting to share about the walkers they encountered.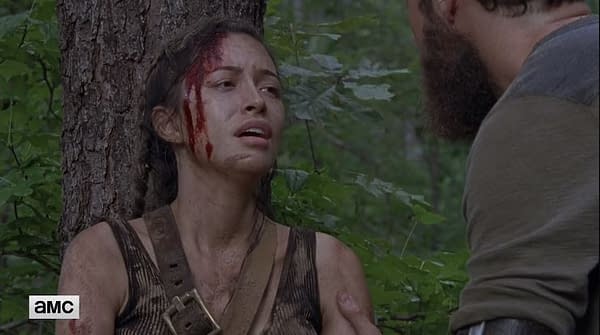 So checkout out review of 'Stradivarius' to hear why Michael Cudlitz (Abraham) deserves righteous credit as the first-time director of an episode with a killer soundtrack, a long-missing sense of building dread, and moments of hope, heartbreak, and mystery…
Spoiler Warning: I'll be covering some themes and takeaways involving major and minor plot points from the episode, so just keep that in mind. Definitely not looking for pitchforks and torches outside my apartment.
The Walking Dead Season 9, Episode 7 'Stradivarius': Carol seeks out an old friend living alone in a wilderness teeming with walkers; survivors make the perilous trek to a new home.

Here's a look at next week's eighth episode of AMC's The Walking Dead, the midseason finale 'Evolution':
The Walking Dead Season 9, Episode 8 'Evolution': A small rescue mission braves a dangerous herd in their hunt for a missing comrade, only to discover a surprising threat that could doom them all.