Posted in: FX, Preview, TV | Tagged: BAFTA, fx, matt berry, preview, season 5, what we do in the shadows, wwdits
---
What We Do in the Shadows: Matt Berry on "Getting A Bit Too Old"
What We Do in the Shadows star Matt Berry on the show's future and maybe "getting a bit too old" for the stuntwork that comes with Laszlo.
---
As we await word on when Nandor (Kayvan Novak), Guillermo (Harvey Guillén), Nadja (Natasia Demetriou), Laszlo (Matt Berry), Colin (Mark Proksch), and The Guide (Kristen Schaal) will be returning to FX screens for a fifth season, we already know that a sixth season is in the cards? But what about after that? We know that FX Networks has gone on the record as being more than happy with having What We Do in the Shadows in its programming line-up, and now we have Berry's early thoughts on the show's future. Checking in with RadioTimes.com on the BAFTA TV Awards 2023 red carpet (where he was nominated for his performance), Berry was asked for his thoughts on how many more seasons he believes the show can still go.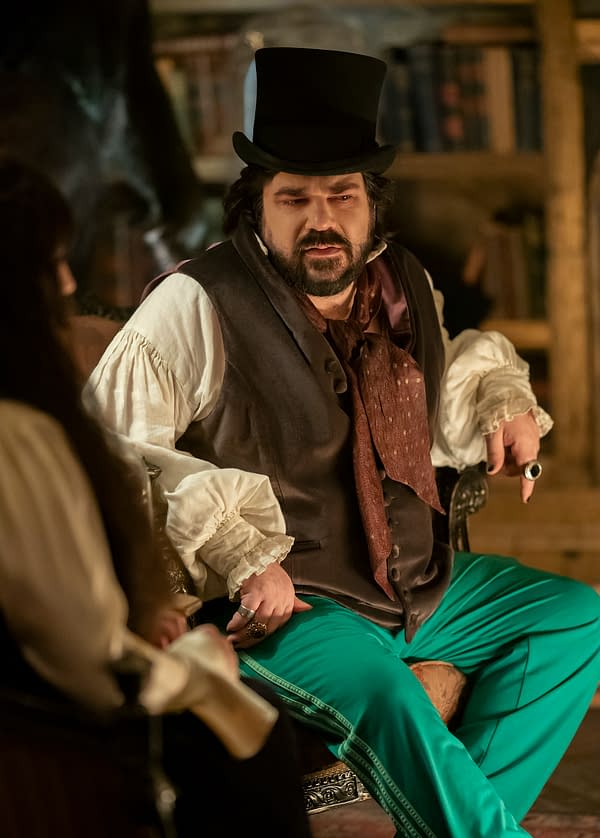 "That's not up to me," Berry explained. "We're about to do the sixth. I think only four have come out here, but they're on Disney Plus. I don't know how many there's going to be after that, but it's not my decision." But with that said, Berry notes that some of the more physical aspects of the job have him feeling his age. "There's a lot of harnesses and stunts and stuff. I might be getting a bit too old for that! I don't know," he shared – before joking, "But you know I'm supposed to be undead, so the rules don't apply, do they?"
[ED. NOTE: FX Networks? Get Berry as many stunt people as he needs to make him happy, because no one can say "New York City" like Berry's Laszlo can – though Nick Kroll is a respectable second.]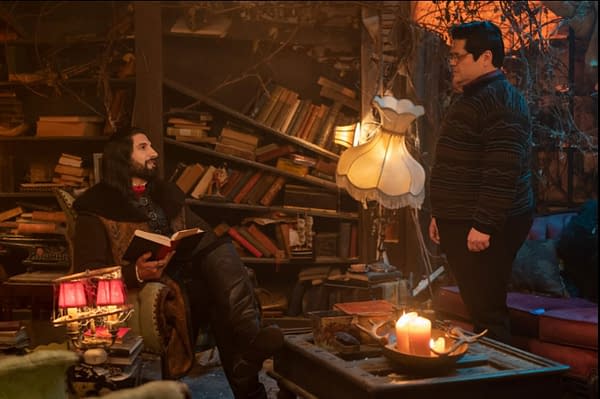 What We Do in the Shadows Writer/EP Talks Nandor & Guillermo
Speaking with Vulture back in March during the Writers Guild Awards (WGA) red carpet, writer & EP Paul Simms explained why the fan practice of "shipping" characters (pushing for characters to be paired up romantically) forced him to leave Twitter, that Nandor & Guillermo are "the greatest love story in modern television," and how Guillermo's reveal in the fourth season finale that he plans on moving forward with his plans to be a vampire (with or without Nandor) could impact things moving forward:
Simms Is Definitely No "Stan" Fan: "I had to stop looking at ships because they were getting too crazy and aggressive and actually actively hostile toward the show. So for my mental health, I had to stop. Uh, I had to get off Twitter."
Simms Knows Guillermo & Nandor Aren't Going Down a Typical Relationship Path: "They're [Guillermo & Nandor] already shipped. Guillermo and Nandor is the greatest love story in modern television. It's just different than the way some people want it to be."
Guillermo's Decision to "Outsource" Becoming a Vampire Will Be a Factor: "As with every cliffhanger we've done, we've paid it off. You don't come back and have Guillermo go, 'Oh, I changed my mind.' Or, 'Oh, it was all a dream.' A lot of the next season is exploring Guillermo making a very big decision."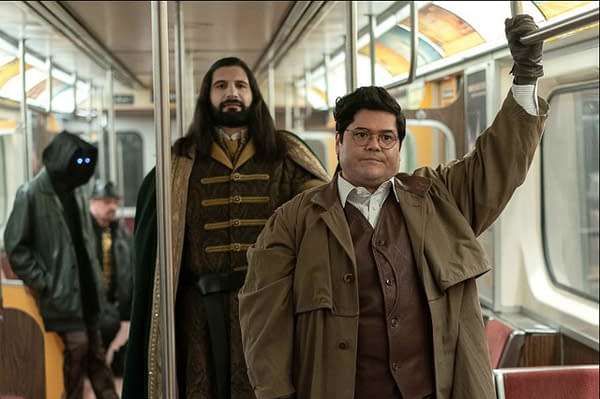 WWDITS: Harvey Guillén Discusses Season 5
Thanks to The 28th Annual Critics Choice Awards back in January, Guillén dropped some info on Guillermo's future. Sharing that Guillermo is "coming into his own," Guillén explained that the familiar/bodyguard/vampire hunter will have some choices to make between accepting how his life is currently, working harder towards his ultimate endgame (becoming a vampire), or possibly considering a new path. In fact, Guillén revealed that it was "probably the most emotional season" he's had to film during the series' run. Here's a look at the clip from Guillén's red-carpet interview with Variety where they teased the choices that Guillermo will face during the fifth season:
Courtesy of an Instagram post from Guillén back at the beginning of December 2022, we learned that filming on FX's What We Do in the Shadows Season 5 had officially wrapped. "That's officially a wrap on season 5 of [What We Do in the Shadows]; we did it!" Guillen wrote as their Instagram post caption. "Thanks to this amazing crew .. the whole team .. writers, costumes, hair and make-up, producers .. it takes a village. I can't wait for y'all to see it!"
Created by Jemaine Clement and produced by FX Productions, What We Do in the Shadows stars Kayvan Novak as Nandor, Natasia Demetriou as Nadja, Matt Berry as Laszlo, Mark Proksch as Colin Robinson, Harvey Guillén as Guillermo, and Kristen Schaal as The Guide. Joining them this season in recurring roles is Anoop Desai (American Idol) as an acquaintance of Nandor's from his ancestral homeland. In addition, SEAL Team star Parisa Fakhri (SEAL Team) has joined the cast as Marwa, one of Nandor's 37 wives from his days as an ancient warrior in the kingdom of Al Quolanudar. Clement, Waititi, and Paul Simms serve as executive producers for What We Do in the Shadows alongside Scott Rudin, Garrett Basch, Eli Bush, and Stefani Robinson.
---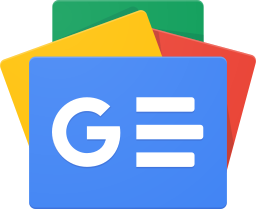 Stay up-to-date and support the site by following Bleeding Cool on Google News today!