Marvel has always been good about having characters that connect all of their movies / shows together. In the early MCU it was Agent Phil Coulson (Clark Gregg). In the Marvel / Netflix universe of shows they have a few characters like Jeri Hogarth (Carrie-Anne Moss), Turk Barrett (Rob Morgan) and the most prominent Claire Temple (Rosario Dawson). Temple first appeared in the second episode of Marvel's Daredevil, basically playing the character of Night Nurse but with the name of Luke Cage's former love interest. She showed up in Marvel's Jessica Jones, Marvel's Luke Cage, Marvel's Iron Fist and even Marvel's the Defenders. The only series she hasn't been in was Marvel's The Punisher.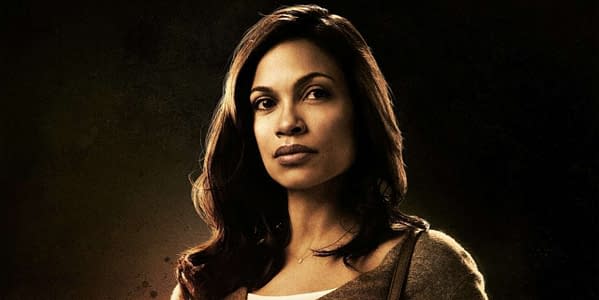 While speaking to fans at MCM Comic Con in London, according to Screen Geek, Dawson let it be known that this may be the end of the line for her in the MCU:
"I don't know if I'll be back after this, to be honest, but it's been an amazing few years. I've been on a lot of different shows. I mean, I don't know if maybe they do a third season of Luke Cage potentially, or maybe if they figure out some kind of way for me to be on The Punisher – just so I can feel like I've done every show. But it's been like, my daughter is in high school, so I kinda wanna not be 3,000 miles away for work."
While it is clear in the Defenders series that Luke (Mike Colter) is with Claire, he's had a previous relationship with Jessica Jones (Krysten Ritter) and there still seemed to be an attraction there. Luke also got a 'cup of coffee' with Misty Knight (Simone Missick), so it is possible they'll change direction if there is a third season of Luke Cage. I'd like to see her at least cameo in Marvel's the Punisher season 2 just so she can say she was in them all.
Marvel's Luke Cage season 2 premieres June 22nd on Netflix.
Enjoyed this article? Share it!