Willow Not Done at Disney+? Jonathan Kasdan Talks "Volume II" & More
Willow series creator Jonathan Kasdan explains why the series isn't quite as done at Disney+ as we first thought, talks "Volume II" & more.
---
Earlier this week, fans of Lucasfilm, & Disney+ & Jonathan Kasdan's Warwick Davis (Willow Ufgood) & Joanne Whalley (Queen Sorsha)-starring Willow, would not be returning for a second season. Well, it turns out that the door to more adventures isn't as closed as originally announced. Releasing an extended statement on Twitter, Kasdan clarified (and EW was able to confirm) that while fans shouldn't be expecting a filming announcement anytime soon, a second season (which Kadan dubs "Volume II") is still very much a possibility. "Are we going into pre-production? Not right now. Does that mean we're never gonna make it? Absolutely not," he wrote in a statement that also covered the realities of productions & the streaming business, as well as how fans continuing to support Willow will help make a second season happen at some point.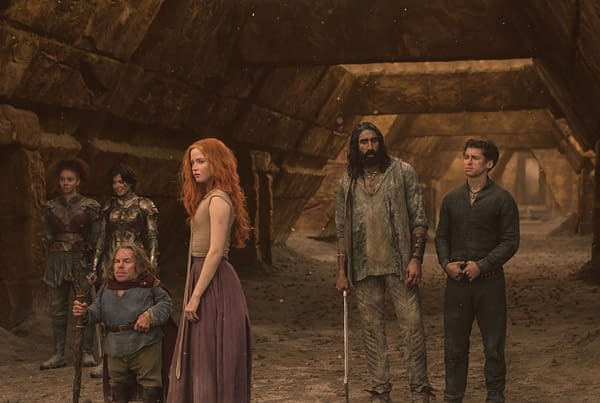 Describing Volume II as being "all about courage, desire, acceptance, and the comedy and beauty to be found in even the darkest places and moments. It's about the enemies we must inevitably confront, both without and, often far more insidiously, from within. But, above all, it's about the ineffable and enduring magic of friendship," here's a look at Kasdan's three-tweet, detailed response to fans:
What You Need to Know About Disney+ & Lucasfilm's Willow
An epic period fantasy series with a modern sensibility set in an enchanted land of breathtaking beauty, "Willow" features a diverse international cast with Jonathan Kasdan, Ron Howard, Wendy Mericle, Kathleen Kennedy, and Michelle Rejwan serving as executive producers. The story began with an aspiring magician from a Nelwyn village and an infant girl destined to unite the realms, who together helped destroy an evil queen and banish the forces of darkness. Now, in a magical world where brownies, sorcerers, trolls, and other mystical creatures flourish, the adventure continues as an unlikely group of heroes set off on a dangerous quest to places far beyond their home, where they must face their inner demons and come together to save their world.
Focusing on the group's mission to save a prince, the series also features Ellie Bamber's (Nocturnal Animals) Dove, an unassuming kitchen maid who proves that she is the "chosen one" as she embarks on the journey. Ruby Cruz's (Castle Rock) Kit is the princess whose twin brother was abducted, destined to be a leader and ultimately the queen. Erin Kellyman's (Solo) Jade is a servant who is also Kit's best friend and moral compass- and on her way to becoming the best young warrior in the kingdom. Amar Chadha-Patel (Doom: Annihilation) plays Boorman, a thief & liar who joins the quest in exchange for getting out of prison. Christian Slater (Mr. Robot), Tony Revolori ("Spider-Man" films), Dempsey Bryk (The Birch, Heartland), Talisa Garcia (Baptiste), and Rosabell Laurenti Sellers (Game of Thrones) also star.
Original film writer Bob Dolman serves as a consulting producer, with Lucasfilm president Kathleen Kennedy and Michelle Rejwan executive producing. Howard's Imagine Television will produce, with Roopesh Parekh and Hannah Friedman serving as co-executive producers on behalf of the company; Julia Cooperman will produce. Series producing director Stephen Woolfenden (Outlander) directed the first two episodes.