Yellowstone Season 5 Hasn't Resumed Filming Yet; No Start Date Set
Yellowstone co-creator Taylor Sheridan, Kevin Costner & the lead cast missed PaleyFest LA, but there was an interesting Season 5 update.
---
Okay, we're not saying that what we're about to report has anything to do with the reported ongoing tensions between Yellowstone lead actor & Golden Globe winner Kevin Costner and the show's co-creator & showrunner Taylor Sheridan that were first reported on in February (more on that in a minute). But we do know that earlier this evening, Costner, Sheridan, Kelly Reilly, Cole Hauser, Luke Grimes, Kelsey Asbille, Wes Betley, Gil Birmingham, Jacki Weaver, and executive producer David Glasser (along with possible "additional guests"), were supposed to attend the Paramount Network series' PaleyFest LA earlier this evening – with emphasis on "supposed to." Because shortly before the red carpet was set to begin, attendees were notified that the line-up would now consist of Keith Cox, President, Development & Production of Paramount Network, as well as Mo Brings Plenty, Dawn Olivieri, Josh Lucas, and Wendy Moniz. Paramount Network development president Keith Cox was also in attendance but did not address the red carpet press. Two interesting updates included the cast confirming on the red carpet that the second half of the fifth season hadn't started filming yet and that they weren't aware of a start date (though the season is expected to return this summer). Cox added during the panel that he was "very confident" that Costner was still committed to the popular series and was looking at production resuming soon.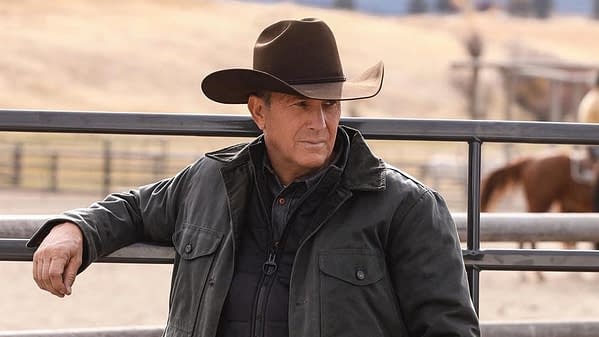 Yellowstone: That Taylor Sheridan/Kevin Costner Report & More
In the Deadline Hollywood report from earlier this month, sources claimed that series star Costner's reportedly ever-decreasing filming schedule and disagreements over it were a major factor in the reported split between Sheridan and the actor. According to DH, Costner "had originally limited himself to 65 days of shooting" on the popular series and wanted "to shoot for 50 days for the first part of the current season [Season 5]." But for episodes that remain in the current fifth season, it's reported that Costner was only looking to spend "a week shooting." The report alleges that Costner's shooting schedule "has been a source of frustration for Sheridan" and that it has resulted in "morale problems" among the cast. In the Puck reporting, representatives & sources on Costner's behalf pushed back on those accusations, saying that the actor more than met what was required of him.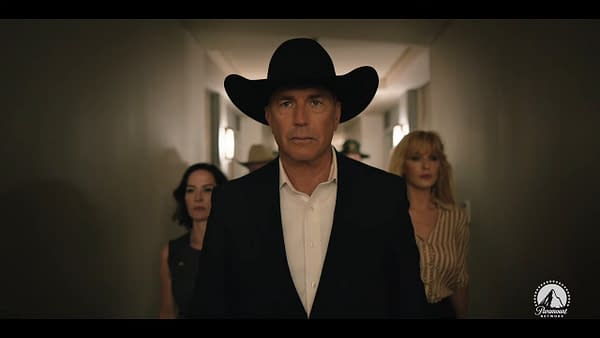 Continuing on, the DH report also claimed that the decision to move on with a new show was made after Paramount Network declined Costner's most recent proposal. It's still unclear who, if anyone, from the original series would join the new chapter of the popular franchise if it materializes. In addition, it is still unclear if the series will be set on the on-screen family's Montana ranch or a new location. The new series would begin its run on the cable channel Paramount Network and then stream exclusively on Paramount+. For its part, a Paramount Network spokesperson issued the following response at the time: "We have no news to report. Kevin Costner is a big part of Yellowstone, and we hope that's the case for a long time to come. Thanks to the brilliant mind of Taylor Sheridan, we are always working on franchise expansions of this incredible world he has built. Matthew McConaughey is a phenomenal talent with whom we'd love to partner."
Shortly after, a legal representative for Costner pushed back on the claims being leveled against the actor in a statement to Puck. "The idea that Kevin was only willing to work one week on the second half of Season 5 of 'Yellowstone' is an absolute lie," said attorney Marty Singer in their statement. "It's ridiculous—and anyone suggesting it shouldn't be believed for one second. As everyone who knows anything about Kevin is well aware, he is incredibly passionate about the show and has always gone way above and beyond to ensure its success." A rep for Paramount responded to Singer's comments: "As we previously stated, Kevin [Costner] has been a key component of the success of our 'Yellowstone' series, and we hope that continues from here on out."
---
---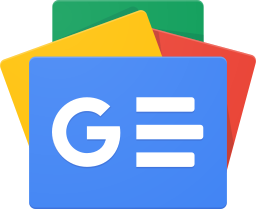 Stay up-to-date and support the site by following Bleeding Cool on Google News today!