Greg Baldino writes for Bleeding Cool
Art and politics have been forever involved with one another. Living in the age of short-term high-speed media, it can seem a very foreign concept that at a time it was the more permanent manifestations of political mythology that was of utmost importance. Public opinion could still turn on a dime, but go back two hundred years to an age when there was no mass media and illiteracy ran rampant, and it was the enduring image which mattered, more so than disposable sheets of newspaper.
It's this confluence of artistic and political intent which lays at the heart of Jean-Claude Carrière and Berner Yslaire's The Sky Over the Louvre, published as a joint venture between NBM's ComicsLit imprint and the Louvre Museum. Sky is one of several graphic novels the Louvre has produced with NBM, along with On the Odd Hours by Eric Liberge and Nicolas De Crecy's Salvatore Vol. 1: Transports of Love and Glacial Period.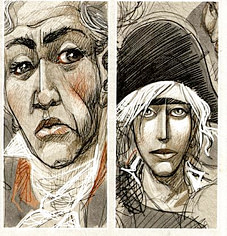 The famed art museum is more of a background element to the book, though. Set in 1793 with the French Revolution in full swing, the main thrust of the story concerns the painter Jacques Louis David, tasked by Robespierre to create a painting of the "Supreme Being" for an upcoming festival. The deadline set and the spotlight upon him, David has no luck finding a model for the work– until he's taken by the enigmatic beauty of Jules Stern, a mysterious young man of recent arrival in Paris from a country no one has ever heard of…
Comic books and graphic novels are a medium uniquely suited to exploring the history of art, being able to explore the visual dynamically and dramatically, placing the works in the context of the lives of their creators, and their creators in the greater scheme of human history.
In The Sky Over the Louvre, Carrière builds up a story that uses David as a framework around which to touch on both the history of the Louvre and the complicated political passions of the time. It's Yslaire's layout and drafting, though, that really makes the book sing. The players in this drama are all realized as emotive caricatures, and when the story fall silent on the grand sweeping splash pages there's a chill as the world of late 18th century Paris suddenly becomes real. In this sense it's very reminiscent of Alan Moore and Eddie Campbell's From Hell in the way that it draws out the texture of the time, from the scum choked gutters to the cramped apartments.
For the fan of dramatic history, The Sky Over the Louvre is not to be missed; a sweeping graphic album that captures the creative and destructive passions of the French Revolution.
The Sky Over the Louvre is a $19.99 hardcover from NBM
Greg Baldino writes for various publications and lives in Chicago. Contact him at greg.baldino@gmail.com