The Walking Dead Season 8 Finale 'Wrath' Review: An Ending with Endless Possibilities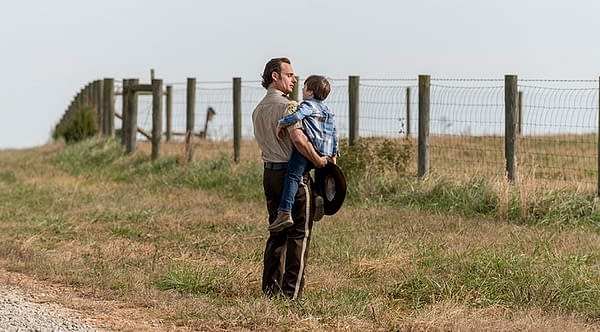 Welcome to Bleeding Cool's final weekly review/recap of AMC's The Walking Dead Season 8 – can you believe we've been through an entire season of "All Out War"? So before we take a look at whether season finale 'Wrath' ended in a blaze of glory or with a sad, lonely whimper, a not-so-subtle heads-up:
Just to be clear, our "revap" (recap/review/stream of consciousness mash-up) is a "monster" all its own — and I will be covering some themes and takeaways involving major and minor plot points from the episode, so just keep that in mind. Definitely not looking for pitchforks and torches outside my apartment so spoiler warnings. The Walking Dead Episode 8×16 'Wrath': The communities join forces in the last stand against the Saviors as all-out war unfolds.
We've got ambushes being ambushed by ambushes, as Negan's (Jeffrey Dean Morgan) Inception-like plan-within-a-plan finally unfolds – but was there another "Simon" lurking within his ranks? Things get a little crazy with the ammo; and the next thing we know, Negan and Rick (Andrew Lincoln) find themselves in the middle of a full contact debate that leaves one of them a little speechless. Oceanside joined the fight, Jadis rejoined society and Morgan (Lennie James) began a personal journey that will lead him west (and to Fear the Walking Dead); with the survivors regrouping and working together to build a better society. And then…
Maggie (Lauren Cohan), Jesus (Tom Payne) and a surprising third player discuss the future of the Hilltop…a future that doesn't involve Rick (Andrew Lincoln) or Michonne (Danai Gurira):

This might be the most talked about scene from the season – and will definitely be during the off-season:
Thank you for joining Bleeding Cool all season long for our reviews/recaps of AMC's The Walking Dead; and remember: we'll be back breaking Season 9 before you know it! But until then, here's a behind-the-scenes look back at the eighth season: