3 Dynamite Panels For Comic-Con@Home Includes Massive Crossover
As the online-San Diego Comic-Con replacement Comic-Con@Home information starts to be released, Dynamite Entertainment has the jump on today's panel announcements for its own planned media appearances, with three panels to be broadcast on three days of the show. And they are using it for announcements.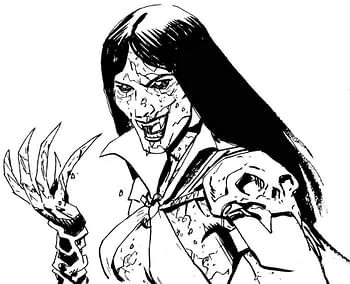 James Bond – 007 in Comics!
Thursday July 23 – 11 AM PST
Current writer Danny Lore (Ironheart) is joined by preceding 007 chronicler Greg Pak (Star Wars, Incredible Hulk) and Reflections of Death contributor Mark Russell (Red Sonja, Swamp Thing). Editors Nate Cosby and Matt Idelson chime in as well. And the real surprise guest is… Steve Orlando of Martian Manhunter and Wonder Woman fame. Who may or may not be discussing a new series with more details coming soon, such as in this panel. The bursting panel go back and forth, sharing their interpretations of Bond as a character and their own works, past, present and future.
Vampirella 50th Anniversary Finale
Friday July 24 – 4 PM PST
The writers of Vampirella and Vengeance of Vampirella return and are joined by two of the fanbase's favorite cover artists, and one unruly editor. That would be the one and only Christopher Priest (Black Panther, Deathstroke), the ever-amazing Tom Sniegoski (Bone, Punisher), renaissance man Lucio Parrillo, whipsmart Meghan Hetrick, and lastly the adjectiveless Matt Idelson. This cast discuss the lasting appeal of the Daughter of Drakulon, how they approach her across their different trades, their current storylines, and tease the future. Here's to another 50!
Dynamite's Two Huge Crossovers Revealed!
Saturday July 25 – 10 AM PST
! Keeping hush with more details to come, this much can be slipped out. Two completely separate huge storylines are coming this fall and winter, setting the tone for the ambitious future of Dynamite. Declan Shalvey (Moon Knight, Bog Bodies) is bringing his attuned writing to the cheeky titled DIE!namite. Declan is joined by his artist collaborator Justin Mason, who close followers of Dynamite already know is about to really break out. Then legendary writer Dan Abnett (Guardians of the Galaxy, Aquaman) unveils the biggest Dynamite project since Swords of Sorrow. Jonathan Lau, just one of the artists attached, joins the discussion. While Eisner-winning editor Nate Cosby rounds out the table. Almost every Dynamite character will appear across these bombshell series.