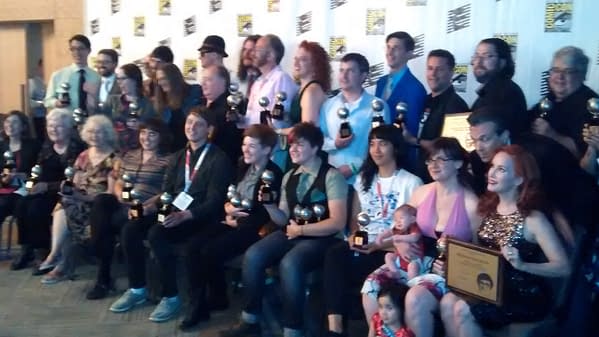 I've been to a number of Eisner Awards over the decades – it's one of the highlights of San Diego Comic Con, and you can read this year's results right here. But this year, it went in a stranger direction. Rushing to the awards, I was a little late as usual, I all but bumped into British TV broadcaster Jonathan Ross. Who asked if I'd like to join him backstage,
So I did. And this year I got to see the show from the point of view of those who present it. A number of comics luminaries, and stars of the screen (especially Showtime programmes) congregated to watch the show, and get themselves ready to present. And Jonathan worked through a number of jokes he'd prepared, including who would be a better target for one mean gag, Eisner presenters Sergio Aragones or Mark Evanier.
And everyone from Edward James Olmos to Tahmoh Penikett to Chris Claremont took this very seriously. Especially one younger actor who who exclaimed on his return from presenting awards, that he was invincible. Though fireworks did provide a brief distraction.
But while I'd been expecting the room to split into those who work in comics and those who don't in their reaction to the show, I was surprised to see one group of stars enthusing greatly amongst themselves over the nominee prominence Lumberjanes, cheering when that comic did so well, and getting a little weepy over the accepters of the award Noelle Stevenson and Shannon Watters' own emotional reactions to doing the Double. They also stayed to the end of the show to watch, while others had already left the building. Which battled a few of my preconceptions.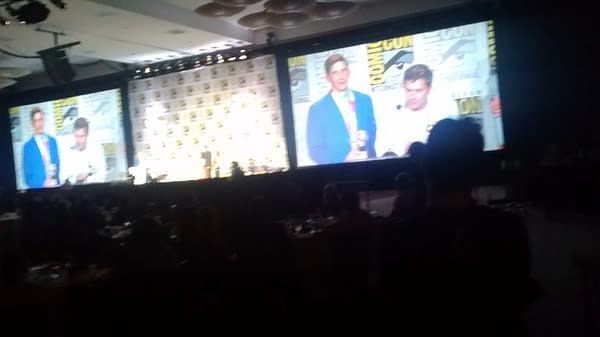 There is no doubt that, despite some objections, the glitz and the glamour of TV and film does add a certain spice to the usual goings on, and with the sponsorship helping maintain that, and high standards.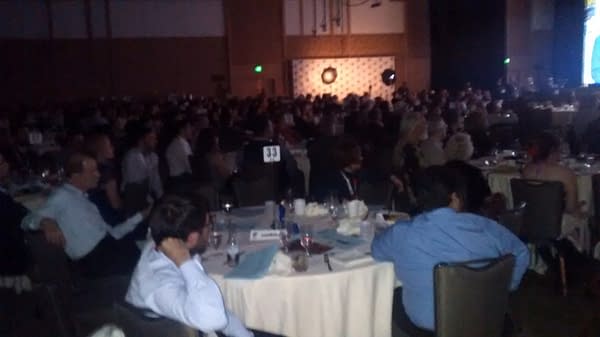 A solemn moment came for Maggie Thompson's In Memoriam section, in which Sharon Sakai, Eric Caidin, Jeremy Dale, Lurene Haines, Seth Kushner, Gary Owens, Stan Freburg, Roger Slifer, YoshihiroTatsumi, Dexter Taylor, Stan Goldberg, Irwin Hasen, Leonard Starr and Herb Trimpe, were remembered and their life and work celebrated.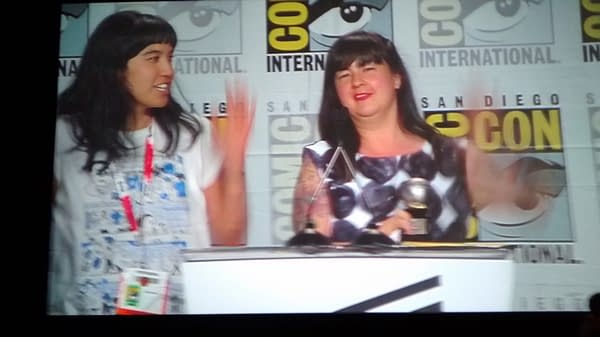 The Orlando Jones/Michael Davis back and forth on stage was a higlight for many as Orlando tried to control Michael with little success, indeed, only encouraging Michael's fast wit and seeing a verbal sparring match between two old friends, with one trying to perform his duties for the show and the other putting every obstacle in that past, with very humours results. I do hope Orlando thought so too. Michael Davis' interjection to the nomination of Southern Bastards wondering if there was a certain flag involved, saw Orlando's witty reposte, that there is nothing wrong with the Confederate flag. It shows you where the a–holes are.
No one expected Jim Steranko to accept his award, no one was as surprised as Gene Lang Yeun that he had won for Best Writer. And I was especially pleased that an old friend was able to accept his first Eisner Award for Comics Journalism – but with Comics Alliance EIC Andrew Wheeler also having his first comic announced from Oni Press at the show,  maybe he'll be back soon for other categories. We also learnt from Jim Lee that Frank Miller was in rude health, as he accepted a Hall Of Fame award for Frank.
Jonathan closed out the show, with an ever funny act, his mean joke now aimed at Mark Evanier, his acclaim that the Eisners aren't the Oscars of comics, rather the Oscars are the Eisners of film. He almost gave an award to another nominee as once person wasn't available to accept that award. Declaring these were the rules, he also state that they wouldn't apply to Jim Steranko. He talked out how the success of Lumberjanes was important to the medium and enthused about the winners' reactions.
I also discovered that talking with Jonathan is like playing with live bullets. As Don McGregor received the Bill Finger Award, I mentioned McGregor's story as told at the Black Panel that morning, about when he was asked to add more white people in the Black Panther comic. He did so – but only with the Klu Klux Klan. A line that Jonathan then recreated on stage, much to Don's surprise, as that morning was the only time he'd told that tale in years.
This One Summer by Mariko Tamaki and Jillian Tamaki winning the Best Graphic Album saw another emotional response and a standing ovation… and then the parties began… The Eisners is always a good show, and we should have some of the video coming through soon from Bleeding Cool's Patrick Willems to prove it.
It's a credit to Jackie Estrada and her team that something so long running can continue to feel fresh, exciting and heartlifting at all the wonderful comic books that people can try…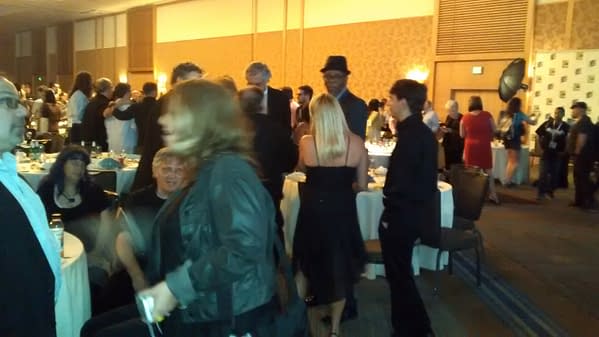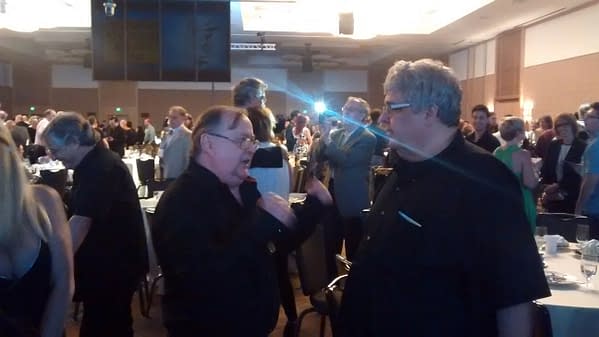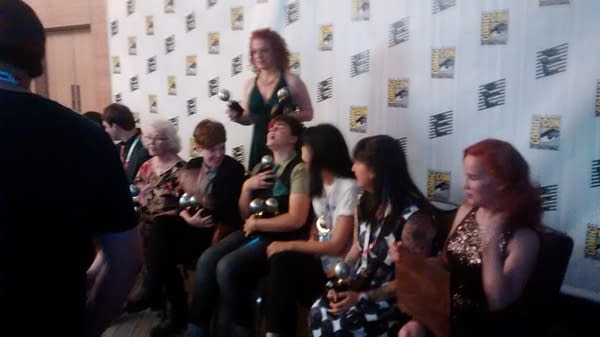 Enjoyed this article? Share it!