Comics has a long history of legacy characters, with new characters taking on the identity of an established superhero, often temporarily, and sometimes catapulting them to a new level of popularity when they return to their own superhero identity in the future. Or, if you believe comics-stabbing conspiracy theorists, they ruin comics with their SJW agenda. Whatever the case, a new legacy character is about to take on the mantle of a popular comic book hero, and it may be the most prestigious takeover we've seen yet.
Of course, we are talking about Zombie Tramp, which will see a new character take on the titular role. That character will be revealed on one of Action Lab's NYCC exclusive variants, though the image is blacked out in the preview below. So if you're at the con, go and pick up the variant cover, snap a photo, and send it to us so we can make a second clickbait article.
Check out the full list of Action Lab and Action Lab: Danger Zone (that's the softcore porn imprint) below:
MIRACULOUS ADVENTURES OF LADYBUG & CAT NOIR #5
Created by: Thomas Astruc
Written by: Thomas Astruc, Mélanie Duval, Fred Lenoir, Bryan Seaton & Sébastien Thibaudeau
Artist Name(s): Zag Entertainment
Cover Artist(s): Brian Hess
Letters by: Justin Birch
Edited by: Nicole D'Andria and Bryan Seaton

This issue of Miraculous: Adventures of Ladybug and Cat Noir collects four Zag Entertainment webisodes: "Inspiration", "Busy Day", "Homework Essay" and "The Notebook". Join Marinette as she gets inspired by the amazing city of Paris, tries to bake enough macaroons in order to spend time with Adrien, writes an essay about a person who inspires her and helps Rose (along with the rest of her friends) try to feel better after Chloé insults her.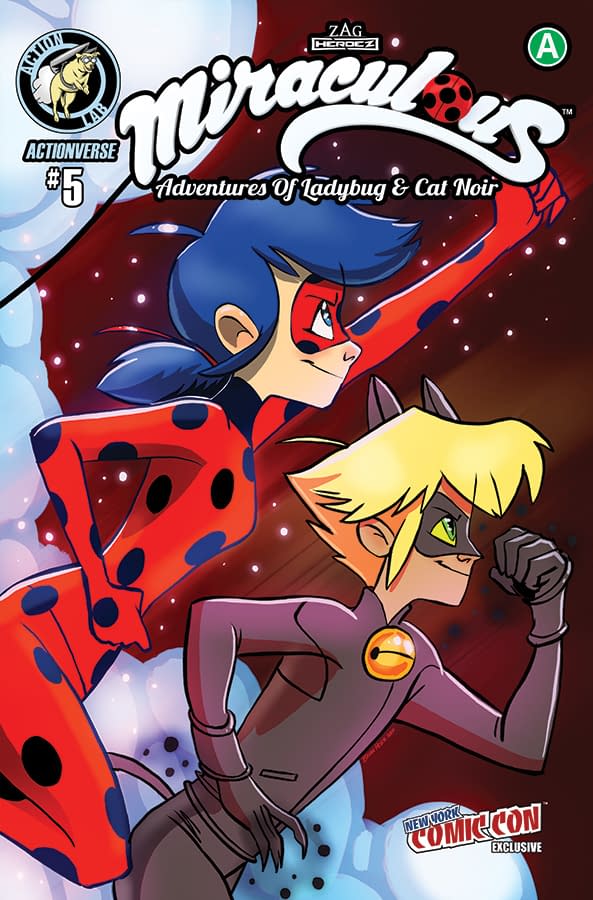 BLACK BETTY #5
Writer(s): Shawn Gabborin
Artist Name(s): Rafael Dantas (art), Rosa "Rosakaz†Rantila (colors)
Cover Artist(s): Trevor Grace

What kind of creature would stalk an idyllic, quiet, small town? None, as far as Betty can tell. But there's one little boy in town who is convinced something is wrong. He's willing to put up his dead grandfather's money if Betty can find the killer… and Betty never turns down a bounty.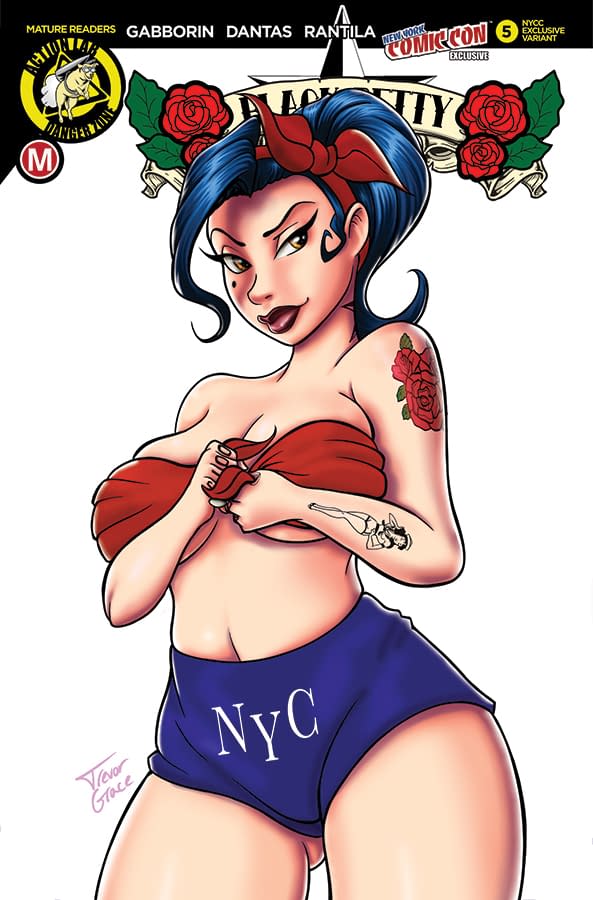 DANGER DOLL SQUAD PRESENTS: AMALGAMA LIVES #1
Writer(s): Jason Martin
Artist Name(s): Winston Young
Cover Artist: Marco Maccagni

Spinning out of the events of the last DANGER DOLL SQUAD series, and featuring the powers of Zombie Tramp, Vampblade, and DollFace combined, it's the solo debut of the all-new fan-favorite mash-up character in her own book!! Get an early look at the first full issue that will be previewed later this month during Halloween Comic Fest!

The next big Danger Zone series starts here!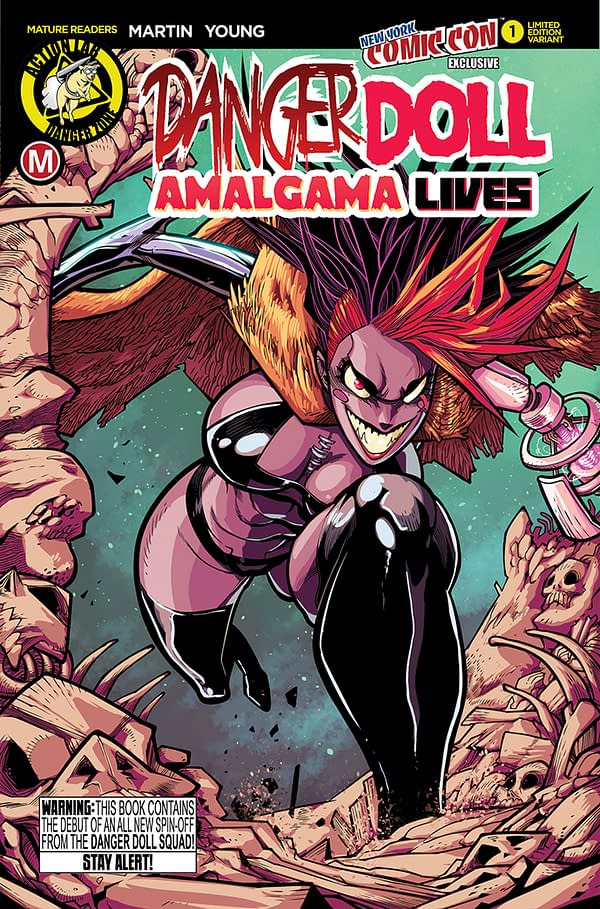 DOLLFACE #16
Writer(s): Dan Mendoza, Bryan Seaton & Nicole D'Andria
Artist Name(s): Marco Maccagni
Cover Artist: Bill McKay

While Lila and Ivan are away searching for the scale of a green Dragon, Naiimus pays Emily a deadly visit. Will she get the crystals? More importantly, will Emily make it out of the ordeal alive?!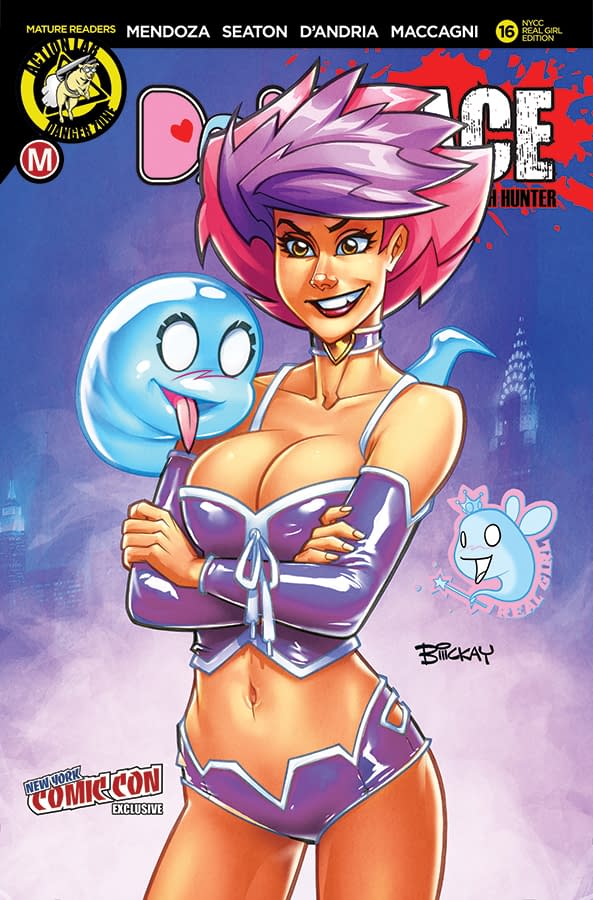 SPENCER & LOCKE VOLUME 2 #1
Writer(s): David Pepose
Artist Name(s): Jorge Santiago, Jr. (pencils), Jasen Smith (colors)
Cover Artist(s): Jorge Santiago, Jr.

HIS PARTNER'S IMAGINARY… BUT THE MADNESS IS ALL REAL! Under investigation after solving the murder of Sophie Jenkins, Detective Locke continues to wrestle with inner demons that not even his partner â€" his imaginary talking panther Spencer â€" can contain. This critically acclaimed tale of twisted nostalgia makes its triumphant return, written by David Pepose and illustrated by Jorge Santiago, Jr.!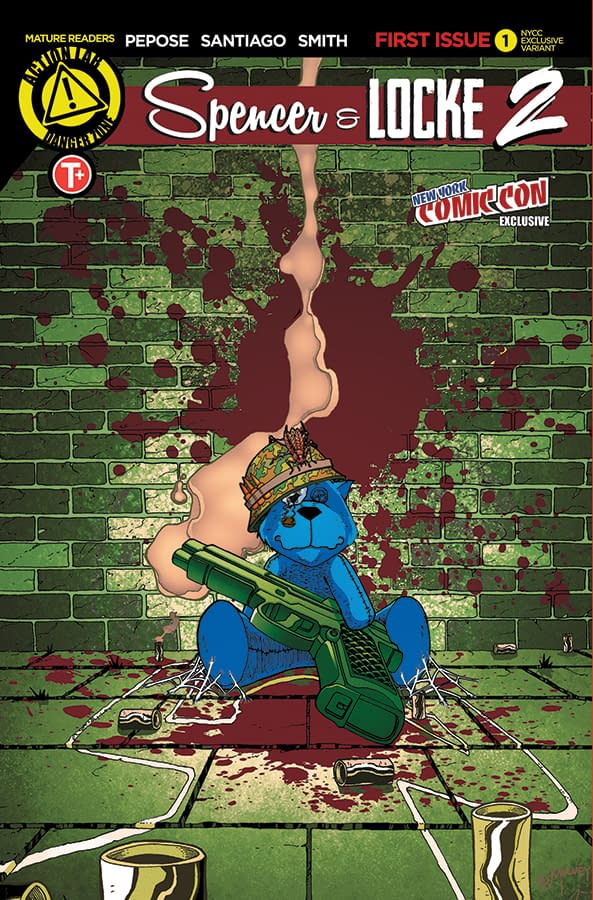 VAMPBLADE SEASON 3 #6
Writer(s): Jason Martin
Artist Name(s): Marco Maccagni
Cover Artist: Bill McKay

Katie's managed to get out of the alternate universe she was trapped in. And now she's gone straight to… HELL!!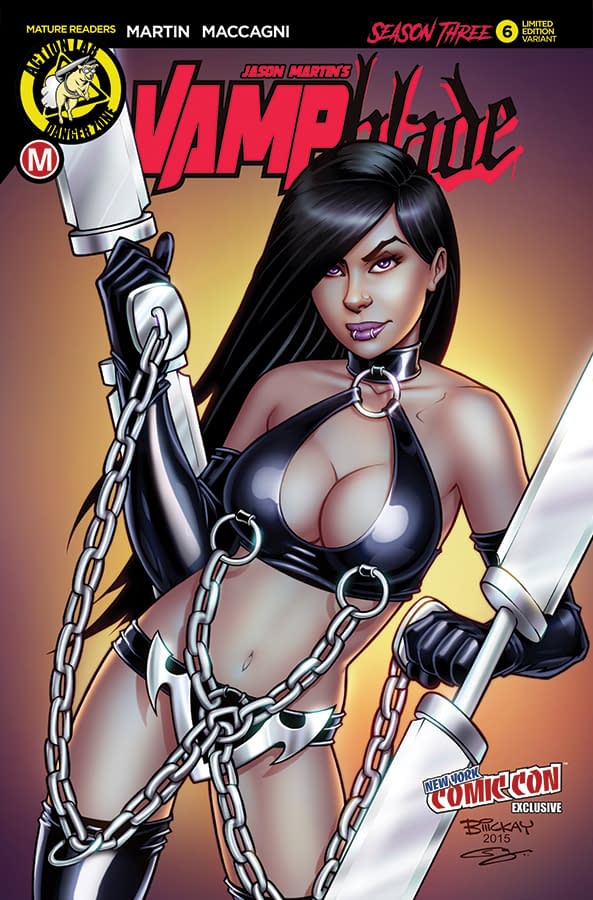 ZOMBIE TRAMP #53 will be available at NYCC, and with two exclusive and very limited covers, plus cards and metal prints, just for comic con! Be the first to see the NEW Zombie Tramp, Angel Lynch, or enjoy the image of the original Zombie Tramp, Janey Bell, as only Dan Mendoza can draw them in both Regular and Risqué versions. Be sure to visit Action Lab booth 3044 to grab an early, exclusive copy!

ZOMBIE TRAMP #53
Writer(s): Dan Mendoza
Artist Name(s): Marco Maccagni
Cover Artist: Dan Mendoza

With Janey still apparently dead, her right-hand man Oscar must go on a quest to figure out how to bring the Zombie Tramp back!
The Zombie Tramp #53 exclusive foil cover will be revealed during NYCC! It will showcase the next person to take on the Zombie Tramp role!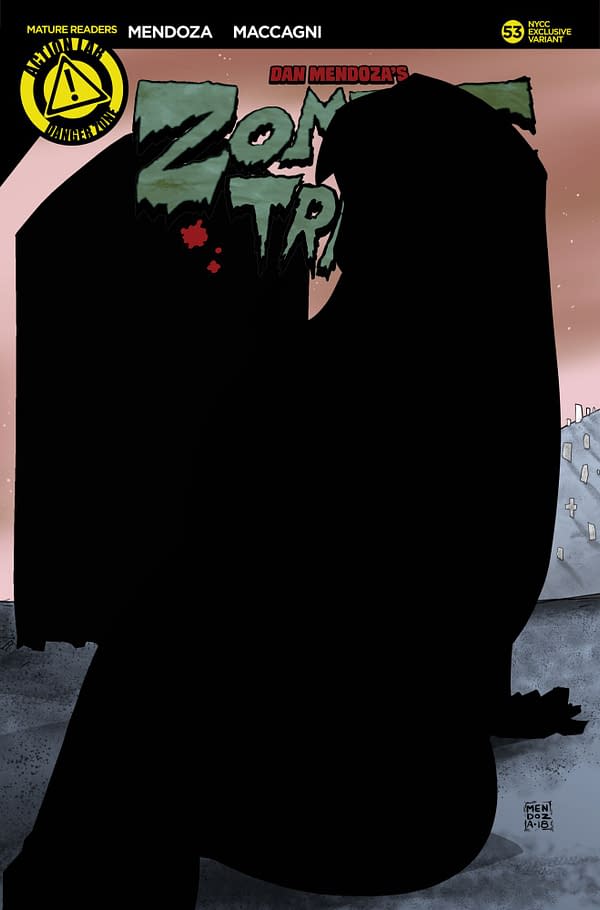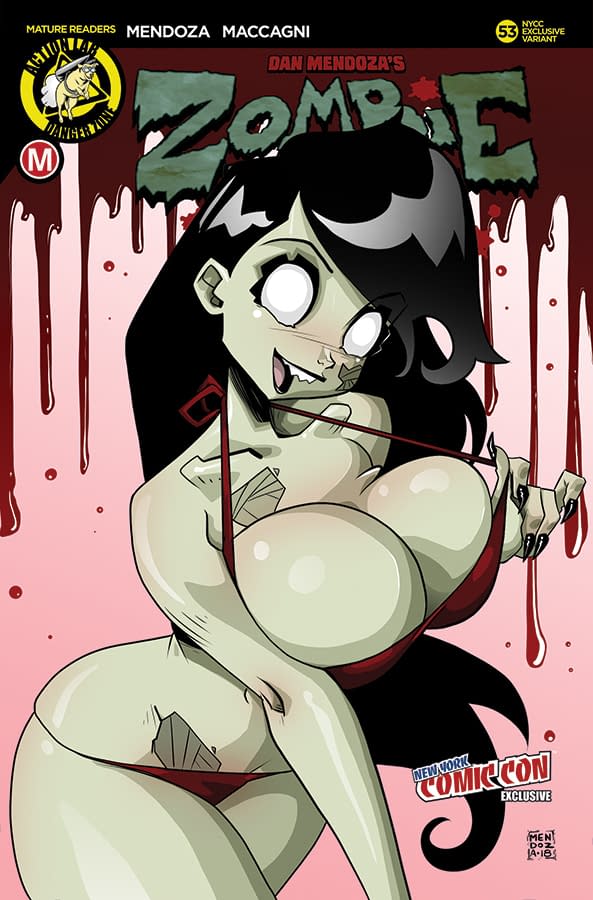 Enjoyed this article? Share it!