A Secret Invasion Sequel in Next Week's Unbeatable Squirrel Girl #38?
Squirrel Girl is not dead, despite the claims made by the cover of last issue, but a more sinister plot may be menacing the Marvel Universe, if this preview of next week's Unbeatable Squirrel-Girl #38 has anything to say about it. Of course, we're talking about the menace of a super-mega-crossover event sequel!
2008's Secret Invasion, by "The Great One" Brian Bendis and Leinil Francis Yu, revealed that Skrulls had been secretly infiltrating Earth's superhero community for years with the end goal of taking over the Earth and inflicting consequences that would shake the Marvel Universe to its foundation, repercussions that would be felt for a long, long time… or at least until the next super-mega-crossover event. But they were slightly less frequent back then. Slightly.
In any case, could that same thing be happening again? It is the tenth anniversary, after all, and just look at this clip from the preview…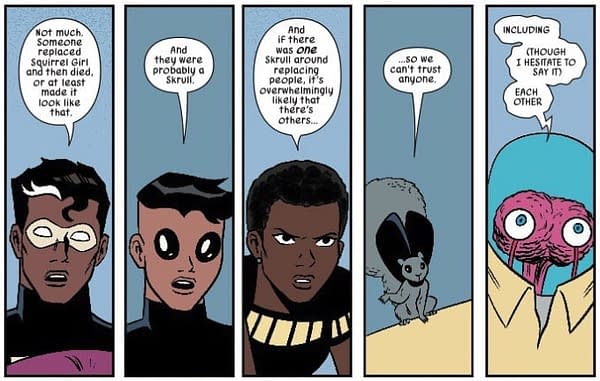 Oh no! Who do you trust?!
Also, we learn exactly how much cloud storage Iron Man keeps…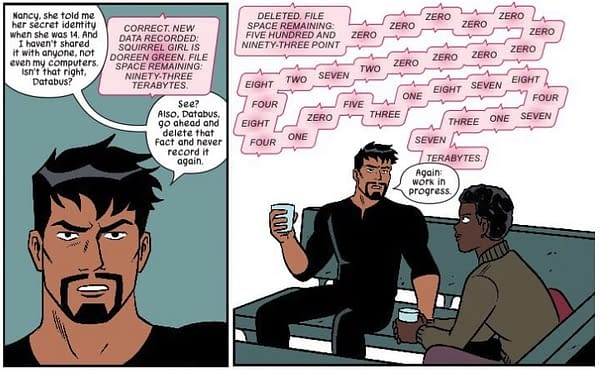 Really? Just 93 terabytes? We'll all be laughing at this ten years from now when we've got 8 petabytes of storage on our smartphone memory cards.
Unbeatable Squirrel-Girl #38 hits stores next Wednesday.
Unbeatable Squirrel Girl #38
(W) Ryan North (A) Derek Charm (CA) Erica Henderson
SQUIRREL GIRL IS DEAD!
• …is what you'd be saying if you only read the cover of our last issue and NOT the contents, in which we revealed a shocking twist: Squirrel Girl…IS ALIVE?
• Yes! The good news is, everyone's favorite squirrel-themed super hero is alive and well! But the bad news is: Whoever replaced her…was a shape-shifting alien SKRULL, and now Team Doreen doesn't know who to trust!
• Mysteries deepen and allegiances are tested in this issue as…a shocking Skrull is revealed!
• It's not Nancy, though.
• Nancy's great.
Rated T+
In Shops: Nov 14, 2018
SRP: $3.99