Marvel Comics has a problem. When you're publishing 20 X-books in a single month, it's hard to keep track of all the timelines. Sometimes a character is supposed to be over here, but they're actually over there. If they're a Wolverine, they're everywhere. You know how it goes.
In the case of Dani Moonstar, appearing in both Prisoner X and Uncanny X-Men, comics taking place in different universes, Matthew Rosenberg (who we remind you has quit Twitter) goes on Twitter and tries to play it up as a purposeful choice…
So a couple (hundred) of you have pointed out that Dani Moonstar is in UNCANNY X-MEN and PRISONER X. Everyone who noticed that, award yourself 2 points! Now is where I explain that no, it's not a mistake. There is a way you can find out why she's in both. Guess what it is? pic.twitter.com/DJtMaqyYTZ

— Matthew Rosenberg (@AshcanPress) March 7, 2019
As storytellers it's our job to maintain mysteries, make you question things, and offer up information when it best serves the story. So, yeah, sometimes there will be things that confuse you at the beginning of the story. That's just how it works. Patience.

— Matthew Rosenberg (@AshcanPress) March 7, 2019
Though not everyone is buying into Rosernberg's games…
Well, yes.

— Matthew Rosenberg (@AshcanPress) March 7, 2019
But in next week's issue of Spider-Man/Deadpool, an ingenious solution to Marvel's problems is unveiled: just claim the explanation for something is in an extraneous tie-in that doesn't really exist!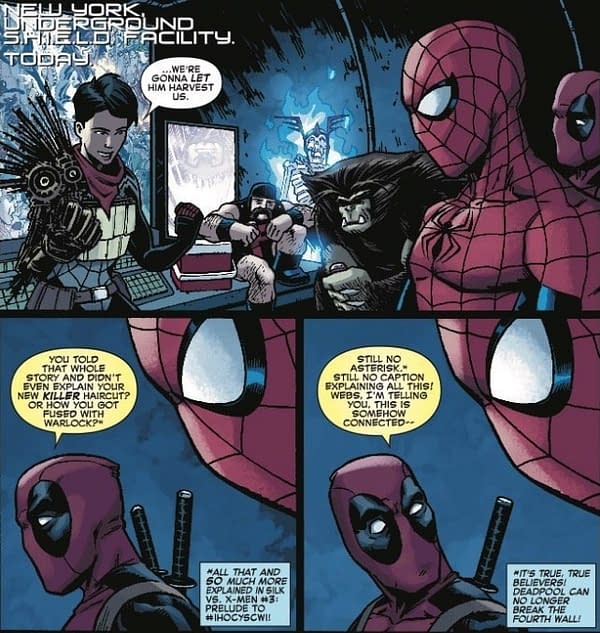 Honestly, with the way Marvel floods the market with comics, can anyone really prove that book doesn't exist? It's the perfect crime!
Spider-Man/Deadpool #47 hits stores next Wednesday.
Spider-Man/Deadpool #47
(W) Robbie Thompson (A) Matt Horak (CA) Will Robson
"INFINITE HOUSE OF CIVIL yet SECRET CRISIS WAR INVASIONS" continues!
• The entire Marvel Universe is on the chopping block and it doesn't look like Spider-Man and Deadpool can save the day.
• Wait, WHAT?! They're our HEROES?!
Rated T+
In Shops: Mar 13, 2019
SRP: $3.99
Enjoyed this article? Share it!