Every Possible Absolute Carnage Mention We Can Find Today – From King Thor to Silver Surfer to Powers Of X? (Spoilers)
There are lots of Absolute Carnage-related comic books out today. Not Absolute Carnage of course, that's not out till October. But when has that stopped an event comic book? And it does seem to be stretching far and wide… but does that include Powers Of X #4? Possibly. You be the judge.
We begin with King Thor #1. Set in the far far future (beyond even Year X3) where we learn the future of the Annihilablade, the God-Slayer, the Necroblade…
… the weapon forced out of symbiote and used by the symbiote god Knorr, the god-killer Gorr, then Thor, then Galactus and then Ego… quite a journey. No mention of Malekith or Carnage as sword wielders yet though.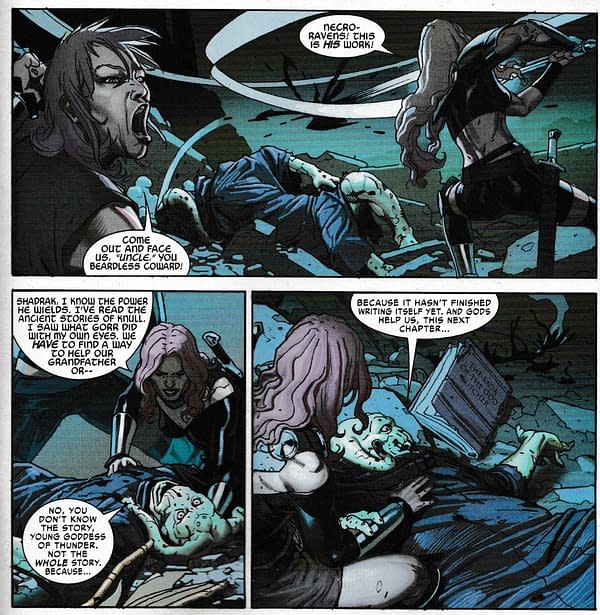 Maybe that's in all the other books that lay out all that happened (and check out today's Loki #3 to discover just how come there are so many books). While over in Silver Surfer: Black #3, we have Silver Surfer dealing with his necrotic infection, with only Ego to help him and Galactus to get in the way. Does King Thor suggest this is but the beginning for Ego and Galactus's involvement?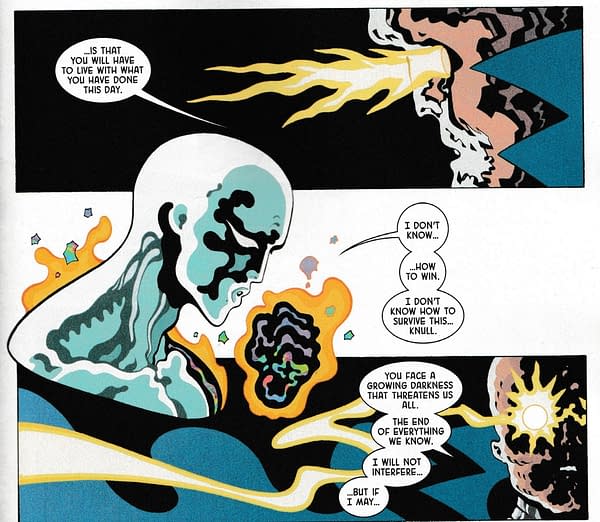 While away from the cosmic, Absolute Carnage Vs Deadpool #2 introduces a few new folk to the Carnage way of life.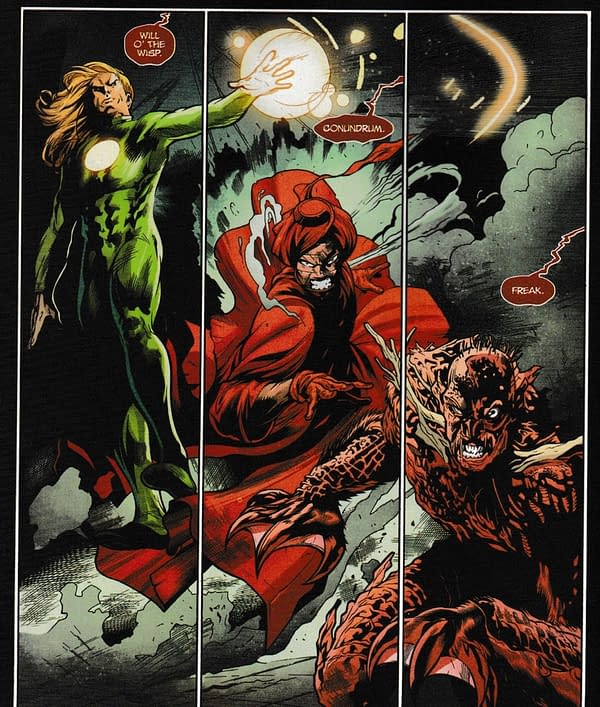 Well, handy to keep a symbioted Will O Wisp, Conundrum and Freak onside, complete with their new codices. But the comic also pumps up Deadpool as being someone very special who has wordn four – possibly, five – symbiotes at once…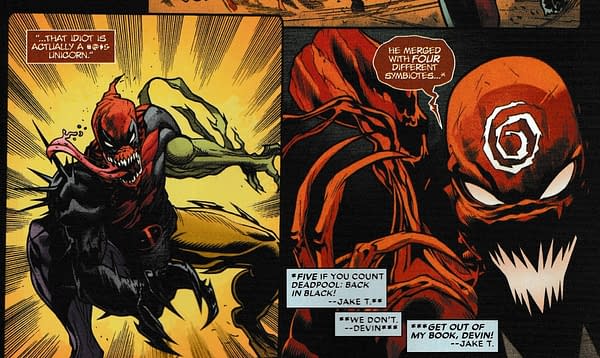 … leaving plenty of different codices in his spine to be sucked out by Carnage…
…except Venom #18 also out today suggests that Deadpool is less of a unicorn than some may think. As we get a scene that ties into the previous Absolute Carnage #2…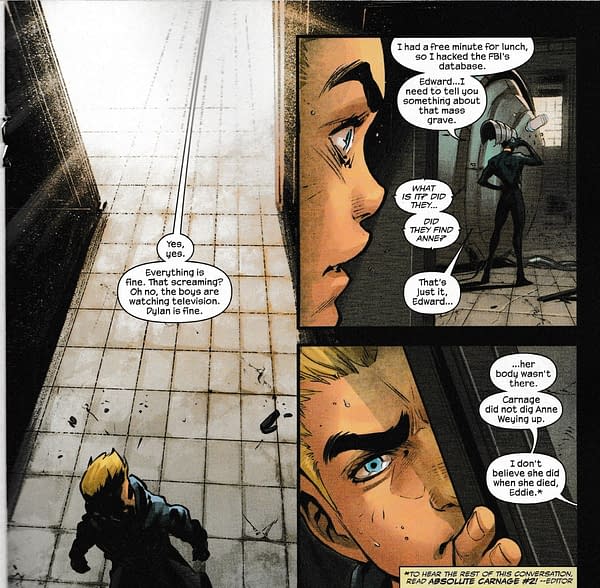 …as Sylan and Normie Osborn make a move against The Maker. And in doing so free the four symbiotes he has captured, with only one potential host remaining…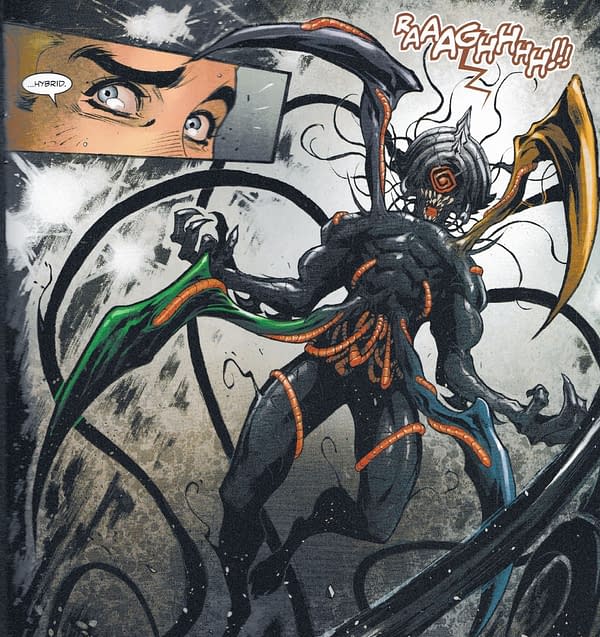 …creating a new four-way symbiote hybrid from The Maker, possessing all of Reed Richards' abilities. Two unicorns in one week? Is a Deadpool Vs The Maker spinoff series on the cards? While over in Absolute Carnage: Symbiote Of Vengeance, we have the death of a former Ghost Rider and symbiote wearer in Venom: Circle Of Four, Alejandra Jones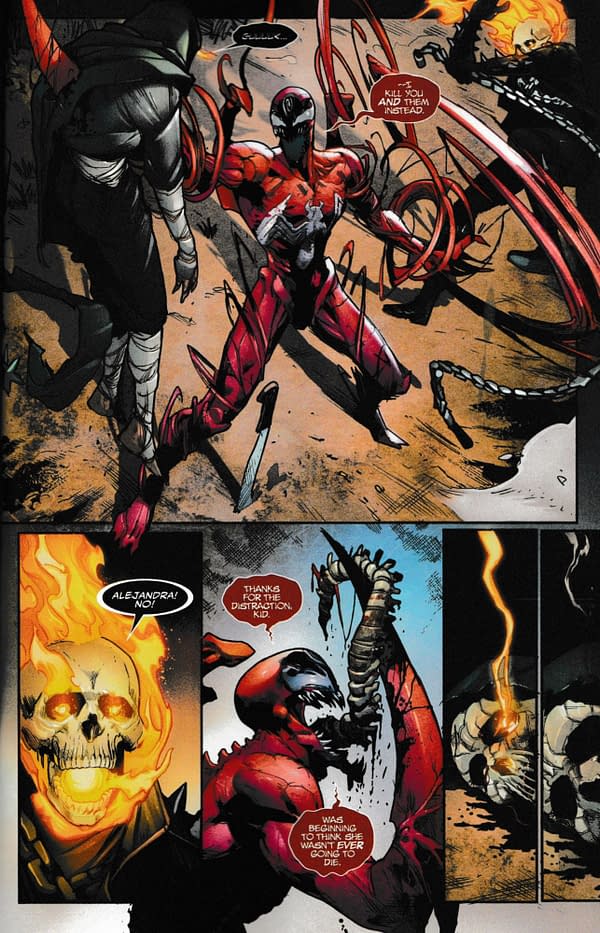 And a one-way trip to Hell. Who, thankfully for her, is under new management.
But a little thing like death isn't going to stop Alejandro Jones, and this book does seem to set up any and all Spirirts Of Vengeance shenanigans to come alongside the new TV series. So very Absolute Carnagey but also leading up to something new.
Oh and yes, Powers Of X #4, I did promise you, Okay, this is put a stretch, but Douglas Ramsey gets the origin of Krakoa from the sentient mutant island and discovers that it is but half of a whole. Once known as Okkara, and divided in two, Krakoa and Arrako. And what did the dividing?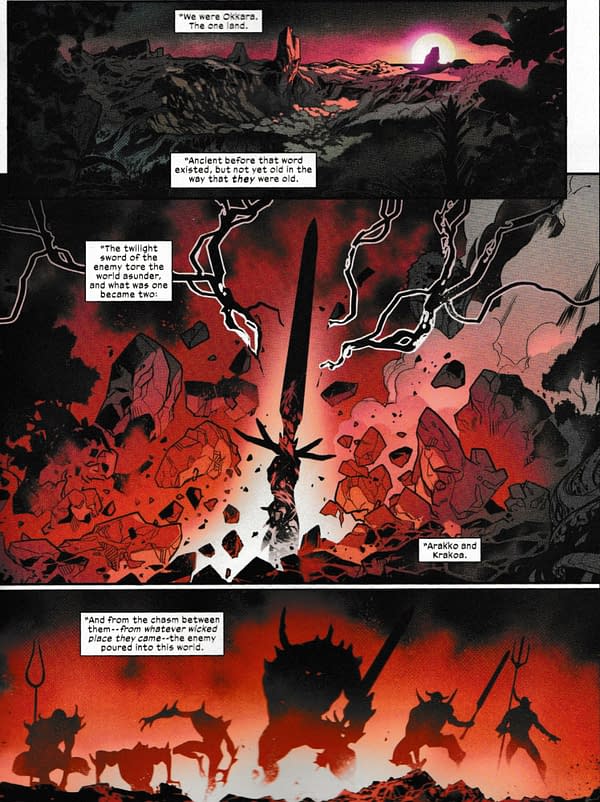 Twilight sword of the enemy? Is it too soon to start calling this a necro-sword, even if wielded by a certain Apocalypse?
Just a thought…
KING THOR #1 (OF 4)
(W) Jason Aaron (A/CA) Esad Ribic
SUPERSTARS JASON AARON & ESAD RIBIC CONCLUDE THEIR EPIC THOR STORY!
The creators of the legendary THOR: GOD OF THUNDER series that kicked off one of the most epic runs in Marvel history are back together for one last ride with the almighty Lord of Asgard! Seven years ago, Jason and Esad introduced the Thor of the far future, All-Father of a broken realm and a dying universe, as he stood in battle against the Butcher of Gods, wielder of All-Black the Necrosword. Now that nefarious blade has returned, in the hands of Thor's all-time greatest enemy – his brother, Loki – for one final, cataclysmic showdown. Behold the book no comics fan should miss – the celebration of the end of a truly Marvelous era.
Rated T+In Shops: Sep 11, 2019
SRP: $3.99

SILVER SURFER BLACK #4 (OF 5)
(W) Donny Cates (A/CA) Tradd Moore
• The darkness is spreading, and Knull is winning.
• But when the Surfer discovers something with the potential power to turn the tides, is he prepared to pay the terrible price for awakening it?
• With the cost of survival already taking its heavy toll on him, does he have any other choice?
Rated T+In Shops: Sep 11, 2019
SRP: $3.99

ABSOLUTE CARNAGE SYMBIOTE OF VENGEANCE #1 AC
(W) Ed Brisson (A) Juan Frigeri (CA) Philip Tan
Carnage is hunting down previous symbiote hosts for codices that will unlock a direct link to the symbiote god Knull! And he's not asking nicely…he's taking them by force! Which means former Ghost Rider Alejandra Jones is next on his hit list!
With Johnny Blaze preoccupied as Hell's king, it's up to Danny Ketch to ride again and keep Alejandra out of Carnage's clutches!!!
Rated T+In Shops: Sep 11, 2019
SRP: $4.99

ABSOLUTE CARNAGE VS DEADPOOL #2 (OF 3)
(W) Frank Tieri (A) Marcelo Ferreira (CA) Rob Liefeld
CARNAGE'S MOST WANTED!
• Having hosted five separate symbiotes, Deadpool becomes a prime target for codex hunters.
• Dark Carnage puts a big target on Deadpool's back, and the most dangerous forces in the Marvel Universe are on his trail!
• There's only one way out…and it will be ABSOLUTE CARNAGE.
Parental AdvisoryIn Shops: Sep 11, 2019
SRP: $3.99

VENOM #18 AC
(W) Donny Cates (A) Iban Coello (CA) Kyle Hotz
ABSOLUTE CARNAGE TIE-IN!
• Carnage's unlikely and symbiotic allies swarm Venom and his family!
• As all hell continues to break loose as Carnage's army swarms the streets of New York, Eddie Brock has his hands full at Rex's Warehouse!
Rated T+In Shops: Sep 11, 2019
SRP: $3.99

POWERS OF X #4 (OF 6)
(W) Jonathan Hickman (A/CA) R. B. Silva
As Cerebro does as it was intended to do, Sinister does what Sinister does best and the future comes to an end. Superstar writer Jonathan Hickman (FF, NEW AVENGERS, INFINITY) continues his reshaping of X-History alongside breakout artist R.B. Silva (UNCANNY X-MEN). The Future of the X-Men begins here!
Rated T+ In Shops: Sep 11, 2019
SRP: $4.99