Action Lab Launches Jason Muhr's Voracious Appetite For Destruction and Jeanine Jonee's Seafoam in May 2019 Solicits
Action Lab is launching two new books in May. The first, Voracious Appetite For Destruction #1 by Jason Muhr, in a world where people hunt dinosaurs in parallel dimensions for food – and sport.
And the all-ages Seafoam, Friend For Madison #1 by Jeanine Jonee. As well as all their other title for the month – including a couple of Princelesses…
VORACIOUS APPETITE FOR DESTRUCTION #1 CVR A MUHR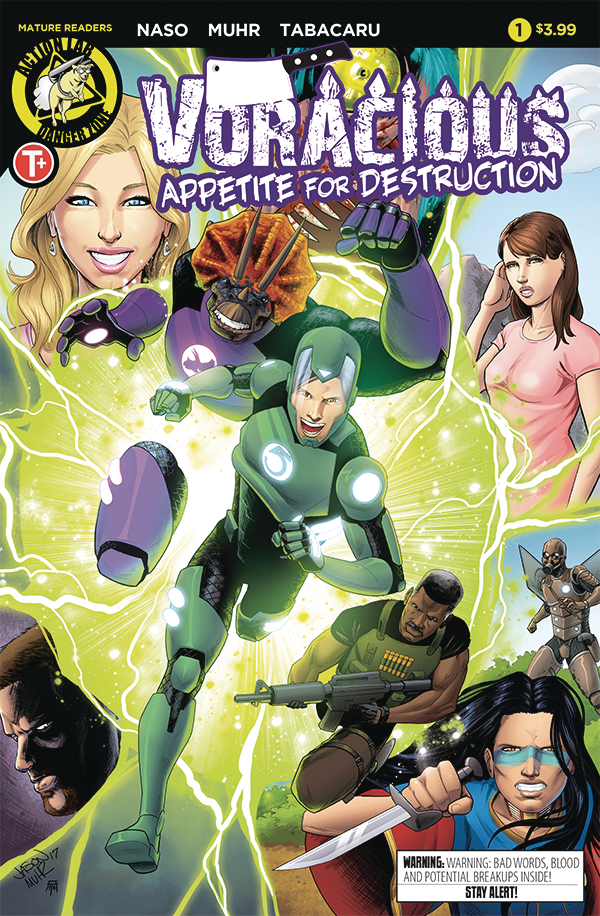 MAR191332
(W) Jason Muhr (A/CA) Jason Muhr
Chef Nate Willner's dinosaur hunts in an alternate dimension reignited his passion for cooking and turned his life around. But traveling through time and space for prehistoric meat has consequences he never imagined. He's damaged another universe, fractured the trust of the people he cares for most, and unleashed a flesh-hungry monster on his hometown. Can Nate and his friends put aside their differences long enough to save Blackfossil? Featuring a "Bone to Pick" variant cover by Valentin Ramon (Z, D4VE), limited to 250 copies!
In Shops: May 29, 2019
SRP: $3.99
VORACIOUS APPETITE FOR DESTRUCTION #1 CVR B RAMON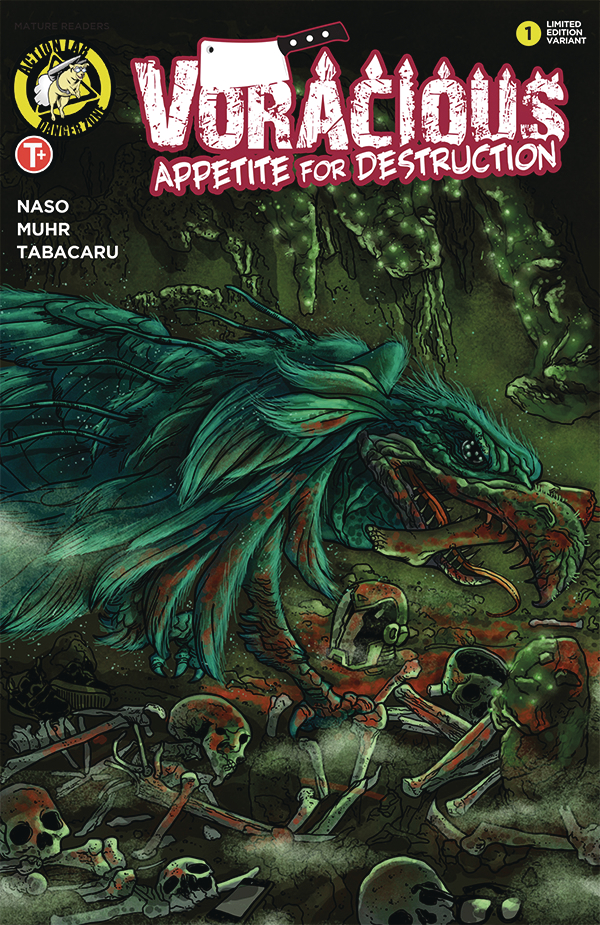 SEAFOAM FRIEND FOR MADISON #1 CVR A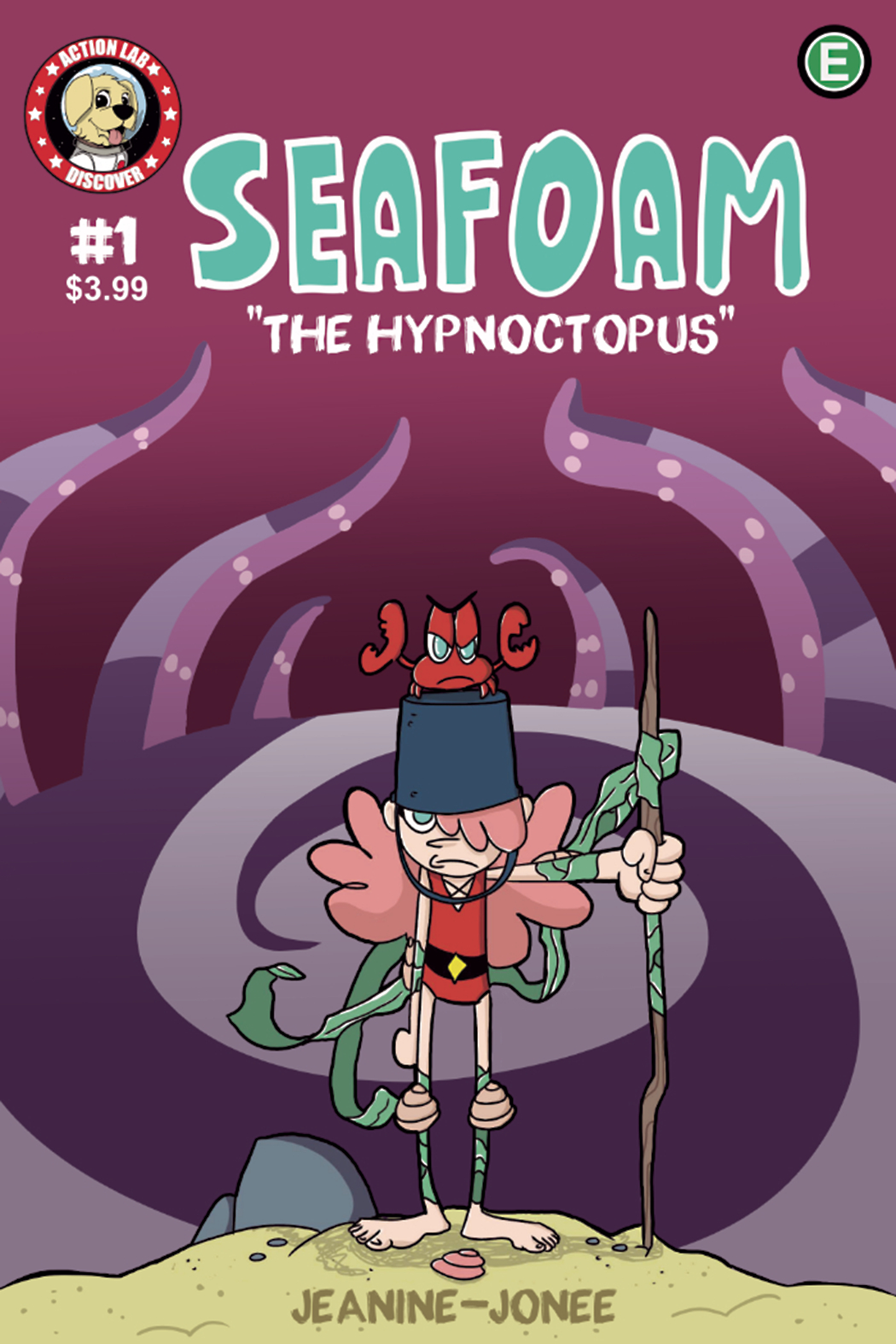 MAR191327
(W) Jeanine Jonee (A) Kyle Holland (A/CA) Jeanine Jonee
Seafoam follows the adventures of Madison, a spunky 9-year-old girl who is granted passage to a beach full of mystical and nautical themed creatures after helping a beached narwhal. There she befriends a stand-offish boy she calls Blue, who has a few secrets of his own. In their first adventure, the kids face off against the Hypnoctopus, a vulgaris with the ability to control minds.
In Shops: May 29, 2019
SRP: $3.99
SEAFOAM FRIEND FOR MADISON #1 CVR B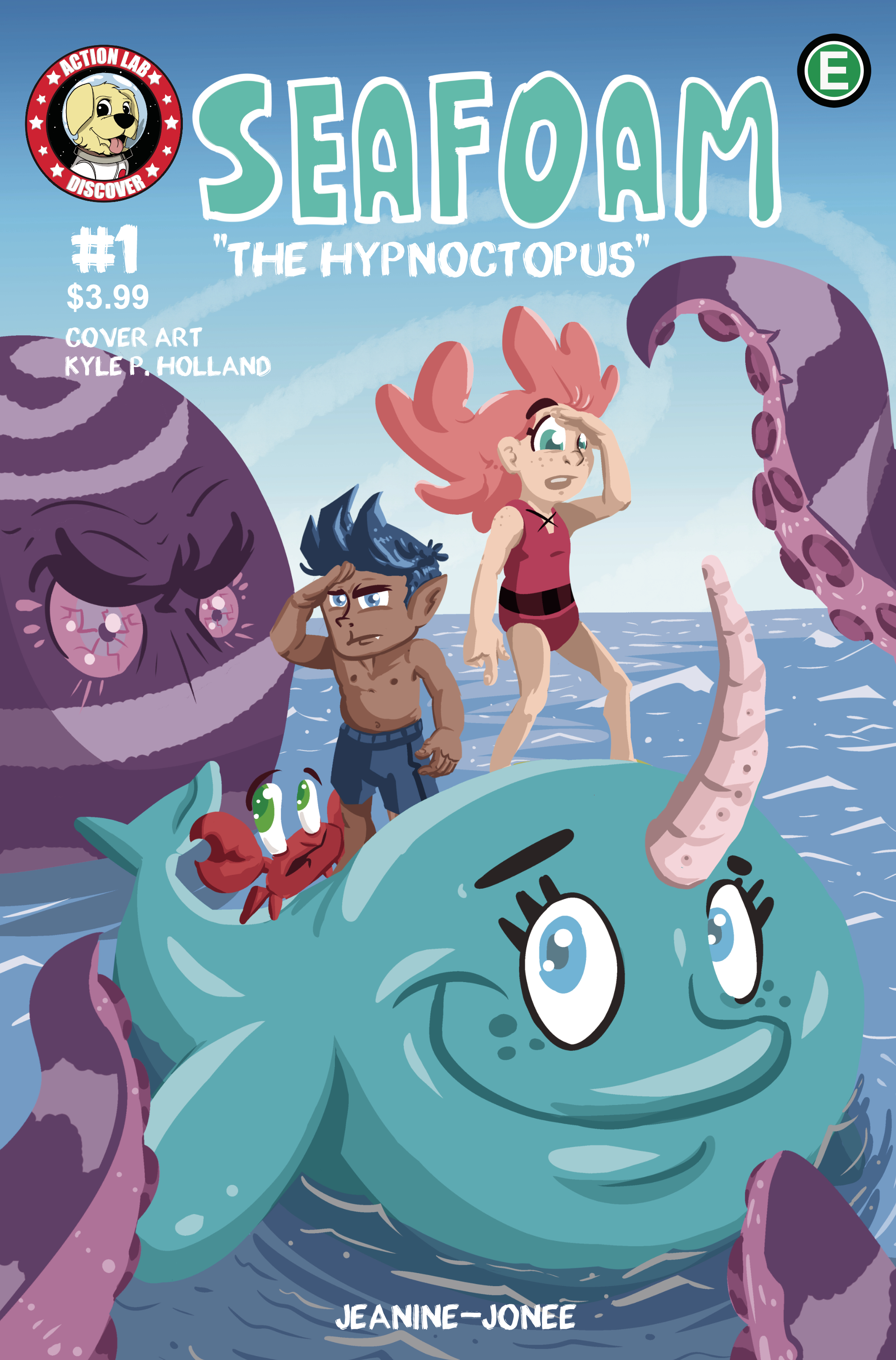 SPENCER AND LOCKE 2 #2 CVR A SANTIAGO
MAR191329
(W) David Pepose (A) Jasen Smith (A/CA) Jorge Santiago, Jr.
The trial of Spencer and Locke starts now! After turning the city upside-down to stop Roach Riley, our hard-boiled heroes suddenly find themselves on the wrong side of the law, but what happens when Roach crashes their hearing with a sixty-ton tank?
In Shops: May 29, 2019
SRP: $3.99
SPENCER AND LOCKE 2 #2 CVR B HOUSE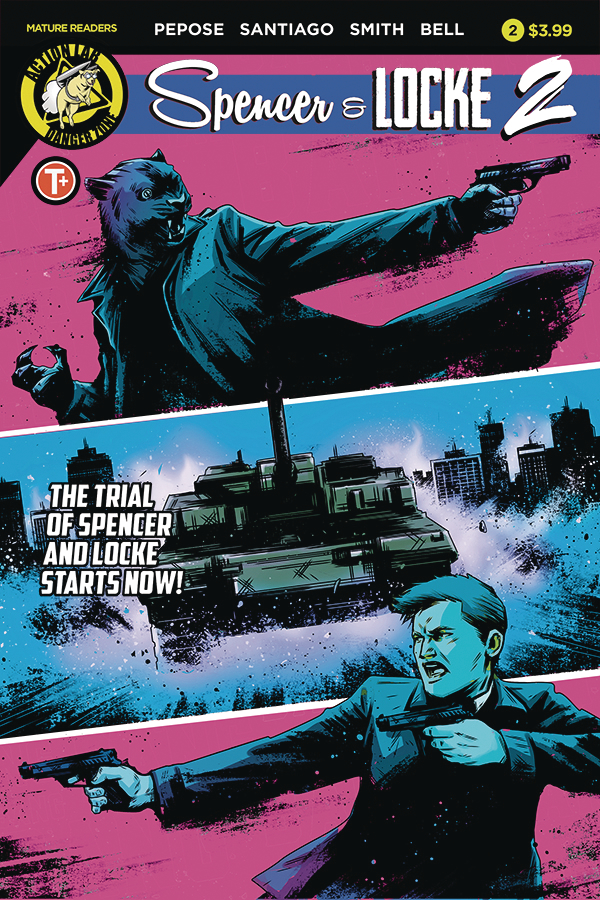 SPENCER AND LOCKE 2 #2 CVR C MULVEY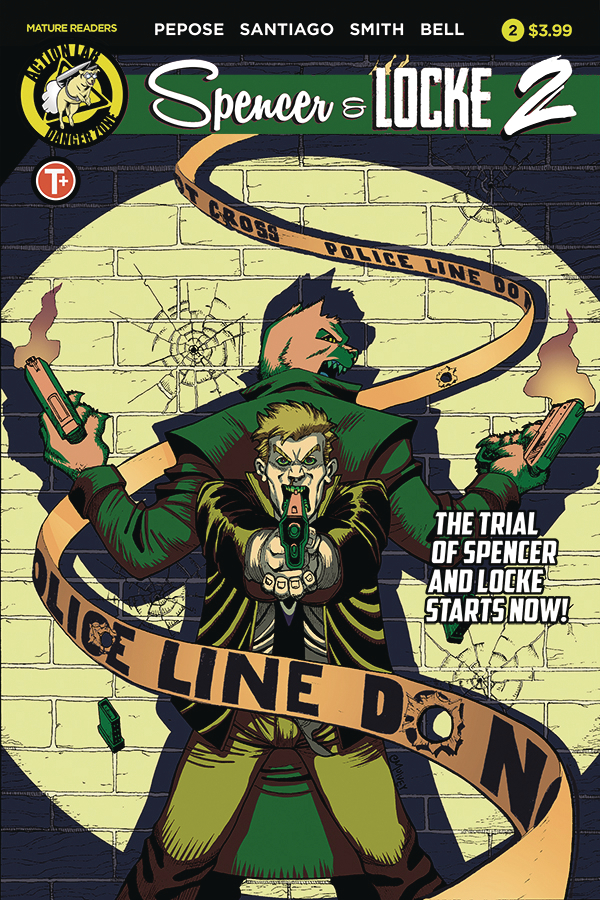 MIRACULOUS TALES OF LADYBUG AND CAT NOIR S2 LOVE COMPASS TP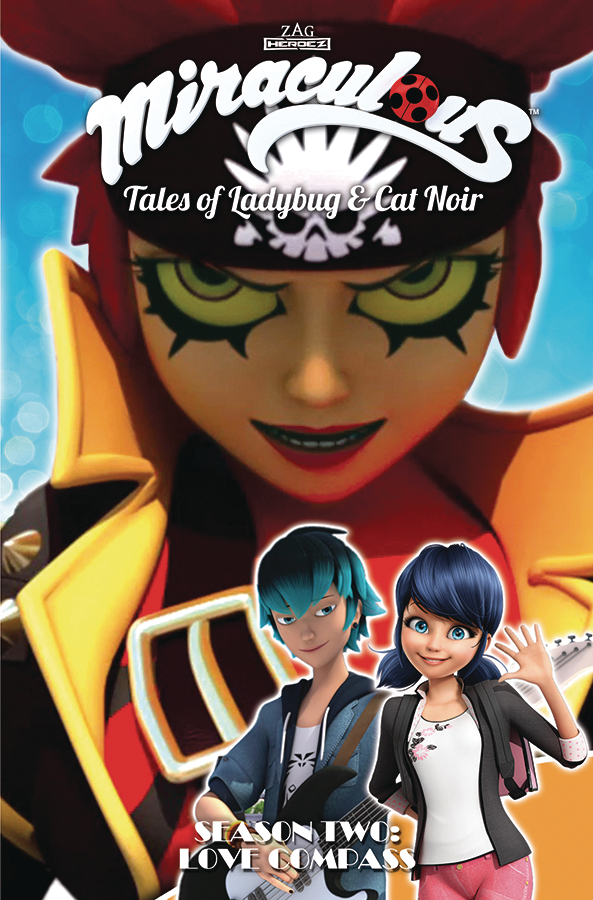 MAR191324
(W) Various (A/CA) Cheryl Black
Two more episodes from the second season of Miraculous: Tales of Ladybug & Cat Noir are collected here! After sneaking out of his house, Adrien runs into Marinette and the two finally go to the movies together! But Adrien is also being chased by his overzealous fans and his bodyguard becomes akumatized by Hawk Moth into the gigantic Gorizilla! Then, Marinette and her friends set up a houseboat for a music festival with Juleka's mother. Marinette meets Juleka's brother Luka, an interesting boy who might be making her as tongue-tied as she usually is with Adrien! But then Hawk Moth akumatizes Juleka's mother into Captain Hardrock, a pirate whose ship poses a major threat to Ladybug and Cat Noir! Will the two greatest heroes of Paris save the day from the nefarious Hawk Moth?
In Shops: May 29, 2019
SRP: $8.99
PRINCELESS BOOK 8 PRINCESSES #3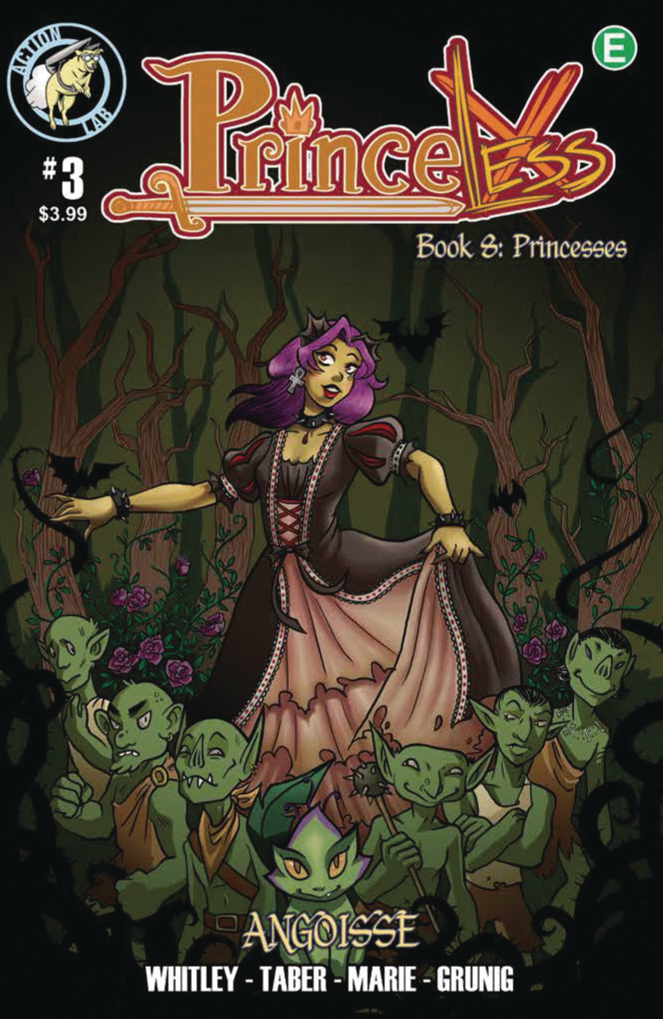 MAR191325
(W) Jeremy Whitley (A) Takeia Marie (A/CA) Newt Taber, Brett Grunig
Angoisse has always allowed her life to be valued by how much attention she's been paid, which is tough when your younger sister is the most beautiful princess in the kingdom and your older sisters never stop bickering. Now for the first time she's doing her own thing and has people…well, goblins…looking to her for help. Can Angoisse and The Grimmorax become the swamp's defenders? Also, a special bonus story about the race to become the new goblin president starring everybody's favorite goblin tour guide, Deloris Grunkmore.
In Shops: May 08, 2019
SRP: $3.99
PRINCELESS BOOK 8 PRINCESSES #4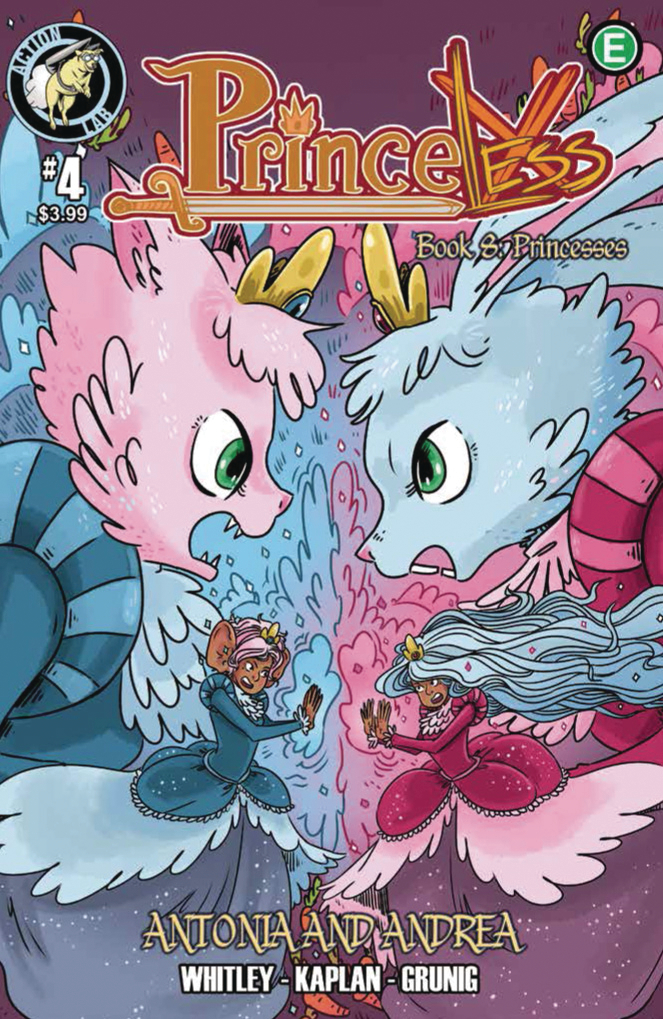 MAR191326
(W) Jeremy Whitley (A) Brett Grunig (A/CA) Jackie Crofts
Andrea and Antonia are hitting the road! They've been locked up in one place for too long, and Adrienne has inspired them. It's time for them to get out there and really use their magic to do some good. There's only one problem: they're still incredibly competitive and more than a little irresponsible with their magic. But unleashing two princesses full of magic and determination to outdo each other couldn't possibly go wrong, could it?
In Shops: May 22, 2019
SRP: $3.99
COLD BLOOD SAMURAI #3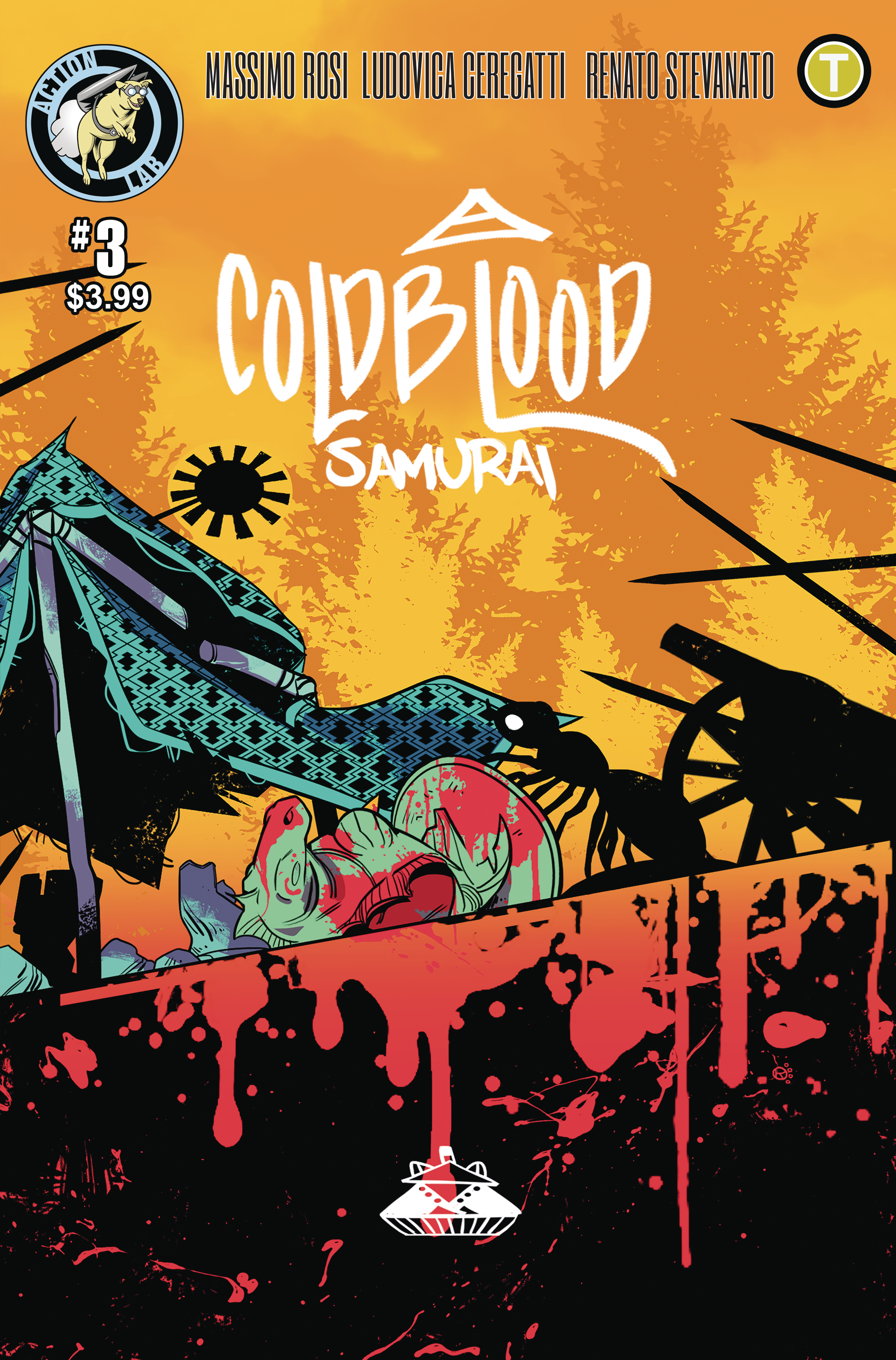 MAR191334
(W) Massimo Rosi (A/CA) Ludovica Ceregatti
He is a Gaijin, a stranger, alone in a country far from everything. He lost his love and his master… there's only one thing he's expecting: Harakiri, the ritual suicide. To deserve a honorable death, he has to reach the Shogun Swallen-Cheeks' mansion and ask for permission. With his fortress under attack, the Shogun will ask him something that will change the salamander's life forever.
In Shops: May 29, 2019
SRP: $3.99
ABERRANT SEASON 2 #4 (OF 5) CVR A LEON DIAS (MR)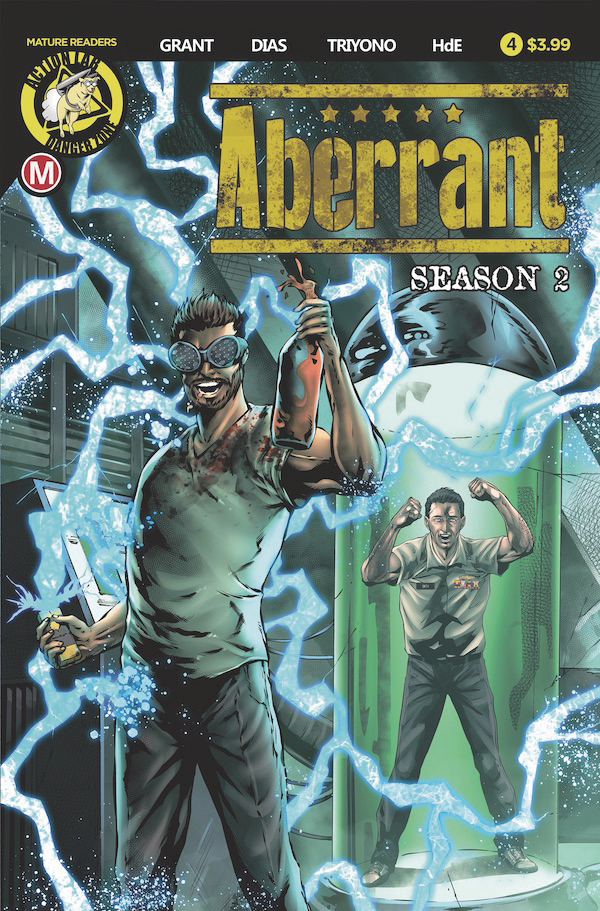 MAR191335
(W) Rylend Grant (A/CA) Davi Leon Dias
"Chapter 4: Home On The Range." General Garret makes his final NORCO recruitment pitch and David is left to choose between two beloved father figures. Nelson Little kicks his way into the Bolivian jungle, bent on pulling his men from the proverbial fire. Cordrey makes one last desperate, but wickedly conniving play to save his own broke, wholly reeling ass. Also, a 250lb beast-of-a-man literally gets ripped in half. I'll be 100% honest… it's pretty freakin' cool. And where else are you going to get a sweet Karate Kid 2 variant cover?
In Shops: May 29, 2019
SRP: $3.99
ABERRANT SEASON 2 #4 (OF 5) CVR B LEON DIAS (MR)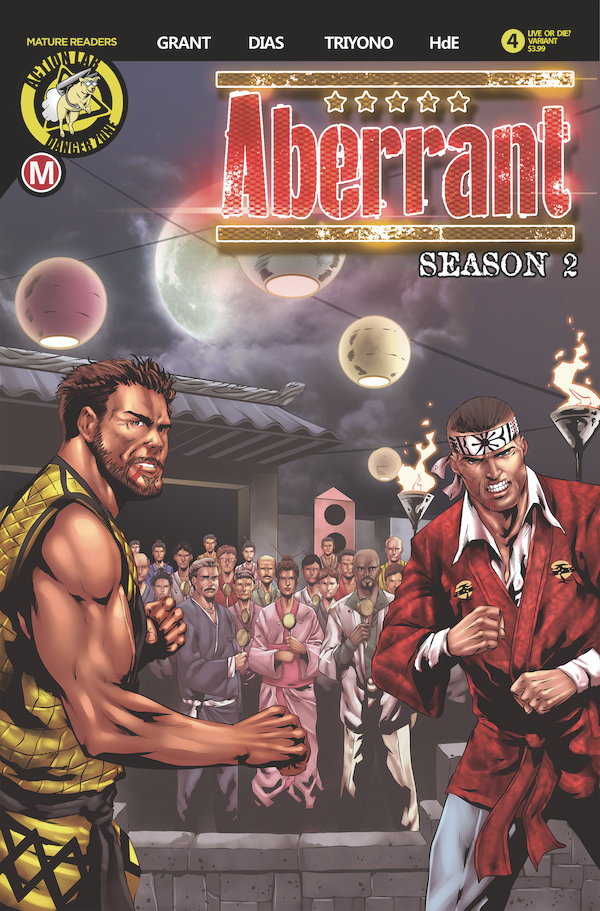 SWEETIE #4
MAR191337
(W) Sean Dillon (A/CA) Sean Dillon
It's time for a duel! Griffin has stepped out of his bubble to challenge the Cosmic Comic shop's unbeatable mage-knight to a game of swords. But while Griffin struggles to outplay the master of "Swordscape" for a most coveted prize, Maggie flounders in a sea of unfamiliar faces. With the duo effectively separated and the mysterious Marlon hovering close by, have the two been set up for public embarrassment? Or can they both roll a natural twenty and punch their way out of this?
In Shops: May 29, 2019
SRP: $3.99
NULL FAERIES #5 CVR A CICCONI (MR)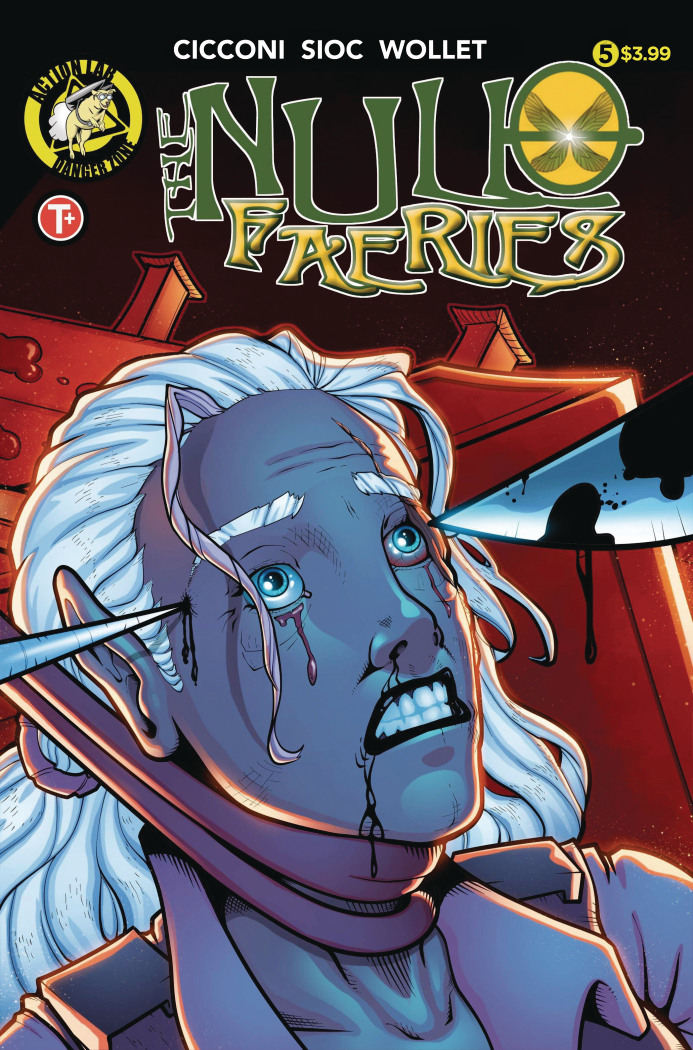 MAR191338
(W) Chad Cicconi (A/CA) Chad Cicconi
Captured and facing torture and death, Ionantha Hesperis must face her fears and protect the secrets of her people from the most dangerous human wizard who has arisen in 1,000 years. Engaging in a desperate game of mental cat and mouse with her captor, Ionantha finds an unexpected ally and must seek help from an unlikely source to save her own life and fulfill her mission for the Queen.
In Shops: May 29, 2019
SRP: $3.99
NULL FAERIES #5 CVR B SUHNG (MR)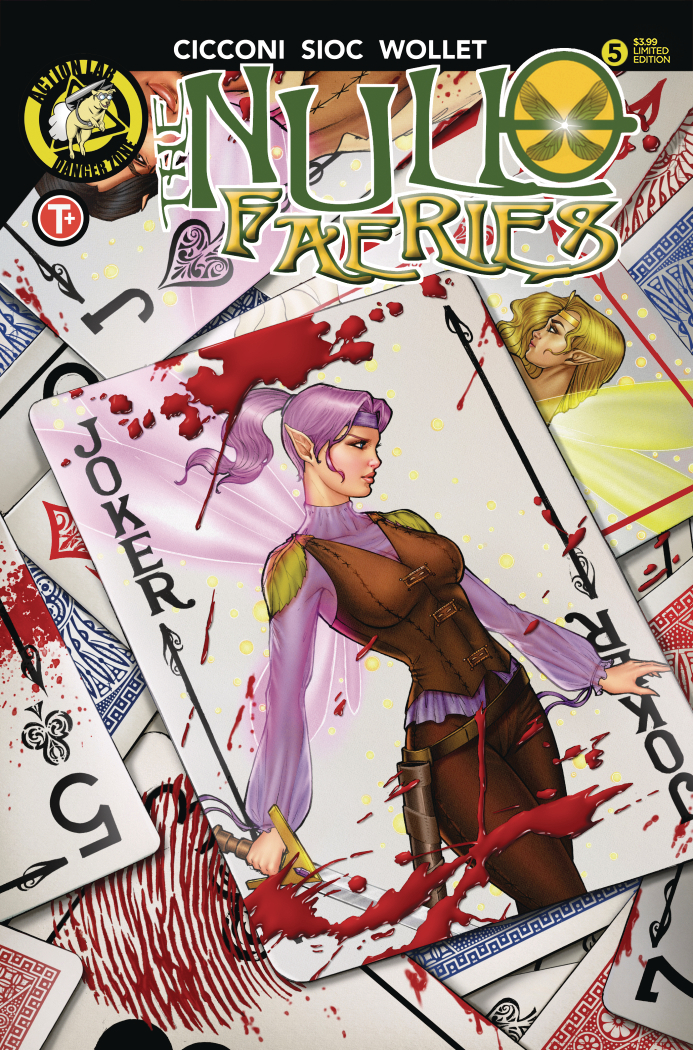 DOLLFACE TP VOL 06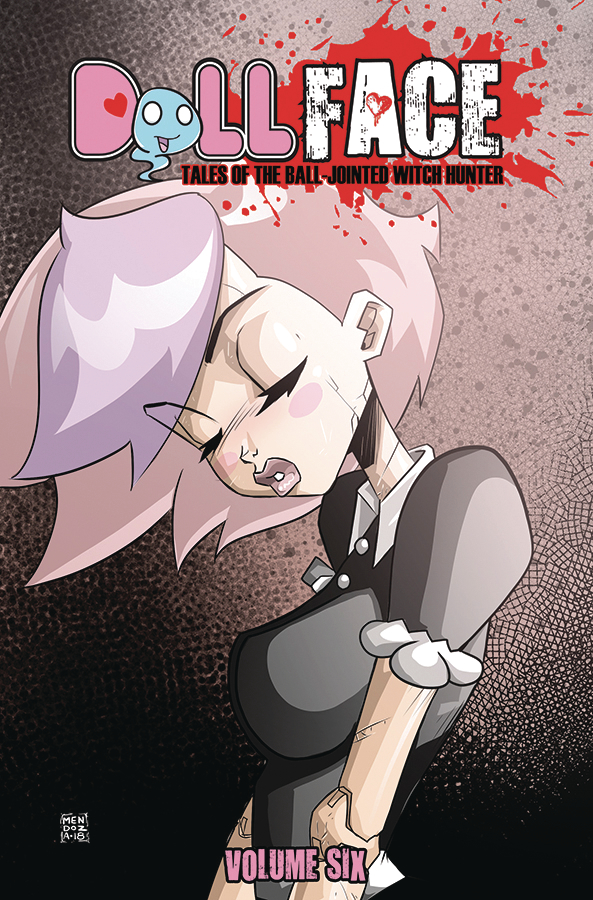 MAR191340
(W) Dan Mendoza, Bryan Seaton, Nicole D'Andria (A) Marco Maccagni (CA) Dan Mendoza
The major confrontation with Melora is finally here! Will The Horned Prince turn out to be an ally of Lila's who helps bring Melora down? Or will his plans ruin everything? As Emily discovers her newfound abilities, she and Ivan must convince Lila to stop her revenge! Collects issues #21-24.
In Shops: May 29, 2019
SRP: $14.99
DANGER DOLL SQUAD PRESENTS AMALGAMA LIVES #4 CVR A YOUNG (MR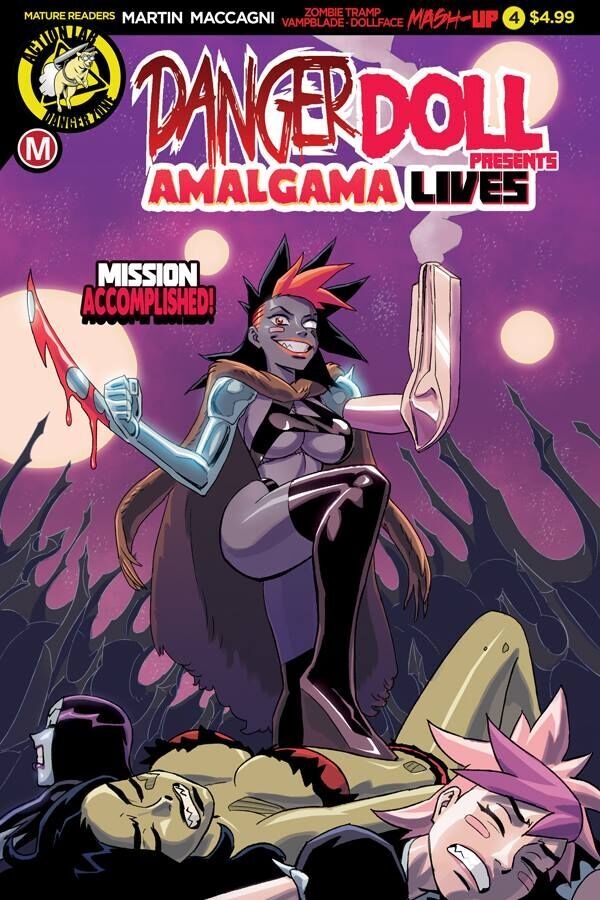 MAR191341
(W) Jason Martin (A) Marco Maccagni (CA) Winston Young
Amalgama faces off with the Danger Doll Squad at last! It's the Zombie Tramp/Vampblade/DollFace mash-up versus the lethal ladies that spawned this cosmic genetic abomination!! If you think you know how this ends, you're wrong!
In Shops: May 29, 2019
SRP: $3.99
DANGER DOLL SQUAD PRESENTS AMALGAMA LIVES #4 CVR B YOUNG RIS
DANGER DOLL SQUAD PRESENTS AMALGAMA LIVES #4 CVR C ARTIST MA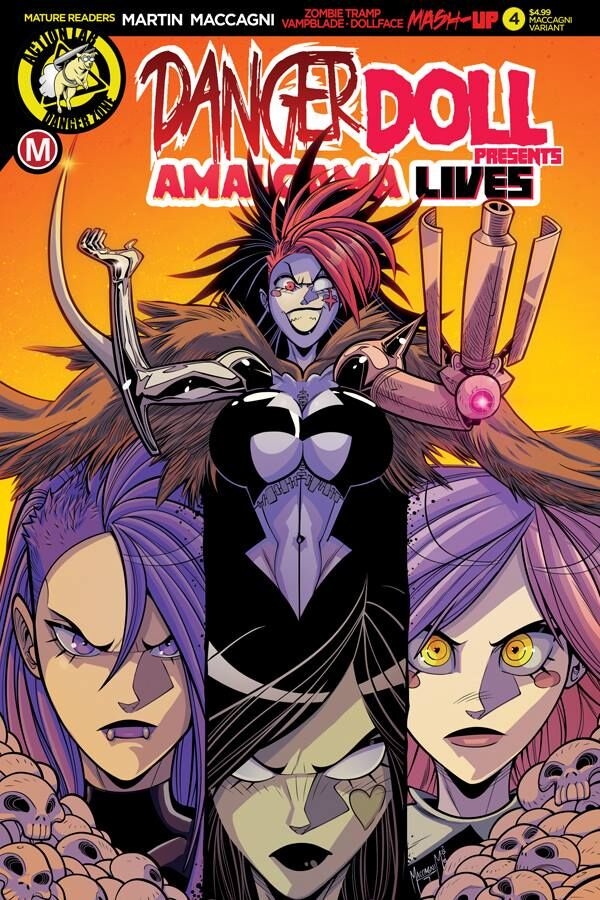 DANGER DOLL SQUAD PRESENTS AMALGAMA LIVES #4 CVR D MACCAGNI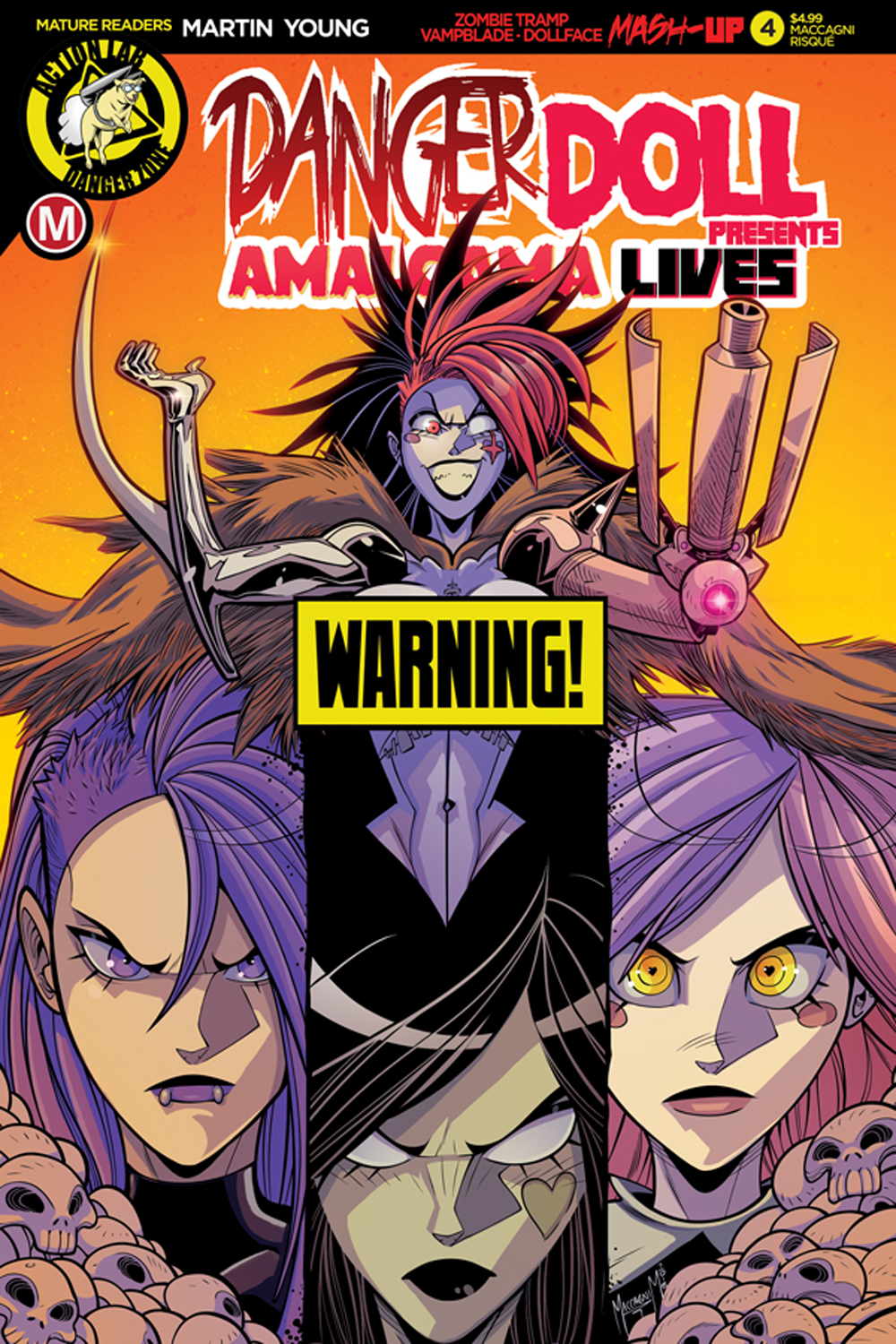 DANGER DOLL SQUAD PRESENTS AMALGAMA LIVES #4 CVR E ACTION FI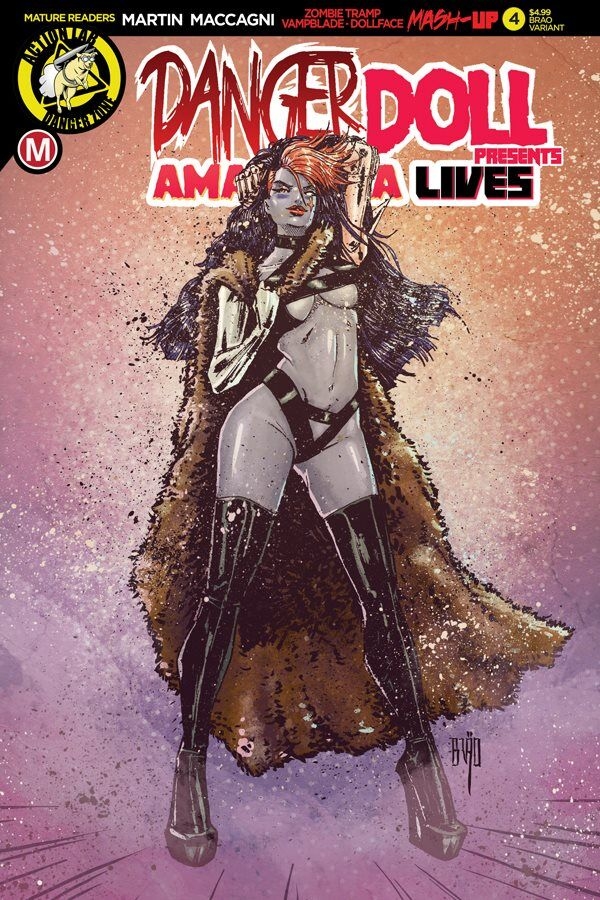 DANGER DOLL SQUAD PRESENTS AMALGAMA LIVES #4 CVR F ACTION FI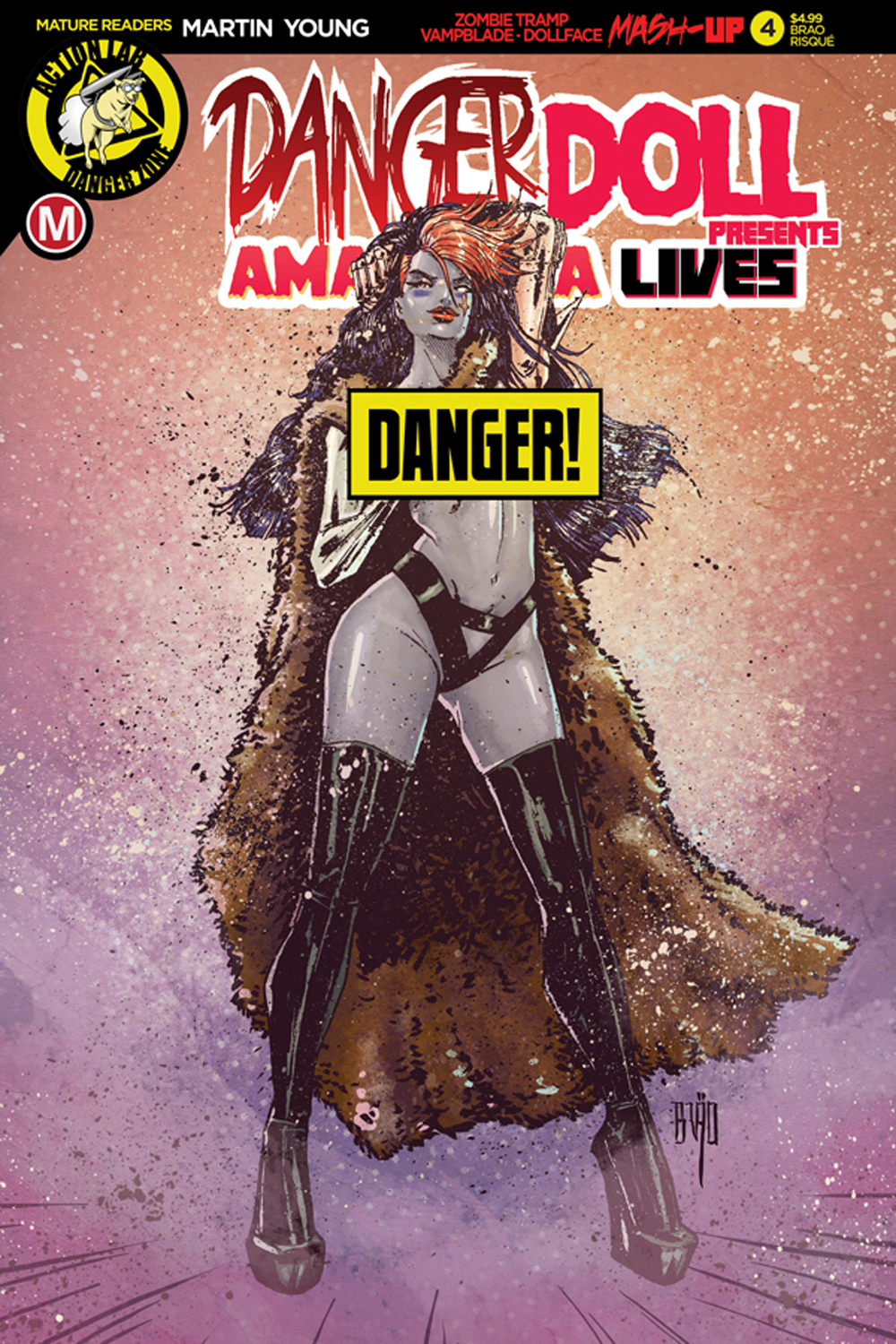 VAMPBLADE SEASON 4 #2 CVR A BRAO (MR)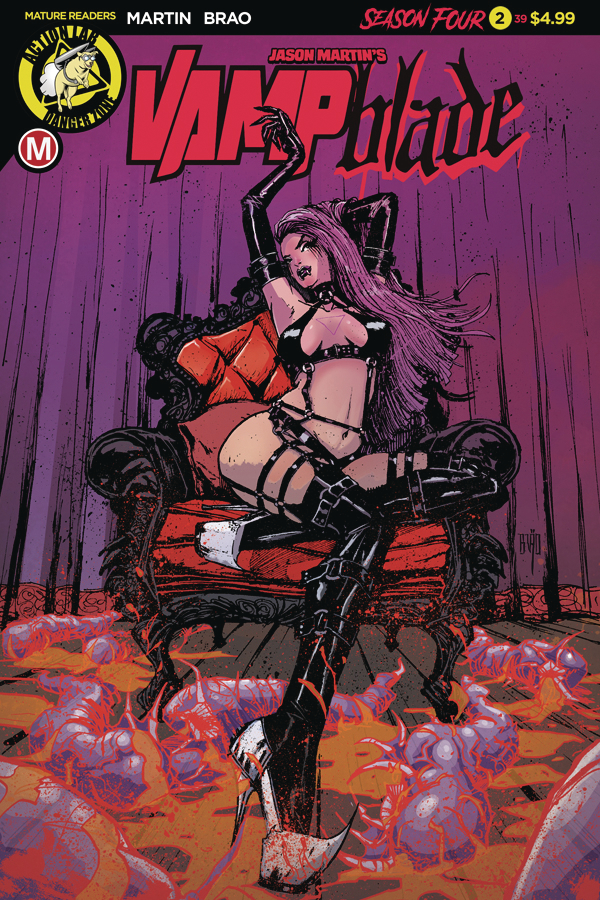 MAR191347
(W) Jason Martin (A/CA) Brao
So much has changed in the fourth season – new artist, new costume, new paradigm -that we can't tell you what happens for fear of spoilers. We can tell you it's the perfect time to join in on the fun of this meta exploration of 90's bad girls and comics! Features 3 regular and risque variants.
In Shops: May 29, 2019
SRP: $4.99
VAMPBLADE SEASON 4 #2 CVR B BRAO RISQUE (MR)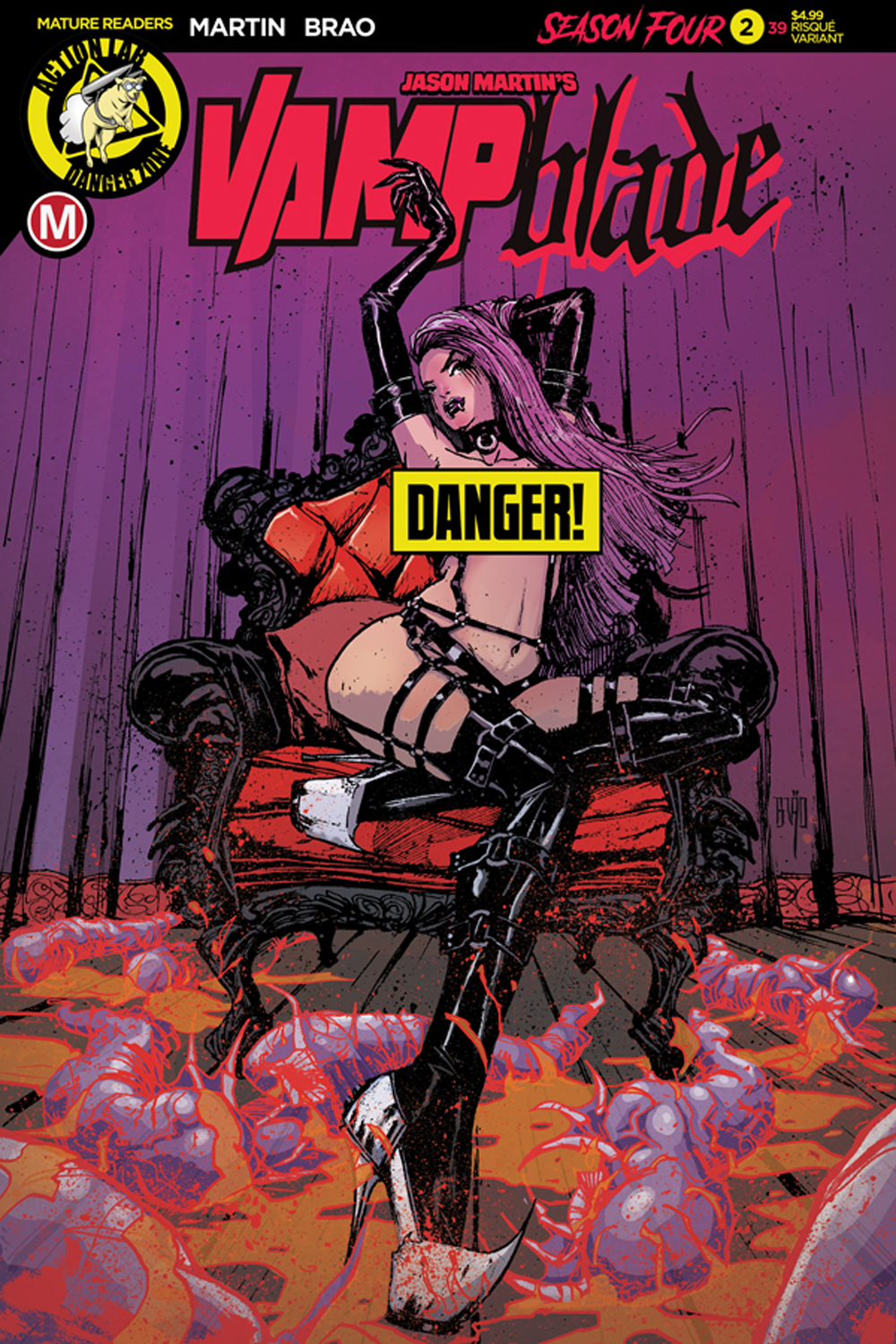 VAMPBLADE SEASON 4 #2 CVR C MACCAGNI (MR)
VAMPBLADE SEASON 4 #2 CVR D MACCAGNI RISQUE (MR)
VAMPBLADE SEASON 4 #2 CVR E MARTIN (MR)
VAMPBLADE SEASON 4 #2 CVR F MARTIN RISQUE (MR)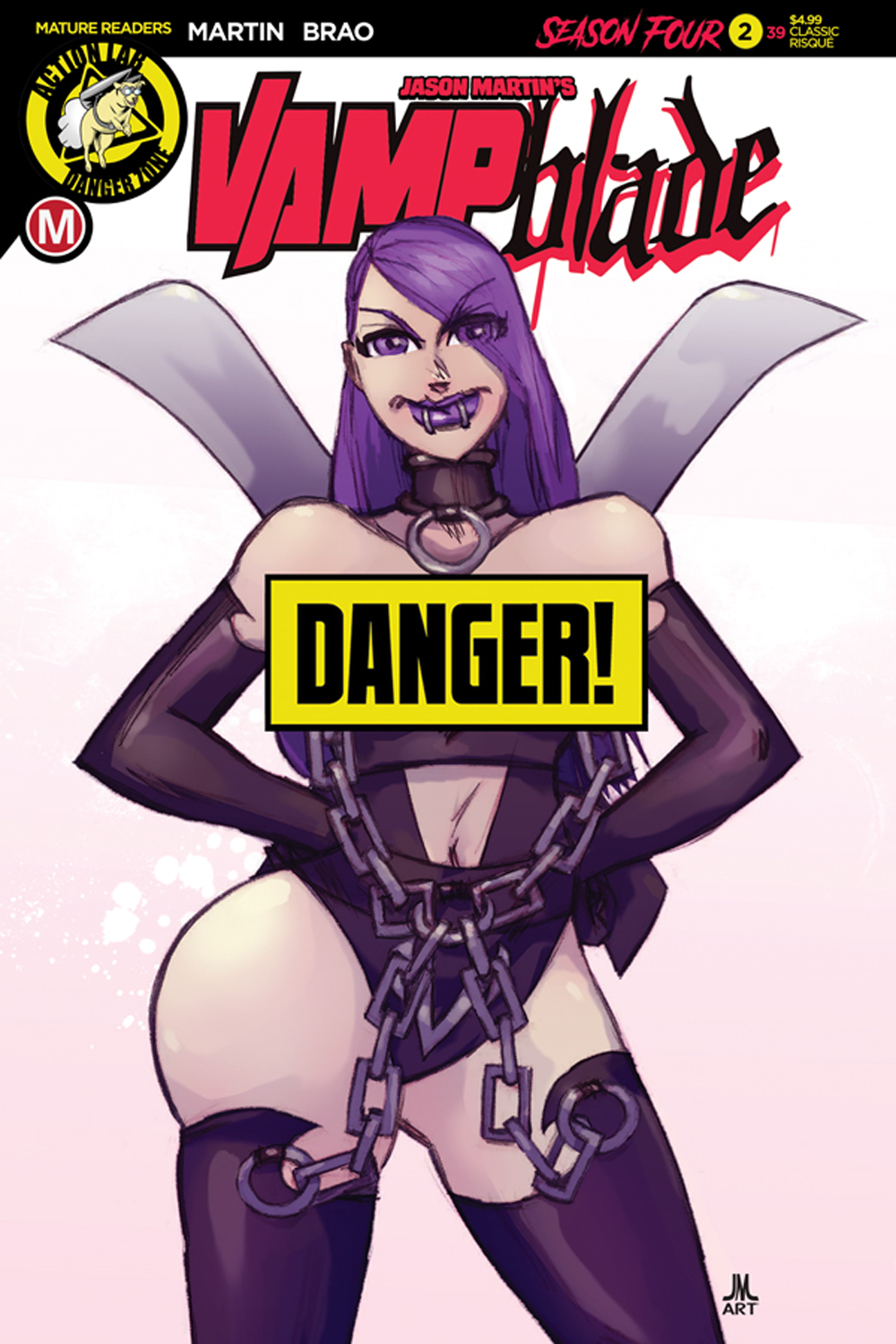 ZOMBIE TRAMP ONGOING #60 CVR A MACCAGNI (MR)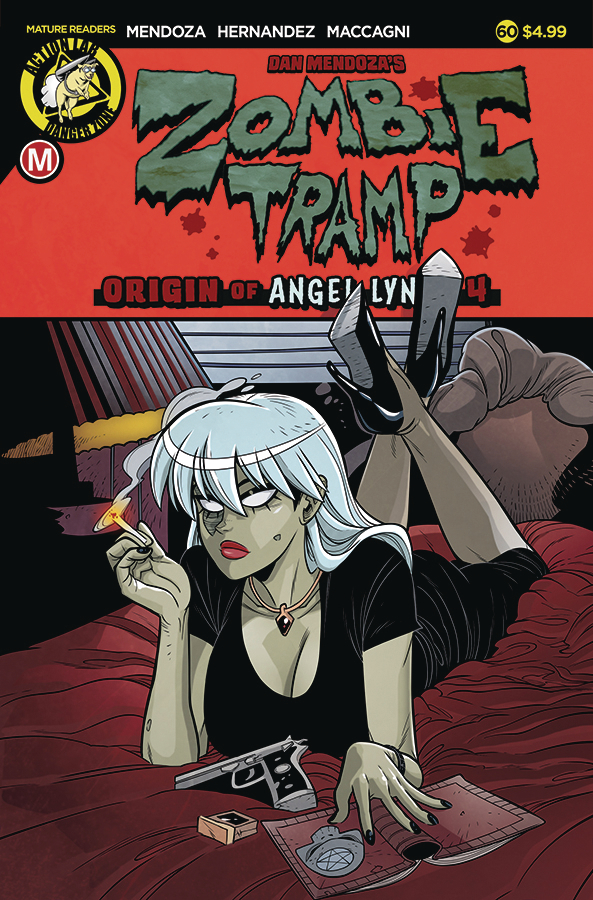 MAR191353
(W) Dan Mendoza, Vince Hernandez (A/CA) Marco Maccagni
The battle rages on between Angel, the new Zombie Tramp, and Tatiana, the human trafficker who had a hand in making her. But as Angel faces off with a horde of Tataiana's zombie mutants, an exit strategy reveals itself! Features 3 regular and risque variants, from fan favorite series artists!
In Shops: May 29, 2019
SRP: $4.99
ZOMBIE TRAMP ONGOING #60 CVR B MACCAGNI RISQUE (MR)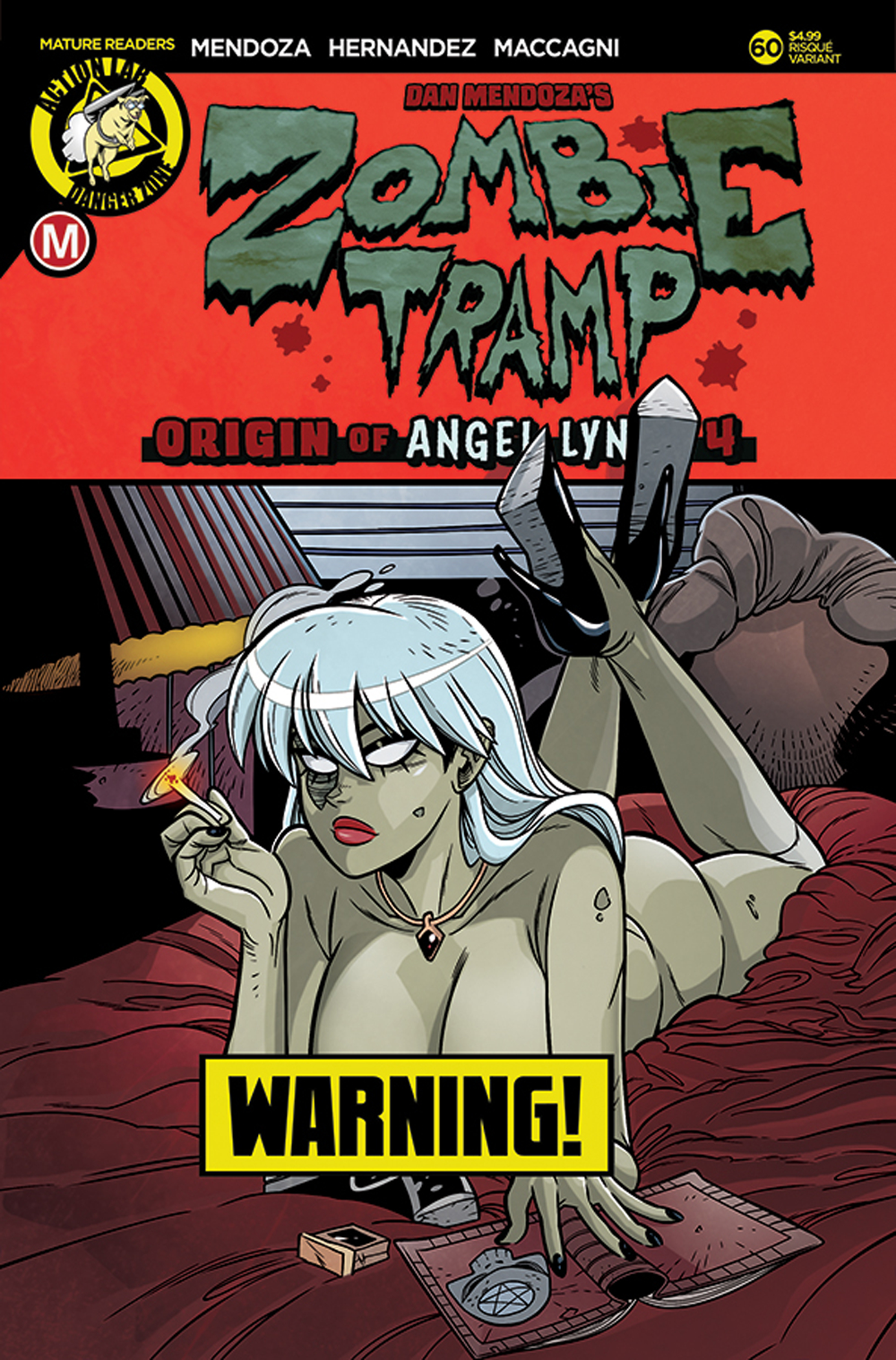 ZOMBIE TRAMP ONGOING #60 CVR C MCKAY VAR (MR)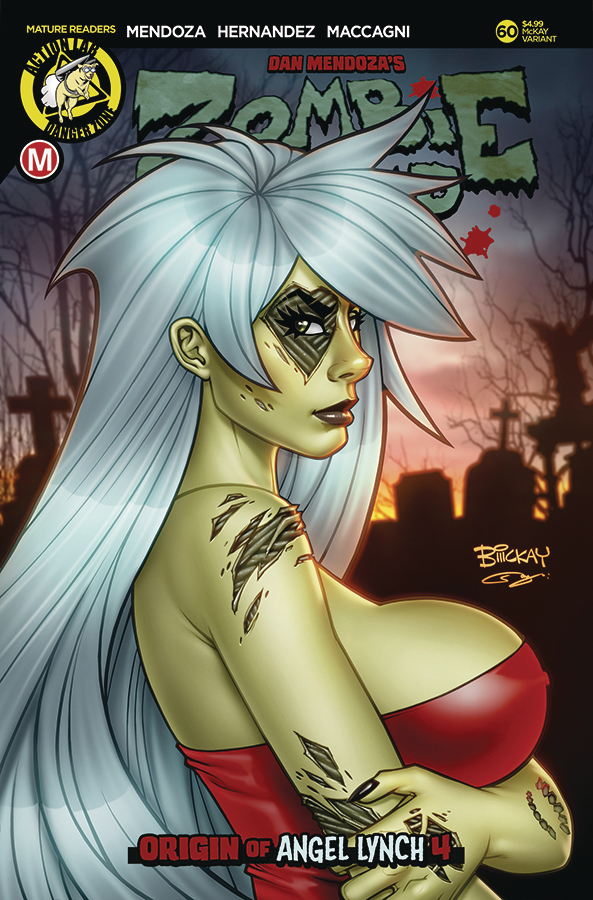 ZOMBIE TRAMP ONGOING #60 CVR D MCKAY RISQUE LTD ED (MR)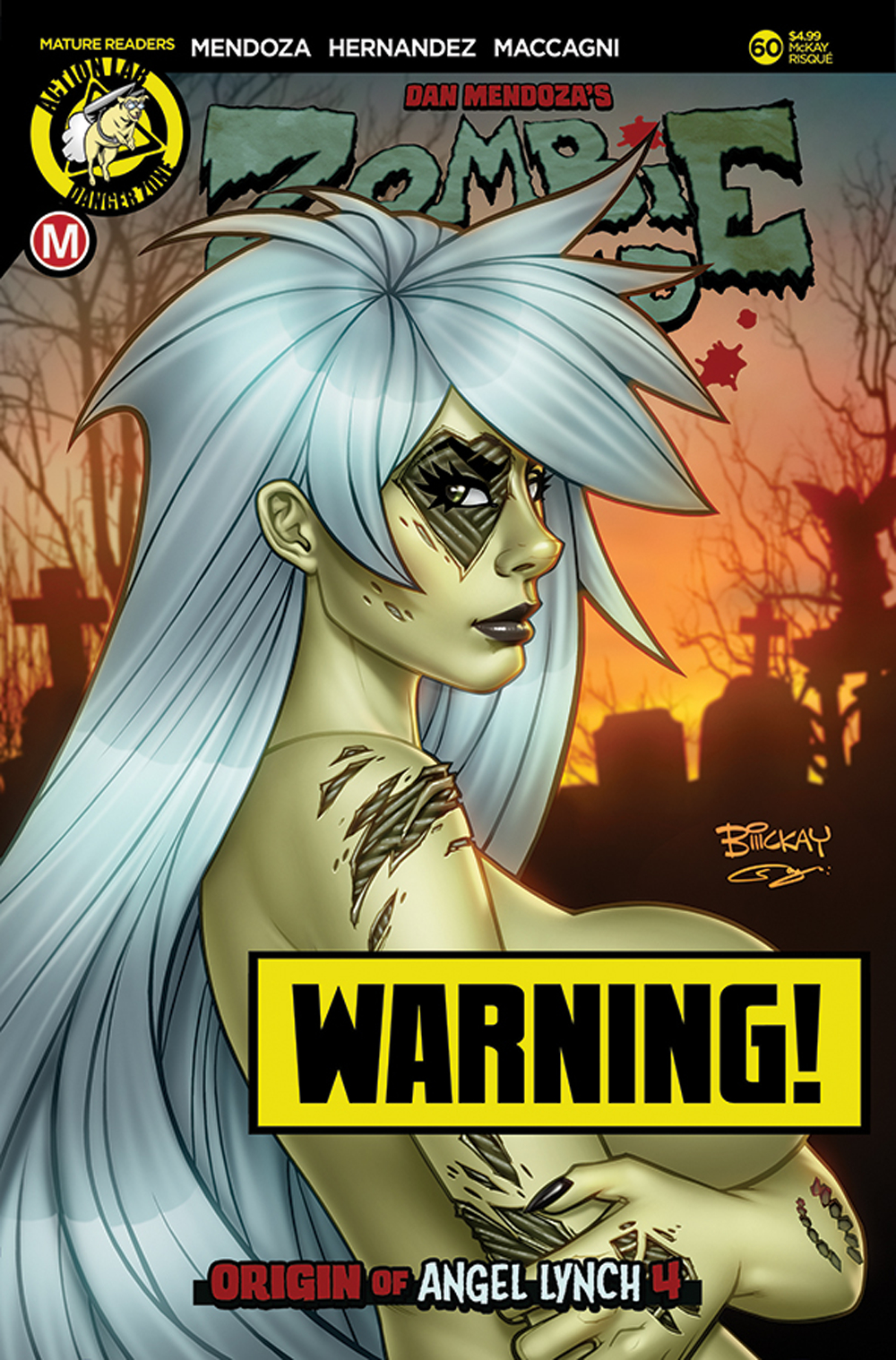 ZOMBIE TRAMP ONGOING #60 CVR E MENDOZA RISQUE LTD ED (MR)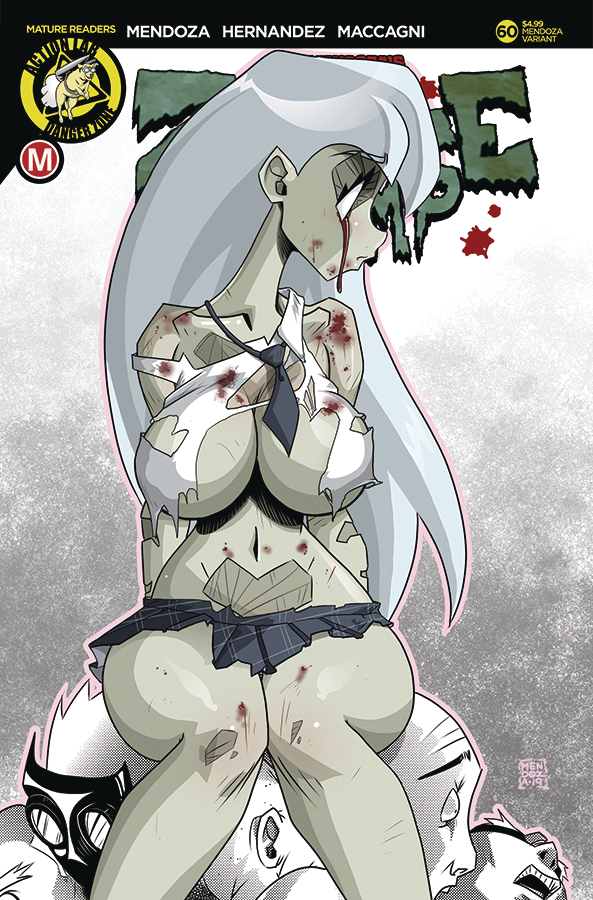 ZOMBIE TRAMP ONGOING #60 CVR F MENDOZA RISQUE LTD ED B (MR)