Activist Comics For The New 52 From Gail Simone, Art Baltazar, Franco, Ig Guara And Freddie Williams III Well, I'm going to say that was unexpected. To me at least.
Announced on the Huffington Post and Big Shiny Robot, two new New 52 comics from DC, The Movement by Gail Simone and Freddie Williams III, and Green Team by Art Baltazar, Franco (who have a rather interesting Kickstarter plan for their own comic… more on that later today) and Ig Guara.
And they are both politically activist books. Superhero comics have always dealt in power fantasy analogy, but they are usually of the adolescent nature. But there are lots of power aspects out there that could be tackled. Here's Gail on The Movement.
The Movement is an idea I've had for some time. It's a book about power–who owns it, who uses it, who suffers from its abuse. As we increasingly move to an age where information is currency, you get these situations where a single viral video can cost a previously unassailable corporation billions, or can upset the power balance of entire governments.

And because the sources of that information are so dispersed and nameless, it's nearly impossible to
shut it all down. I've been in countries where the internet is heavily censored, but they can't possibly keep up with millions of users from every corner of the world.

The previous generations of superheroes were not created to address this, it's a legitimately new frontier, both for the real world and for storytellers.

The thing I find fascinating and a little bit worrisome is, what happens when a hacktivist group whose politics you find completely repulsive has this same kind of power and influence…what if a racist or homophobic group rises up and organizes in the same manner?
And from the boys;
ART: The real question is: Can money buy you anything in the DC universe? Would it make you powerful? Can it make you a hero? Can money make you…Super?

FRANCO: If you had unlimited wealth, could you use that to make the lives of people better? Would you help your fellow man? Would you buy powers? You need to read this and find out.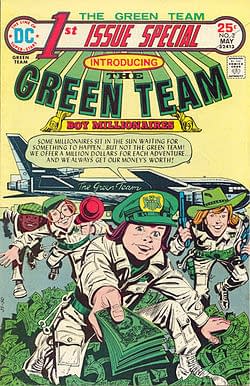 Green Team was originally a Joe Simon and Jerry Grandenetti creation for DC Comics in their 1st Issue Special (it was issue 2) from the seventies. Further issues were cancelled almost as soon as it began as part of the DC implosion and saw its further issues published internally in Cancelled Comic Cavalcade. The characters, a bunch of insanely rich kid adventurers, returned briefly in the famous Animal Man #25, with their most recent appearance in Ambush Bug: Year None.
They were importer exporter Commodore Murphy,. oil tycoon J.P. Huston, film director Cecil Sunbeam and shoeshine boy Abdul Smith. Okay, guess which one was the black kid.Alos, the most recent issue of Sword & Sorcery, now cancelled in May, states that back up strip Beowulf will return in 2013… another new book? A team member? Or a back up… somewhere?
---
---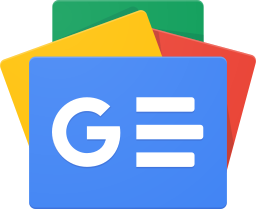 Stay up-to-date and support the site by following Bleeding Cool on Google News today!