Promethea Joins the Justice League of America
Once upon a time, Alan Moore and J.H. Williams III created Promethea for Wildstorm Comics as part of Moore's America's Best Comics line.
Then DC Comics bought Wildstorm.
It was a bit of a thing. Alan Moore had massively fallen out with DC Comics over — okay, well to pick one, the Watchmen and V for Vendetta contracts. Promethea and the rest of the America's Best Comics line — aside from League of Extraordinary Gentlemen as it had already been sold as a film — were all arranged and created as a work-for-hire comics and so DC Comics now owned them. Moore considered walking away, but the projects were all underway, artists were in mid-work and so there an agreement was negotiated. Moore would continue working on the ABC line but not communicate with DC Comics people, and they wouldn't communicate with him. A firewall was created.
It didn't last long. But despite issues regarding the League and Tomorrow Stories, the line ran for several years, and Promethea is considered one of the finest examples of both Moore and Williams's work. A grimoire masquerading as a superhero comic, that stretched and challenged the medium, and told one long story, using double-page spreads. That DC Comics recently rescinded promises to publish the Complete Promethea Sideways Edition is a tragedy that will one day be rectified.
But for now, we may have a surprise. We mentioned that Justice League of America was extending its Grand Fables storyline an extra issue. With this Doug Mahnke variant cover below.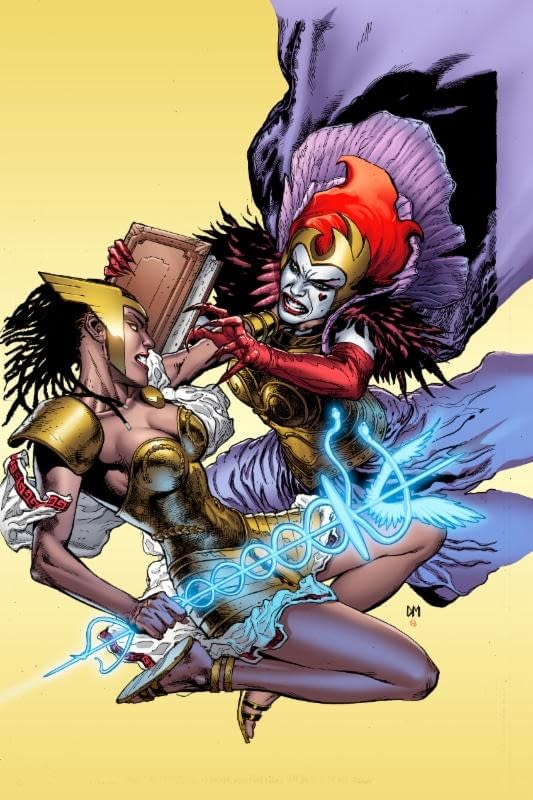 Which, yes, appears to have Promethea on it.
The storyline, Queen of Fables sees a creature with reality-warping power, intending is to take over the real world and the imaginary and rule over everything. And being fought by, well, imaginary creatures that are Batman and the Justice League.
The first issue (spoilers) ended with the revelation that the attacking creature, mentioning the Immateria, was Tsaritsa from Mark Waid and Bryan Hitch's JLA from eighteen years ago, originally a sorceress from another dimension until she was exiled to Earth.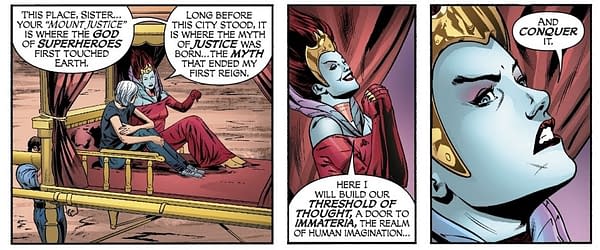 In Promethea, the Immateria is a plane of existence home to the imagination. I thought its use in that issue was coincidental. It seems not…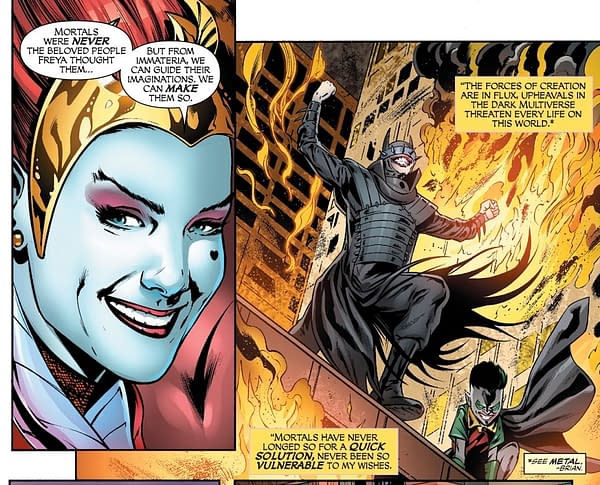 I have been told to expect Promethea to make her debut in the DC Universe with the next issue, Justice League of America #23 out next week, and to be the focus of #24….
JUSTICE LEAGUE OF AMERICA #23
(W) Steve Orlando (A) Neil Edwards, Daniel Henriques (CA) Terry Dodson
"QUEEN OF FABLES" part two! The Queen of Fables has begun granting the wishes of everyone across the globe, and with each wish granted, her powers grow greater. The Justice League has to police people's dangerous wishes while one of their own, Killer Frost, has her greatest wish granted by the Queen…
RATED T In Shops: Jan 24, 2018
SRP: $2.99
---
---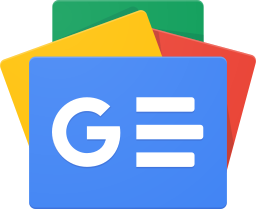 Stay up-to-date and support the site by following Bleeding Cool on Google News today!