Alan Moore On BBC Radio And TV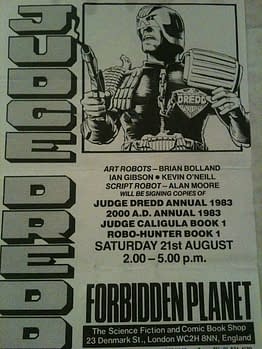 Alan Moore has become quite the doyen of BBC Radio 4 of late. Chain Reaction, Infinite Monkey Cage, The Today Programme, he seems to pop up two or three times each year. And now Alan Moore has just appeared on The World At One on BBC Radio 4, a political current affairs programme, at around forty minutes in.
It was part of a longer discussion that will appear on BBC TV show HARDTalk tomorrow at 4:30pm and 12:30am, then repeated on BBC World Service radio.
He was asked about V For Vendetta, the terrorist roots of the character, and whether Moore as an anarchis sympathiser agreed with the character's action. Spoiler, he doesn't.
And then there's his having no problem with the likes of Occupy and Anonymous appropriating the symbol from V For Vendetta, just as, as he states, DC Comics appropriated V For Vendetta from him.
The usual Alan Moore line, but with an interviewer pressing him on certain points, which looks like it will make for good listening.
Visual: A Forbidden Planet signing flyer from 1983, when Alan was fourth billing… from Tony Ez Ezmond