Marvel has heard what everyone has been saying: there simply aren't enough Spider-Man books. Sure, Peter Parker stars in three bi-weekly or monthly comics: Amazing Spider-Man, Friendly Neighborhood Spider-Man, and Symbiote Spider-Man. And yes, there's also Miles Morales: Spider-Man, Superior Spider-Man, and Spider-Gwen starring alternate versions of the wall-crawler in solo series. Plus whatever one-shots, specials, and team books feature a Spider-person on a monthly basis, and probably some we're forgetting because we would need a spreadsheet to keep track of them all. But is that enough? Clearly not.
In October, Marvel will publish Amazing Spider-Man: Full Circle #1, bringing together an all-star creative team for a globe-spanning story featuring Spider-Man. And because Marvel knows you really want to, we're guessing this will be an oversized special which costs a minimum of $7.99, though Marvel doesn't name the price yet.
Check out the details, revealed on Marvel's website, below:
AMAZING SPIDER-MAN: FULL CIRCLE #1
WRITTEN BY NICK SPENCER, JONATHAN HICKMAN, GERRY DUGGAN, AL EWING, CHIP ZDARSKY, KELLY THOMPSON, AND JASON AARON; ART BY CHRIS BACHALO, CHRIS SPROUSE, GREG SMALLWOOD, MICHAEL ALLRED, RACHAEL STOTT, VALERIO SCHITI, CAMERON STEWART, AND MARK BAGLEY; COVER BY ROD REIS
AMAZING SPIDER-MAN: FULL CIRCLE #1
A summons from S.H.I.E.L.D. leads Peter Parker into a globe-spanning adventure that will test him as never before, one in which the future of all mankind lies in his gloved, webbed hands! Who is the mysterious prisoner in the steel box who keeps propelling the wall-crawler onward?

Nick Spencer and an all-star team of Marvel's biggest writers and artists take up the challenge to create the wildest, maddest, most unconventional AMAZING SPIDER-MAN story of all! Guest-starring Nick Fury, Wolverine, and Peter Porker, the Spectacular Spider-Ham!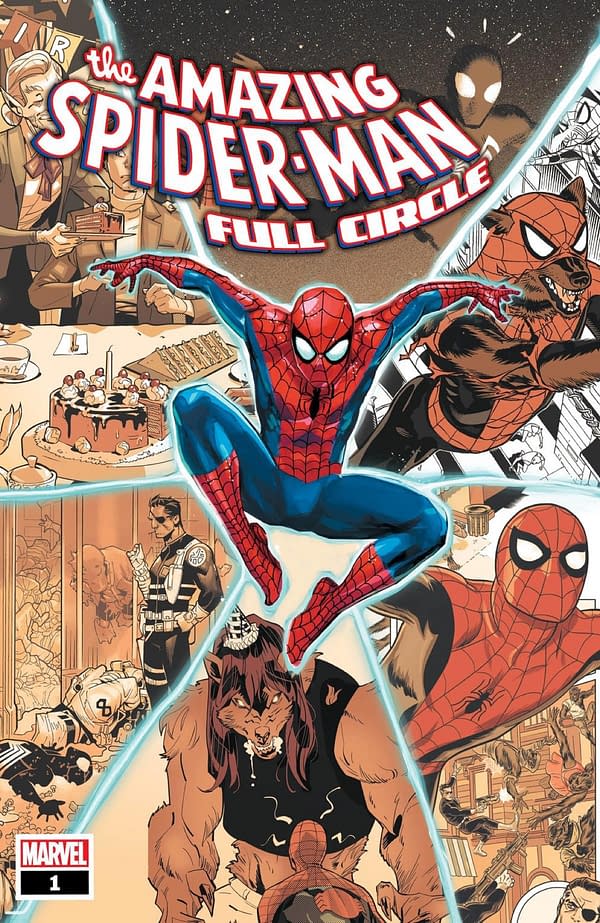 Enjoyed this article? Share it!