A few weeks ago, Bleeding Cool revealed the word that DC Comics was to shutter the Vertigo imprint. We stated that DC Comics believed that, rather than being the unifier of a certain approach, a brand that appealed to a new and distinct customer base and a marketing tool to increase the presence of certain titles in bookstores and comic stores alike, in recent years it had become an actual disincentive for comic stores to order, and no longer had the bookstore cache it w=once had. We listed a number of reasons for this Vertigo 'taint'. And we reported that a number of titles would be folded into DC's Black Label line.
Today, we have the first of those shoes dropping. Scott Snyder, co-creator and writer of Vertigo series American Vampire with Rafael Albuquerque has confirmed that the comic will now be published under DC Comics' Black Label imprint, originally intended for DC mature readers superheroes stories. But, in the shadow of Batman Damned and a new puritanism at DC Comics, things change… look for this to be published in 2020.
YES. We're doing it under DC/Black Label and we start production end of summer. So will be out early 2020 for its 10th anniversary https://t.co/dkWX9Cm7DM

— Scott Snyder (@Ssnyder1835) June 14, 2019
However, when asked on the significance of this, he walked that back a little.
No, my bad entirely. Ive been on paternity leave and can't speak to the state of Vertigo at all as I've been out of the loop

I just meant, American Vampire is 100% coming back for its 10th anniversary whether under Vertigo or DC/Black Label. My hope is Vertigo! But will announce https://t.co/v1f6wpQImd

— Scott Snyder (@Ssnyder1835) June 14, 2019
But the word was out.
Scott Snyder is a DC exclusive comic book creator, with a significant position within the company – not every Vertigo title will be treated so fortunately. Does anyone want the announced-but-still-unscheduled Safe Sex by sex-education podcaster Tina Horn and Unfollow, Judge Dredd and Death Notice's Michael Dowling? That might need something more than a Black Label to be published from DC…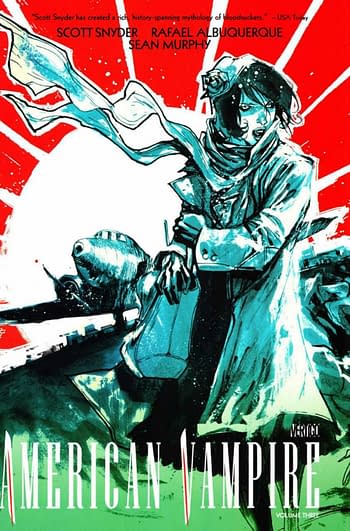 Enjoyed this article? Share it!