Animosity #12 Review: A Slow Plot Saved by its Characters and Small Reveals
[rwp-review-recap id="0"]
The farmers' gasoline reserve is destroyed thanks to Sandor and his group while Jesse and Kyle try to get the bee queen back to the hive. The latter plan goes sideways. Mittens gets away, and Kyle gets Jesse to leave him behind.
When Jesse makes it to the hive, she discovers some things she could not have expected.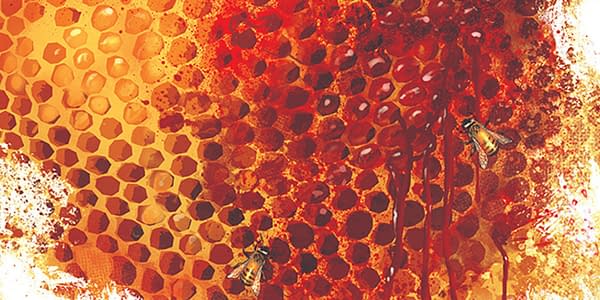 Animosity #12 continues the story of the group's run-in with the farmers and the exploited bees with some dramatic twists and turns. It does a good job of justifying the farmers' positions, even if it feels like the narrative is leaning on righteousness being with the bees more than the farmers.
It does feel like one of the slower issues of Animosity. While there is one dramatic reveal and a build-up to a massive conflict, the content of the plot to #12 feels fairly thin.
This is salvaged by how thoroughly endearing and compelling Jesse and her group is. Plus, we are faced with the continued failing health of Sandor and some hints at his own dark past. This helps bolster the story where the main plot falters.
There is something implicitly frightening about the bees, and I'm not sure if the comic is intentionally overlooking it or not to make them out to be the moral side. They have a massive hive, a vengeful demeanor, and their own industrialized civilization. The latter of those things is presumably due to their short relative lifespan. In any case, they aren't entirely sympathetic, and the comic seems to be overlooking that somewhat.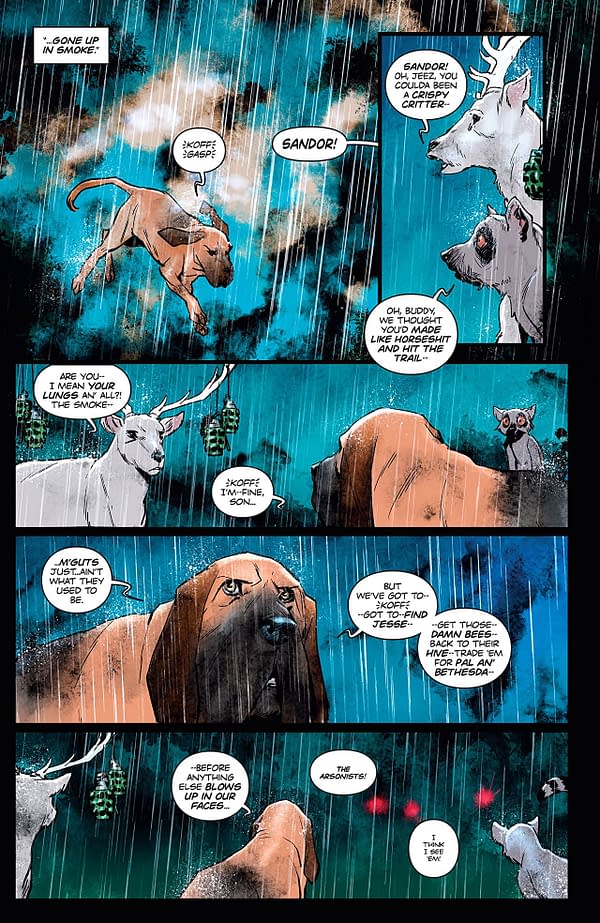 Rafael de la Torre's artwork continues to do the comic justice, bringing the characters and world to life in a beautiful manner. The world of Animosity is a brutal and gritty one, and de la Torre is especially skilled at depicting that. Rob Schwager's color art is darker and more foreboding in this issue, and it matches the content of the story well.
While it feels like one of the weaker issues of the series, Animosity #12 is still a gripping read full of fantastic characters. The story feels a little lacking in this issue, but the character interactions largely make up for that. Plus, the art of Rafael de la Torre and Rob Schwager continues to be great. This one still gets a recommendation. Check it out.
[rwp-review-ratings id="0"]
[rwp-review-form id="0"]