'Jack Is Everywhere' – The Annual Jack Kirby Tribute Panel at San Diego Comic-Con 2019
On Sunday morning of San Diego Comic-Con, Mark Evanier presided over the annual Jack Kirby tribute panel. Evanier was joined by Kurt Busiek (Astro City, Marvels), Buzz Dixon (Thundarr the Barbarian, Destroyer Duck), Mike Royer (Kirby's favorite inker), attorney Paul S. Levine, and two of Kirby's grandchildren, Tracy and Jeremy.
Evanier and Royer discussed how Kirby, especially once he had Royer working as inker and letterer with him on the West Coast, represented a loss of control for the big two publishers on the East Coast. DC particularly did not like that someone could be a professional person if they had not worked at DC already. DC wanted comics and believed that they had to be made "in the office" and that even legendary Superman artist Curt Swan was technically a freelancer and that it was the DC office added the special DC Touch.
DC told Kirby, in relation to Royer, that he could "use the kid" but that he would be receiving less money than Vince Colletta, the inker at the time before Royer began. Royer recalled that he received $15 per page for inking and lettering each page of a comic in the Fourth World. He added that he is quite a fan of the continuing royalty checks and that he has nothing bad to say about DC.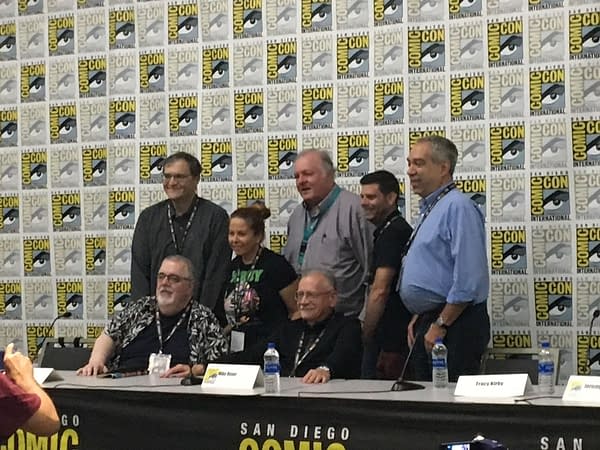 Evanier said that he has heard it claimed that Royer is one of the most reliable artists in this industry, except for Dan Spiegle. He said that editors would often claim to set their clocks by Royer and that they only wished that they could get more work out of him.
Evanier told a story where he was contacted regarding reprint money for an inker of Kirby's named Bruce Berry. No one else in the industry could contact this man who had apparently put his time in comics behind him. Evanier finally reached him and convinced him to take down the number for the person with the check. Berry seemed to want nothing to do with comics ever again but Evanier told the crowd that the amount was probably more than Berry had made when he originally inked the pages.
Berry apparently could not keep up with Kirby which is why he is not better well known. Royer could ink 15 pages a week and letter them as well which was something that many of the other classic inkers did not have to worry about.
Evanier added that be believed writer E. Nelson Bridwell to be significant to Kirby history. Bridwell was one of the receipts of this year's Bill Finger Award for Excellence in Writing. Evanier claimed that he helped Kirby a great deal when the King worked for DC and that he was one of the voices who pushed for Kirby's faces to not be redrawn when he worked on Superman. Bridwell just lacked the authority to change policy.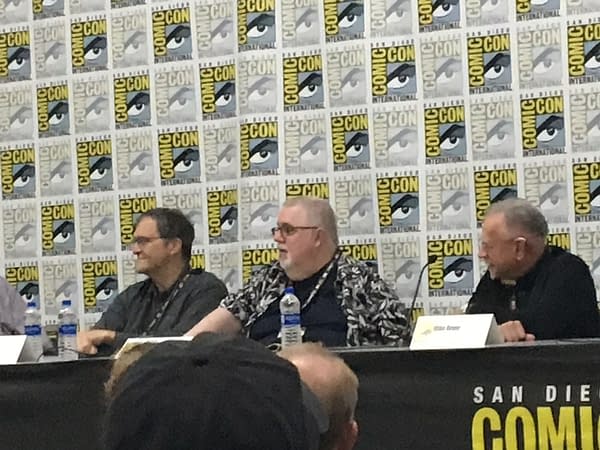 He added that Bridwell was easily the smartest guy to ever work in comics. Evanier said that if Kirby had not already created the character before meeting him then Quasimodo, the living computer who once fought the Silver Surfer, would have been based on him.
Evanier and Kirby met Paul S. Levine in 1981 at the first law firm Levine worked at right out of law school. Levine remembered that Kirby was always focused more on receiving proper credit for his work than he was the money.
Evanier added that it was important for fans to remind people that Kirby was not just the artist and that he did not just draw other peoples' ideas, that he was a co-creator in every sense of the word.
Kirby likened Marvel's removal of a 'created by' box on a Golden Age Captain America reprint from the sixties to the first step of being left out of history. This was actually done because Joe Simon had active litigation with Marvel at the time but Kirby was sure that Marvel would take his name off of everything the second he stopped working for them.
Kirby never ever signed his DC work in the fifties as he did not consider it his own. His Marvel work on the other hand was "his" and he was very proud of it.
Evanier described Busiek as a champion of Creator Rights and of the truth, going back to even before Evanier himself was not as renowned.
Busiek describes himself as having a very strong sense of "someone is wrong on the internet." He has always felt the need to correct someone when a commenter spoke erroneously about the Kirby Family. He claimed that he is not partisan but only interested in the truth.
He added that only about half the people in the industry know the difference between work for hire and rights transference.
For Kirby Genesis Busiek recalls combing through issues of the Kirby Collector magazine, and other works, for any and all characters and designs that were not owned by a comic or animation company. This included designs for Julius Caesar for an amateur play. He had to work back from designs alone without knowing what Kirby originally meant. This continues to this day. When he sees a design he has never seen before he asks "could I have used this guy?" Levine added that Busiek had sent these lists to to have them legally cleared and followed-up with calls at all hours of the night.
Buzz Dixon was working at Ruby Spears animation studio, with Steve Gerber who he was good friends with, when he "met Jack Kirby before I knew he was Jack Kirby." He had a long meeting with Kirby, and loved him. The older man had so much energy that his eyes were literally sparkling. Dixon had no idea it was Kirby because had not seen his face before then. He was a huge fan and his ignorance spared him having to babble on and on.
Dixon added that a single background detail that Kirby added in a Thundarr the Barbarian meeting led to an entire episode, supplanting the original story idea.
Evanier said that people would tell Kirby that they did not need so many ideas and added that "[Kirby] did not write stories or do storyboards. He designed concepts."
Dixon added that there were many ideas that nothing ever came of including Eric the Rude, a kangaroo barbarian (for Thundarr), and Rip-Off, the idea of taking every great Hollywood film and merging them into one.
It was added that the people in animation treated Kirby far better than the people in comics and that they appreciated his work. Jeremy Kirby said that Thundarr the Barbarian was his absolute favorite cartoon growing up.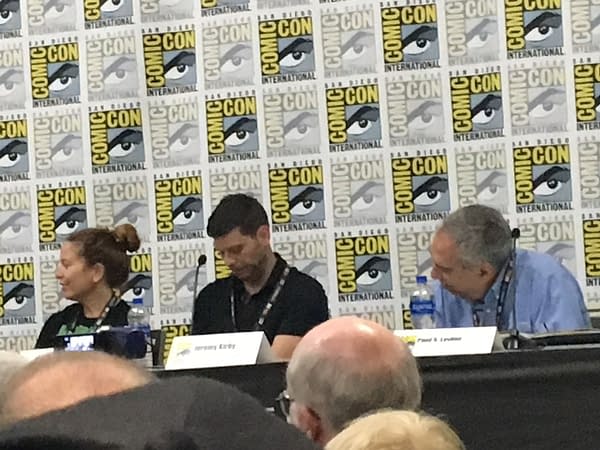 Tracy Kirby said that all Kirby fans are extended family and that she believes that Jack Kirby should have a panel in Hall H. There was much applause.
Evanier asked that everyone visit the Kirby Museum & Research Center online and check out Jack Kirby's Dingbat Love collection shipping from TwoMorrows in October 2019.
Royer closed out the panel by saying that he has heard many stories over the years about how, since the Kirbys' phone number was listed, fans would call and even visit. He wanted to remind everyone that the only person Kirby ever called was him (when the King needed an inker and letterer on the West Coast).
Evanier said that as attendees walk the Comic-Con floor this weekend they will see that "Jack is everywhere."