Apocalypse, Sinister and The Xavier Memorial in New House of X and Powers of X Covers and Art
Marvel has unveiled four new covers for House of X and Powers of X, by Pepe Larraz and R.B. Silva respectively, for the upcoming X-Men line-wide relaunch helmed by superstar writer Jonathan Hickman. The cover for House of X #4 features the X-Men mid-battle, while House of X #5's cover shows the return of Apocalypse, last scene reborn in the backup stories during the X-Men Black event.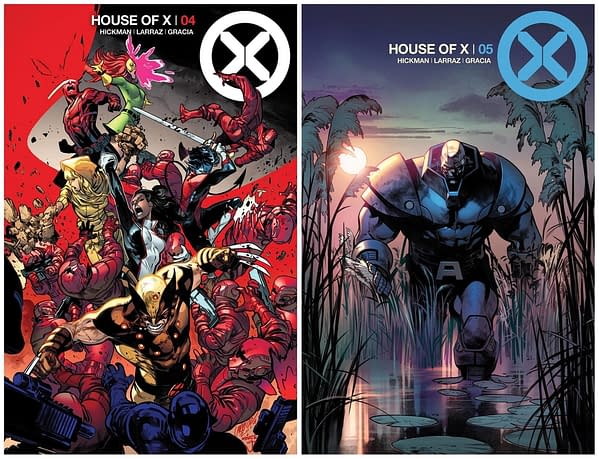 For Powers of X #4, we get Charles Xavier (?) and a bunch of floating heads, and then Powers of X #5 features Mister Sinister, last scene in the custody of Emma Frost in last week's Uncanny X-Men #19.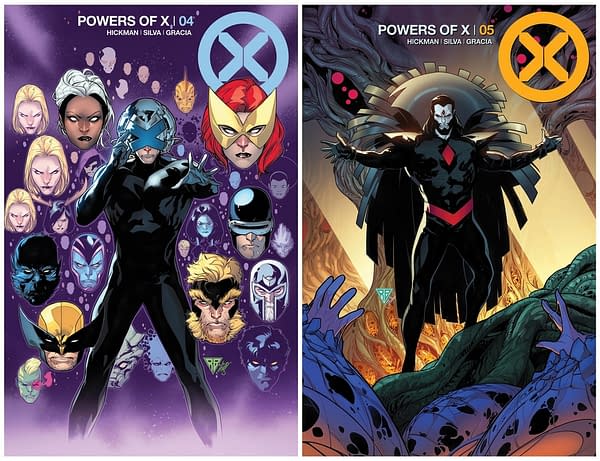 Finally, Marvel released this Dale Keown teaser art featuring a Lincoln Memorial style statue of Charles Xavier, with some interesting plant growth.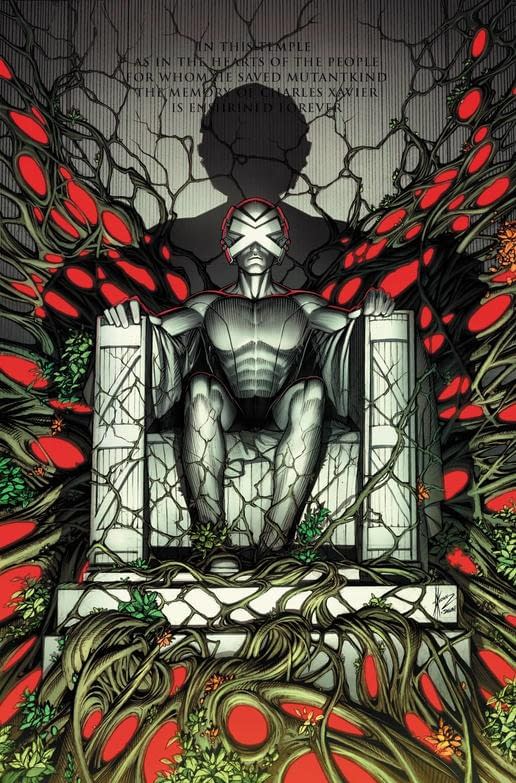 The Hickboot kicks off in July, first with House of X #1, and then Powers of X #1.
House of X #1 (of 6)
MAY190690
(W) Jonathan Hickman (A/CA) Pepe Larraz
FACE THE FUTURE! Superstar writer Jonathan Hickman (SECRET WARS, AVENGERS, FANTASTIC FOUR) takes the reins of the X-Men universe! Since the release of Uncanny X-Men #1, there have been four seminal moments in the history of the X-Men. Giant-Sized X-Men. X-Men. Age of Apocalypse. New X-Men. Four iconic series that introduced a new era for Marvel's mutants and revolutionized the X-Men. In House of X, Charles Xavier reveals his master plan for mutantkind…one that will bring mutants out of the shadow of mankind and into the light once more.
Rated T+
In Shops: Jul 24, 2019
Final Orders Due: Jul 01, 2019
SRP: $5.99

Powers of X #1 (of 6)
(W) Jonathan Hickman (A/CA) R. B. Silva
FEAR THE FUTURE! Superstar writer Jonathan Hickman (INFINTY, NEW AVENGERS, FF) continues his revolutionary new direction for the X-Men. Intertwining with HOUSE OF X, POWERS OF X reveals the secret past, present and future of mutantkind, changing the way you look at every X-Men story before and after. You do not want to miss the next seminal moment in the history of the X-Men!
Rated T+
In Shops: Jul 31, 2019
Final Orders Due: Jul 08, 2019
SRP: $5.99