Archie Comics Send Prince Archie to London…
Last month, we asked how long it would take for Archie Comics to put out a Prince Archie comic book. The answer, it seems, is four months.
Archie Comics rather publicly noticed that the newest royal baby was named Prince Archie. Or, in full, Archie Harrison Mountbatten-Windsor, born on May 7th to the Duke and Duchess of Sussex.
i'm baby

— Archie Comics (@ArchieComics) May 8, 2019
Well, now they have found a way to monetize it further.
So in September, Archie Comics will be publishing Archie Jumbo Comics Digest #302 featuring Prince Archie on the cover, and a story "Name Fame," that sees the folk of Riverdale react to the royal news.
Here's the cover by Jeff Shultz and Rosario "Tito" Peña.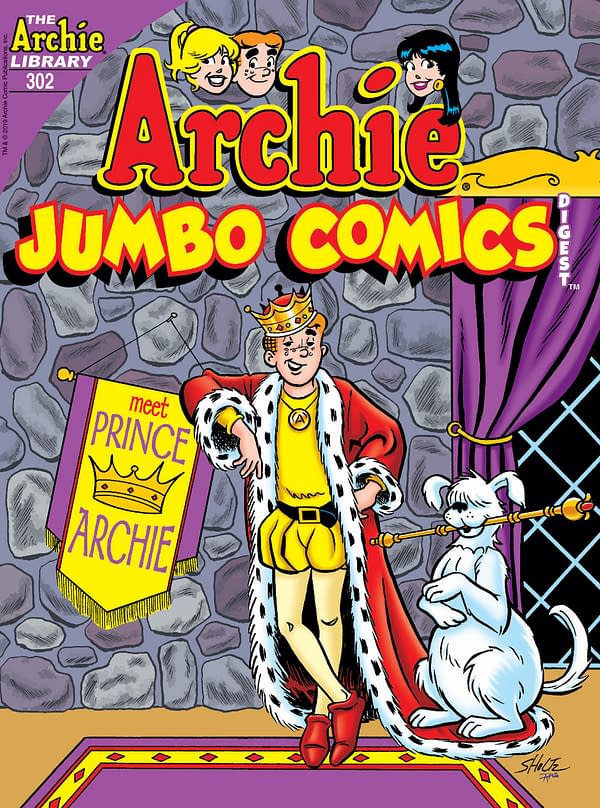 Jon Goldwater, the Publisher/CEO of Archie Comics is quoted as saying "Archie has a long history of being part of the world conversation, and this is the latest – and maybe the greatest – example of that. When we learned that the royal baby was named Archie, we knew we had to engage with this bit of history in an organic and fun way. And what's better than showing how Archie himself reacts to the news?"
The story will be by Victor Gorelick, Angelo DeCesare and Jeff Shultz, in comic stores on September 4th, in supermarkets and newsstands, the week after.