Art Baltazar Launches Graphic Novel Trilogy with Drew and Jot: Dueling Doodles
Explosive publisher BOOM! Studios has announced a new trilogy of graphic novels by award-winning cartoonist Alt Baltazar, launching in November with first volume Drew and Jot: Dueling Doodles. The graphic novel is about "the thrilling sketchbook adventures of superhero Drew, his trusty sidekick Jot, and their sworn nemesis Doctor Danger."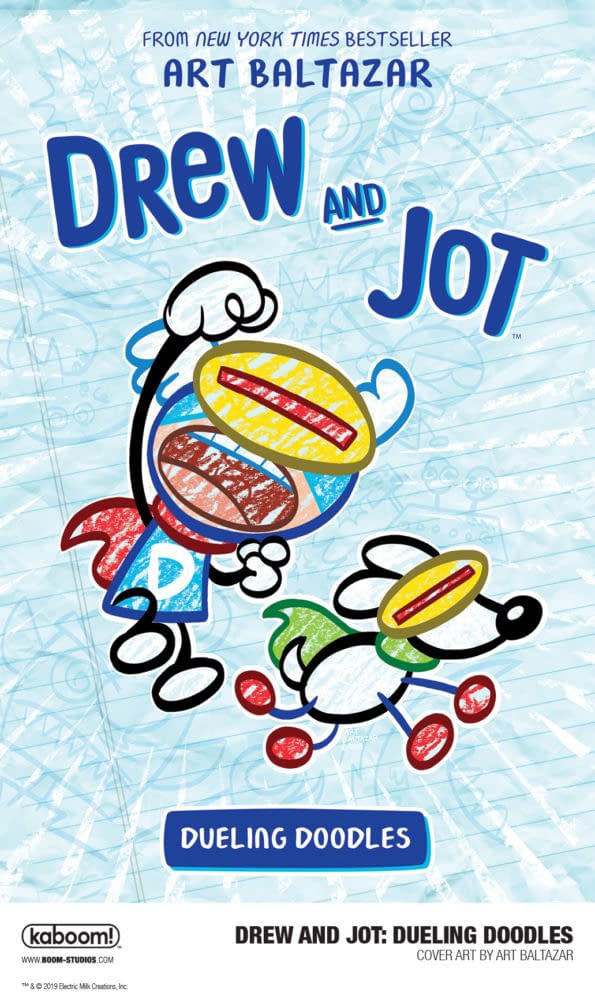 Wait a minute? Are Drew and Jot… Cyclops?
More details from the press release:
In DREW AND JOT: DUELING DOODLES, Andrew and Foz become best friends on the first day of fifth grade through their mutual love of drawing fun characters and crazy action. Their sketches practically come to life in their notebooks where they draw the amazing adventures of the flying superhero Drew, his canine sidekick Jot, and the diabolical villain Doctor Danger. It's a world of two best friends using their art to go on fun adventures and save the day – that is, until Andrew's little sister gets her hands on his notebook and scribbles a brand new threat that could ruin everything!
Here's what Baltazar had to say about the new project:
The looseness and fast energy of crayon sketches gone wild! DREW AND JOT are characters I had in my sketchbook since the year 2002! This is an EVENT come true for me and it feels excellent to FINALLY bring these guys to the masses! AW YEAH BOOM! Let the dueling of doodles begin! Enjoy the awesome!
And Editor Chris Rosa added:
This book is for every kid, from ages nine to ninety, who ever dressed up in a superhero cape or spent a week stapling together copies of their own hand-drawn comic book adventure. Art Baltazar brings all his trademark humor, fun, and zany action to this superhero caper that's bound to please comic book fans of all ages, and maybe even convince some of them to start drawing their own.
Look for Drew and Jot: Dueling Doodles in stores in November and check out a 20 page preview below: