So this Wednesday the latest chapter of Top Cow's comic Artifacts comes out. It follows the story of ex-priest Tom Judge who uses one of the 13 artifacts called The Rapture. His partner, Tilly is a "numeromancer" or "mathmagician" and it's her talents that lead to former Witchblade bearer/former Angelus Detective Danielle Baptiste calling them in on a very strange case. The art on this new issue is done by former talent search winner -ROM-, though this isn't her prize issue… this and the following issue are additional work she is doing for the company. Writing this first of a two-part story is… me. See my name above? Dan Wickline… my mom loves seeing my name in print. My dad prefers seeing them printed on pay checks… but to each their own.
Now other sites are running the preview (thank you), but I figure since this is my book I should give you guys something a little special. So I'm going to show you the script for each of the preview pages. I hope you all like it and pick up the book on Wednesday.
The preview starts on page 2…
PAGE TWO (5 panels)
Panel One: The girl standing next to her mother, showing her the math equation. Her mom is reading a book on an e-reader. Hi-tech family here.
ALISON
Mom, I'm stuck on math problem and the computer just crashed.
ALISON
Can you help me?
Panel Two: Mom doesn't look up from her screen but points away from the daughter towards the father's office.
MOTHER
You're father is the one that got his masters degree in engineering.
MOTHER
Go ask him.
Panel Three: The girl goes into her father's office with her math homework. He is working on his computer and holds his hand out for the paper without looking at his daughter.
ALISON
Dad, can you help me with a math problem?
FATHER
Sure thing. Bring it here.
Panel Four: The dad looking confident as he holds the paper but hasn't looked at it yet.
FATHER
This should only take a minute…
Panel Five: The father now looks very disconcerted as the equation is far harder than he expected.
FATHER
Uhm… wow… this is…
FATHER
It's getting late, sweetie. Why don't you get some sleep and I'll have this ready for you in the morning.
ALISON
Okay. Good night.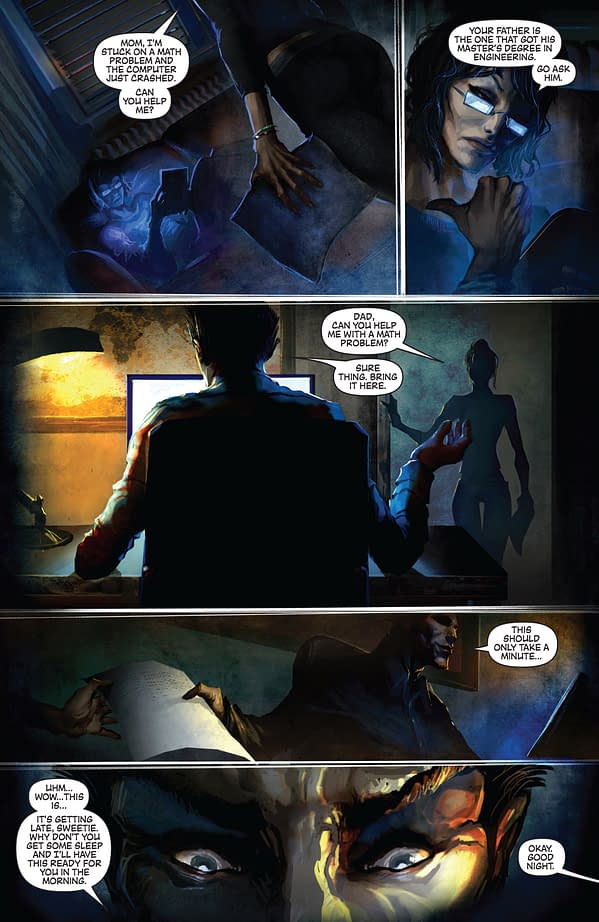 PAGE THREE (4 panels)
Panel One: It's late afternoon and we're outside of the families house now. There are squad cars, police tape and a lot of activity. A taxi cab has pulled up and a cop is standing next to the open door, but he is calling up toward the house.
OFFICER
Detective Baptiste!?!
Panel Two: Up by the front door we see Dani Baptiste in her work clothes, coat and her badge either on her belt or hanging around her neck… whatever works best for us to see it. She is responding to the officer by the cab.
DANI
There okay! Send them up!
Panel Three: Tilly Grimes and Tom Judge walk across the lawn towards the Detective.
TOM
Hello, Detective.
TOM
You're phone call was a bit vague… care to tell us why you've drug us out here?
Panel Four: Dani gestures for them to go inside the house.
DANI
I think it will be better to show you…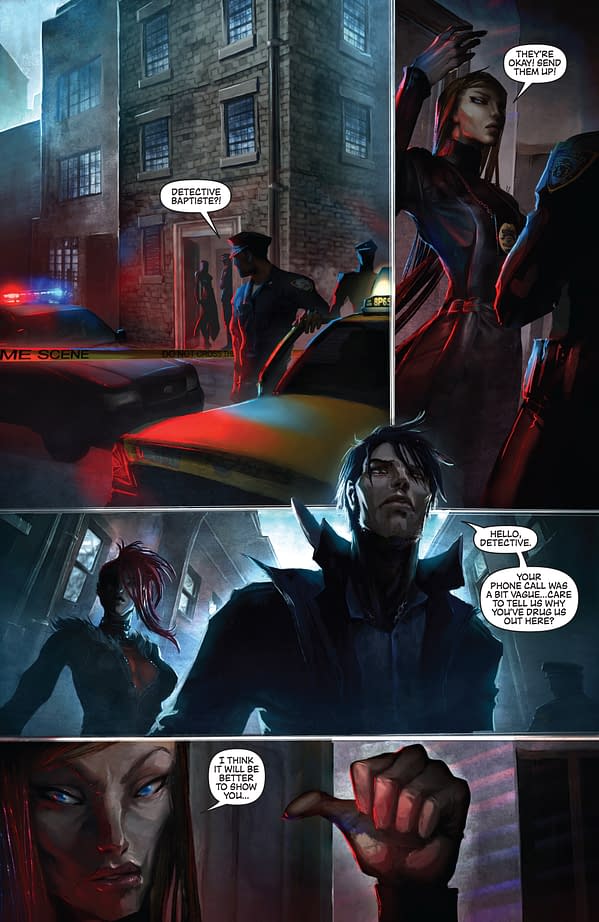 PAGE FOUR (1 panel)
Panel One: Full-page splash of the living room of the house. There are four dead bodies. The mother and daughter both look like they were chopped up by a butcher knife. The daughter is in pajamas and the mother in a robe. in the middle of the room is a police officer with a knife in his chest. Against the side wall is the father, he's been shot in the head and chest. There is blood splattered against the wall. There are also math equations on the wall but we don't want to highlights those yet. The important things in the panel is the dead cop and the dead father and how he was killed. The other two need to be in the panel but they can be less prominent.
TILLY
Oh my….
DANI
This is the Whitaker family. Father, Michael was an electrical engineer. Mother, Stephanie was a proof reader. The daughter, Alison, was sixteen.
DANI
Neighbor heard a scream, tried knocking on the door but when he got no response he called the cops.
DANI
Two uniforms arrived, saw Mr. Whitaker inside. He ignored their knocking so they themselves in.
DANI
Whitaker attacked them, killing Officer Tillman. Officer Singh opened fire, killing the attacker.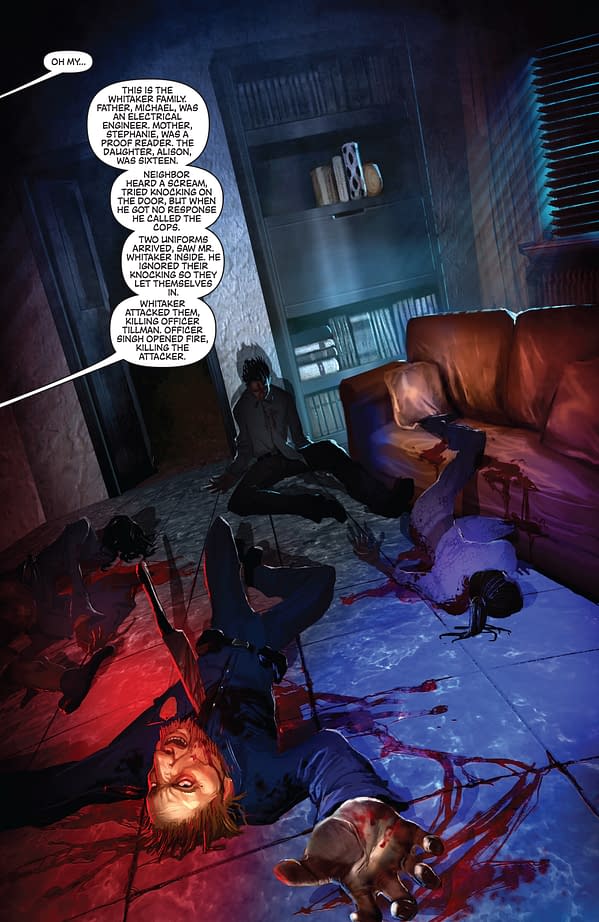 PAGE FIVE (5 panels)
Panel One: Tom slides his hands into his pocket to find a cigarette. The scene is horrific but doesn't affect him much. Tilly is a bit more shaken.
TOM
Father kills family then commits suicide by cop. Horrible… but why did you call me?
Panel Two: Dani walks over to the father's office.
DANI
You're my first call when things get unnaturally strange…
DANI
But in this case, it was Tilly I needed.
Panel Three: Tilly is now surprised as she's used to being the assistant, not the one called for.
TILLY
Me? I don't understand.
Panel Four: Dani has turned on the desk lamp as it's starting to get dark in the house since the blinds in the office are closed.
DANI
Well, when I saw this I immediately thought to myself…
Panel Five: We see the walls of the office and every square inch is covered in math equations and calculations. The walls, the shelves, part of the ceiling. Anything the father could write on he did.
DANI
I should probably call in my local numeromancer.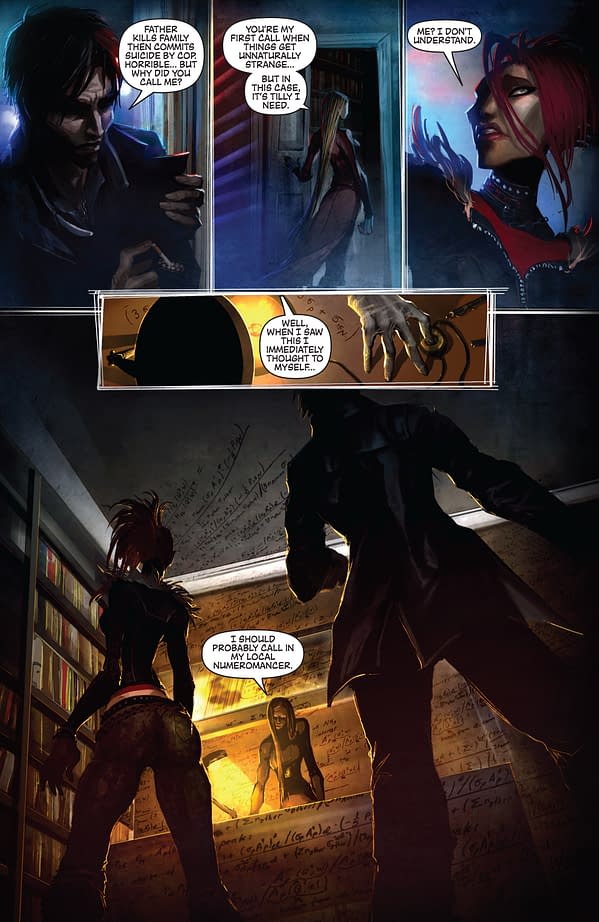 PAGE SIX (5 panels)
Panel One: Tilly starts staring at the wall in almost awe. Tom is looking as well.
TILLY
This is incredible.
TOM
This looks a lot like what you do.
TILLY
Yes… and no…
Panel Two: Tilly turns back to Dani. She is totally engaged in the equation now.
TILLY
There is some amazing stuff here…
TILLY
But to really know what he was trying to do, I'd have to see where he started.
Panel Three: Dani holds up the paper with the original equation on it.
DANI
I think I can help with that.
DANI
We found this on his desk.
Panel Four: Tilly takes the paper while Tom talks to Dani.
TOM
Is there anything on Whitaker that could explain this? Any History of mental health or a police record?
DANI
Nothing. The guy was squeaky clean. He has one parking ticket three years ago. He was just an average guy.
Panel Five: Tilly looks up from the paper and seems confused again.
TILLY
This doesn't make any sense.
TILLY
There is no way this equation should have been given as part of a high school homework assignment.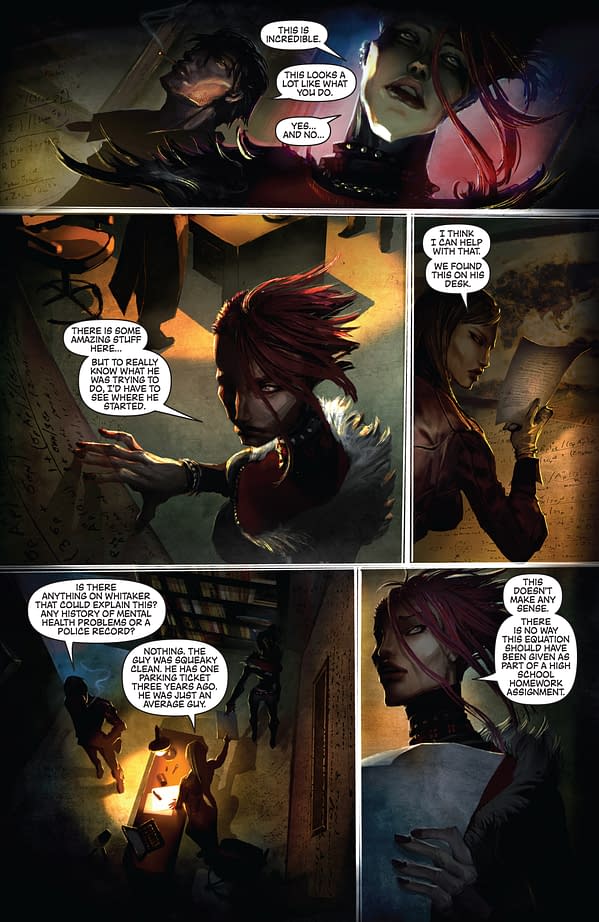 PAGE SEVEN (5 panels)
Panel One: The officer from the curb races in from outside to talk to Dani. He's holding a walkie-talkie out to her.
OFFICER
Detective!
OFFICER
There's an all units call…
Panel Two: Dani speaking into the radio.
DANI
This is Baptiste.
RADIO
Officer involved hostage situation at 1420 Easton. Your show to run. Tactical and negotiator are at least thirty minutes out.
DANI
I'll be there in five.
Panel Three: Dani turns to Tom who is ready to go.
DANI
I've got to go…
TOM
We'll come with you. We've got what we need from here.
TOM
And besides… you're our ride.
Panel Four: In the foreground we see Tilly staring at the calculations on the wall. In the background Tom and Dani are exiting the house.
TILLY
What were you trying to do?
Panel Five: Tilly running for the door.
TOM (Off Panel)
Tilly!
TILLY
I'm coming!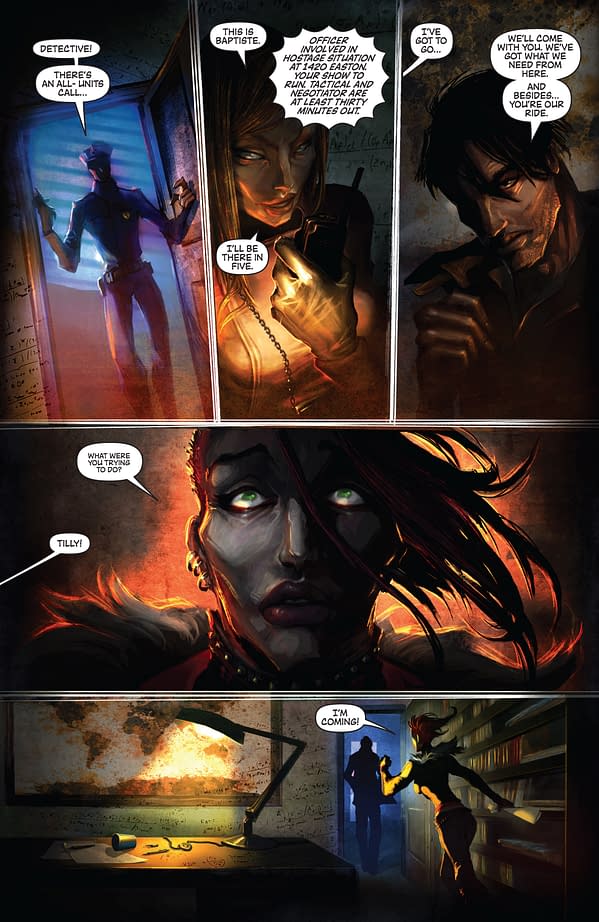 Enjoyed this article? Share it!