Joe Hill's new comic book series Basketful Of Heads (and it is all I have in me not to add a double L on the end of that first word) is the lead book in his pop-up imprint for DC Comics dubbed Hill House Comics. Drawn by Leomacs, with covers from Reiko Muramaki, as well as a serialised back-up story, Sea Dogs, by Joe and Dan McDaid, it looks like we'll be getting an added head in that basket, as the series has just jumped from six to seven issues long.
The first issue goes to FOC on the weekend… so expect DC to be talking about it a lot at NYCC. Here's a preview below and the solicitations so far…
Here are the solicitations so far.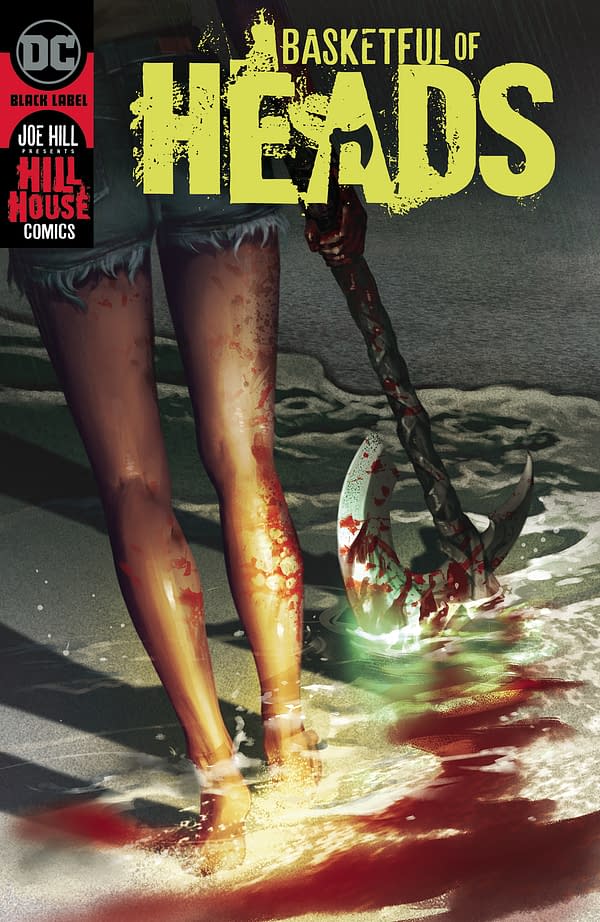 BASKETFUL OF HEADS #1 (OF 7) (MR)
(W) Joe Hill (A) Leomacs (CA) Reiko Murakami
The rain lashes the grassy dunes of Brody Island, and seagulls scream above the bay. A slender figure in a raincoat carries a large wicker basket, which looks like it might be full of melons… covered by a bloodstained scrap of the American flag.
This is the story of June Branch, a young woman trapped with four cunning criminals who have snatched her boyfriend for deranged reasons of their own. Now she must fight for her life with the help of an impossible 8th-century Viking axe that can pass through a man's neck in a single swipe-and leave the severed head still conscious and capable of supernatural speech.
Each disembodied head has a malevolent story of its own to tell, and it isn't long before June finds herself in a desperate struggle to hack through their lies and manipulations… racing to save the man she loves before time runs out.
Plus, in the premiere chapter of the backup story "Sea Dogs," which sails across all the Hill House Comics titles!
In Shops: Oct 30, 2019
Final Orders Due: Oct 07, 2019
SRP: $3.99
BASKETFUL OF HEADS #2 (OF 7) (MR)
(W) Joe Hill (A) Leomacs, Dan McDaid (CA) Reiko Murakami
Hunted to the point of exhaustion, June Branch struggles to outwit and outfight the home invader coming after her. He's armed with a .44 and a secret agenda; she's got a thousand year-old Viking relic and no way to escape. The axe is about to fall in the topsy-turvy second chapter of the horror story with the sharpest edge in comics!
Fears escalate and a full moon rises over the HMS Havoc in chapter three of the "Sea Dogs" backup tale, written by Joe Hill!
In Shops: Nov 27, 2019
Final Orders Due: Nov 04, 2019
SRP: $3.99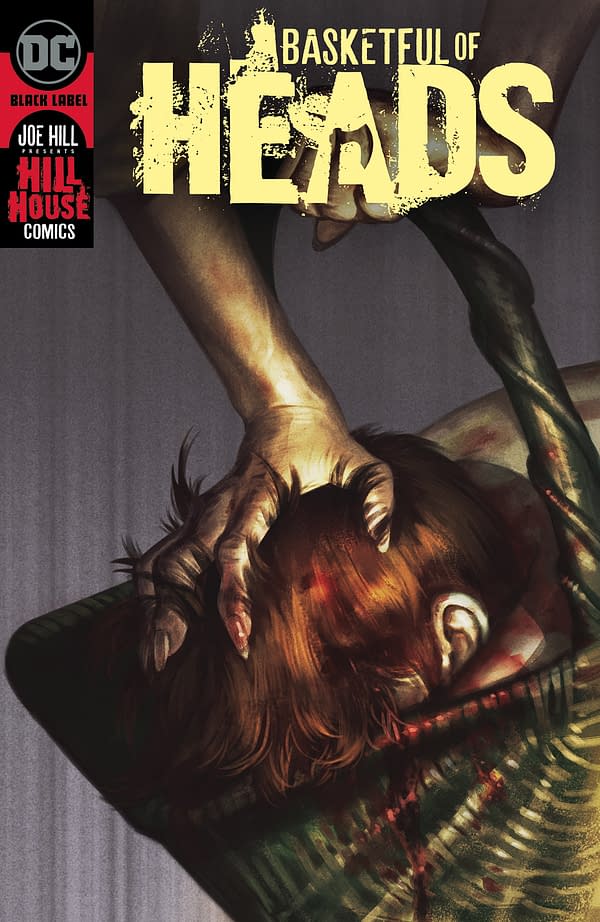 BASKETFUL OF HEADS #3 (OF 7) (MR)
(W) Joe Hill (A) Leomacs (CA) Reiko Murakami
Basketful of Heads continues as a seven-issue miniseries! June Branch has been hunted, haunted, and desperate; she's got an ancient Viking axe with mystical properties and a severed head in a basket that won't shut up. If she can't make her traveling companion be quiet, maybe she can get some answers out of him…answers that might spell the difference between life and death. But getting him to talk is one thing, and getting the truth out of him is another. He's a decapitated devil who'd like nothing more than to lead June astray-and with three other killers out to finish her off, so she has no room for error. The comic with the sharpest edge in horror returns for another swing of the axe!
In Shops: Dec 18, 2019
SRP: $3.99
Enjoyed this article? Share it!