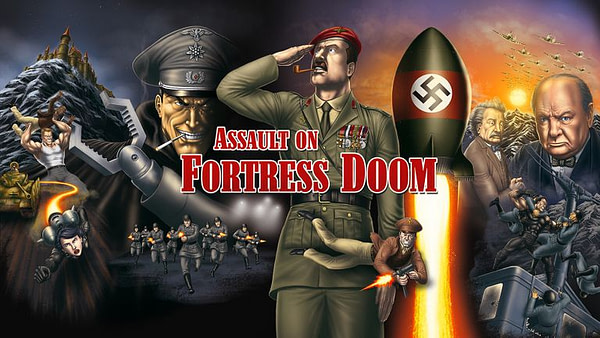 Lex McDonald writes,
Having just finished a 172 page, full colour graphic novel about the greatest secret mission of WW2, it should come as no surprise to learn that I like war stories. But it recently struck me that in the comic world there's WW2…and there's WW2.
As a matter of course, most war stories now seem to feature zombie stormtroopers, mechsuits, superheroes, time travel technology and/or vampires. Which is frickin' awesome. Kieron Gillen's Über is absolutely STUNNING and breathing life into old genres is, after all, a forté of comics.
The problem for me is that these WW2 stories become something else. In the case of Über that something else is brilliant. But often, when things get too meta, too knowing and just too arch, the inherent drama of WW2 somehow gets watered down.
Perhaps I'm just nostalgic for the rainy Sunday afternoons where I first discoveredWhere Eagles Dare, the Dirty Dozen and The Great Escape. But much as I enjoy Return to Castle Wolfenstein and the related products of the nu-WW2 genre, there's no doubt that zombie pyrotechnics can sometimes drown out the actual WW2 parts of a WW2 yarn.
Assault on Fortress Doom was born from a passionate urge to try and tell a more classic WW2 story. Starting on May 7th, 1945, with Hitler dead and the world preparing to celebrate victory in Europe, it tells the tale of a small band of courageous commandos on a secret mission to save mankind from extermination. Less than two hours remain until rogue Nazi General Wolfgang Von Khan launches a titanic doomsday device called Goliath…and so begins a rip-roaring, race-against-time with no small amount of humour and LOTS of bullets.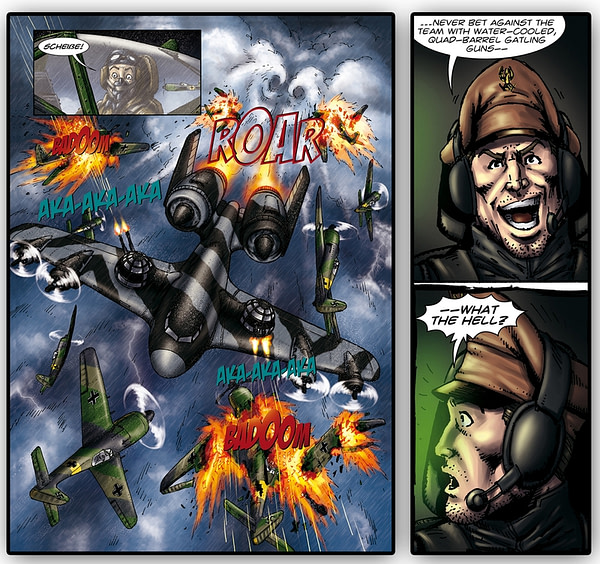 Ok, ok. So when it comes to realism, we're admittedly not in the territory of Garth Ennis and Keith Burns on the fantastic Johnny Red. But the few sci-fi excesses in our story (concerning plausible secret technology on both sides) really don't detract from it being a shrapnel ridden love-letter to death defying aerial battles, fights on top of cable-cars and stiff upper lips.
There are NO zombie stormtroopers…But in their absence, we're tried to turn the clock back slightly and tell a more old-fashioned action/adventure story that addresses heroism, sacrifice and the fate of nations in WW2…
…And the response so far has been great: we hit our Kickstarter target in just 22 hours. Which makes me think there may be life in the old-WW2 genre yet.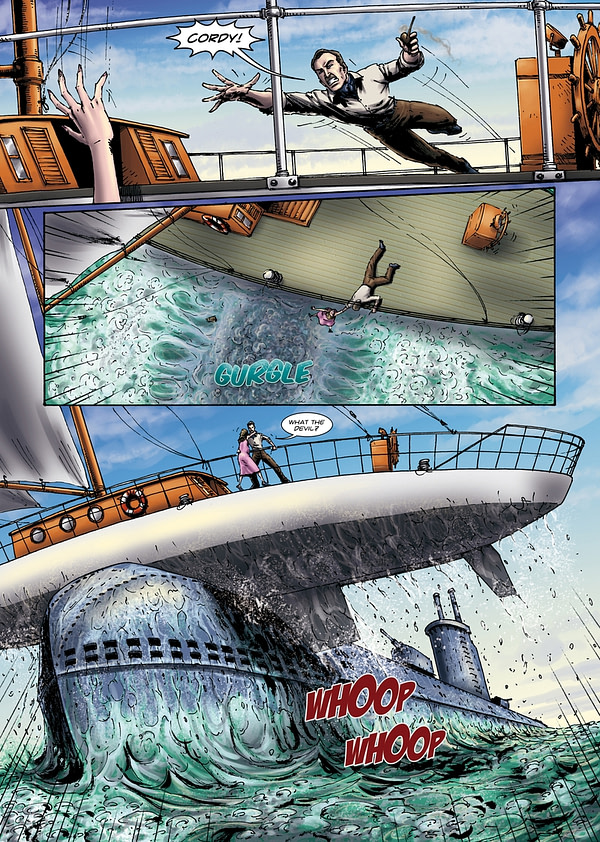 Assault on Fortress Doom is the debut graphic novel for London writer Lex McDonald and Uruguayan artist Edgard Machiavello.
It is currently available to buy on Kickstarter until December 3rd.