Avatar Plug of the Week – HERO WORSHIP #6
The most original super hero series concludes its first arc today, by writers Zak Penn (Avengers, X-Men II & III movies, Alphas TV show) and Scott Murphy (Star Wars The Clone Wars TV show)!
All of Adam's life has lead up to this surreal moment – from worshiping the godly superhero Zenith to becoming the super-powered Apex to discovering the truth about his idol and the people behind the carefully crafted public persona. Now he must choose how to confront the truth and what will happen if he turns his own powers upon his mentor and accepts the mission to bring down Zenith. One way or another, there will be blood.
Here is a sneak preview of the interior pages…
Hero Worship #6 is available with a Regular, Wraparound, and a special Heroic Incentive cover by Michael Dipascale.
---
Hero Worship #6 Regular Edition
$3.99, Item Code: OCT120831
Cover by Michael DiPascale ---
Hero Worship #6 Wraparound Edition
$3.99, Item Code: OCT120832
Cover by Michael DiPascale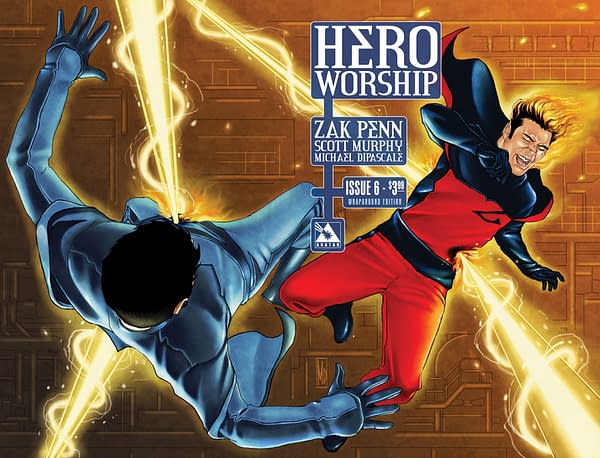 ---
Hero Worship #6 Heroic Incentive Edition
PI, Item Code: OCT120833
Cover by Michael DiPascale