"I am the bad boy of comics," said global entertainment superstar and fashion icon Donny Cates in an interview with Marvel.com at New York Comic Con. And the global entertainment superstar and fashion icon went on to prove it, revealing that he has "nothing good" planned for readers of upcoming issues of Guardians of the Galaxy. Asked where the book is going, Cates responded.
"Nowhere good," the blonde bombshell revealed. "It's gonna be well written. It'll look pretty. As we found out in this arc, Rocket's implants, the things that have made him the character that we love so much, they've all started to fail on him. Rocket's dying. At the same time, we have this evil space cult called the Universal Church of Truth and they have nefarious time traveling kill planet plans. It's all very intricate. It's all gonna worse before it gets better… hashtag #ifitdoes."
Of course, we learned later that same day that Cates will be relinquishing the title to write Thor, with Al Ewing and Juann Cabal relaunching Guardians of the Galaxy with a new #1 issue. But will there be any Guardians left for Ewing to write?!
Cates also took an opportunity to declare himself DC Comics after Marvel's Agent M took a swipe at the Distinguished Competition, saying of Superman comics, "nobody reads those." That segued into some chat about Dennis Hopeless "Hallum's" Revenge of the Cosmic Ghost Rider, but Agent M was sure to swoop back in to apologize for saying anything controversial.
I want to say real quick, when I said nobody reads those comes, having a fun, we're just joking around…"
But Cates interrupted, doubling down on the claim.
"No, no one reads those comics," Cates said, before clarifying, "I love everybody at DC. My name is DC. All my comics are DC comics. So if you want to read those…"
Isn't he a charmer? The ever-humble Cates also talked about big plans Marvel apparently has for Bats the Ghost Dog, a character he co-created back in Doctor Strange #381 and was shocked to learn other writers wanted to use.
"I remember, when I left Doctor Strange and Mark Waid came in, I've been reading Doctor Strange and I love that book," said Cates. "I started getting the PDFs in from our comps and I started reading Mark's run, and Bats was in it, and I was like, wait, what? What I did counts? That's just gonna keep on happening? That's so bizarre."
"You were at the last retreat," Cates added. "There's extended plans for Bats in what we're gonna be doing."
You heard it here first, folks. Bats the Ghost Dog is the murderer in Incoming. Probably. Technically, he might have meant other plans.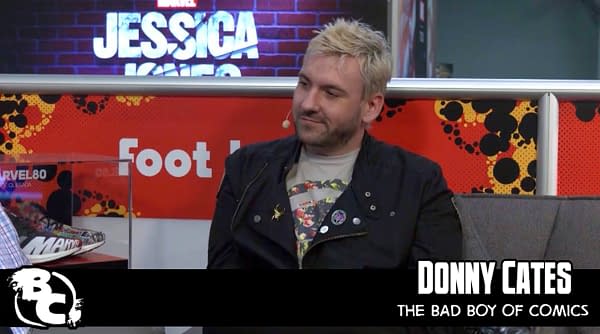 Enjoyed this article? Share it!