Today sees the publication of Batman #78, part of the City Of Bane storyline that has the cheek not to actually be set in a city at all, but on a Hawaiian beachfront. The cover promises REUNITED REKINDLED READY FOR REVENGE with Batman and Catwoman posting in a cityscape that does not appear in the comic. They've also managed to remove the solicited DC's Year Of The Villain banner in favour of a City Of Bane banner. Again, no cities appear in the making of this comic book.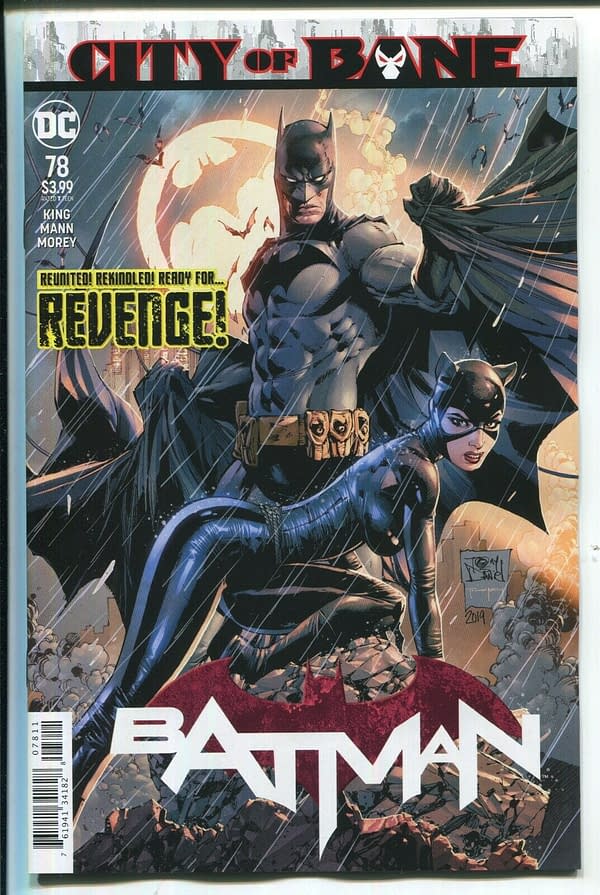 There's no revenge, ready or not. Instead it's a beachfront getaway for the pair as they try and deal with stuff.
It is also utterly gorgeous. Clay Mann and Tomeu Morey create beautiful vistas for Batman and Catwoman to frolic within, in and out of costume. Why either is wearing their costumes at any point is not mentioned, but they are the Bat and the Cat so go with it. Just look at the waterfall rainbows instead.
But for me the standout scene is what I can't help but dub Batarang Therapy. With Catwoman getting him to deal with everything Bane has done – including, unbeknownst to them, that Catwoman stood Batman up at the roof altar.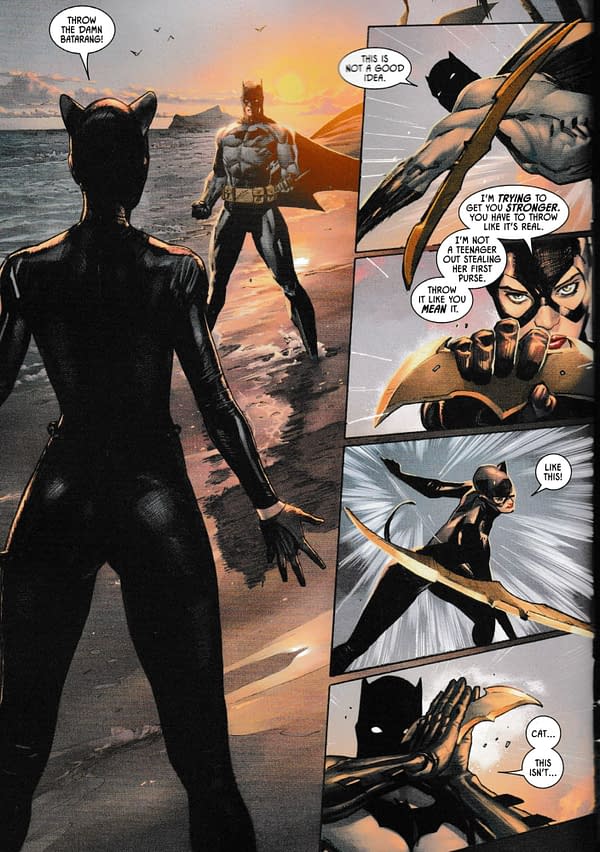 I am not sure that Batarang therapy is part of any recognised psychological treatment. Maybe it should be.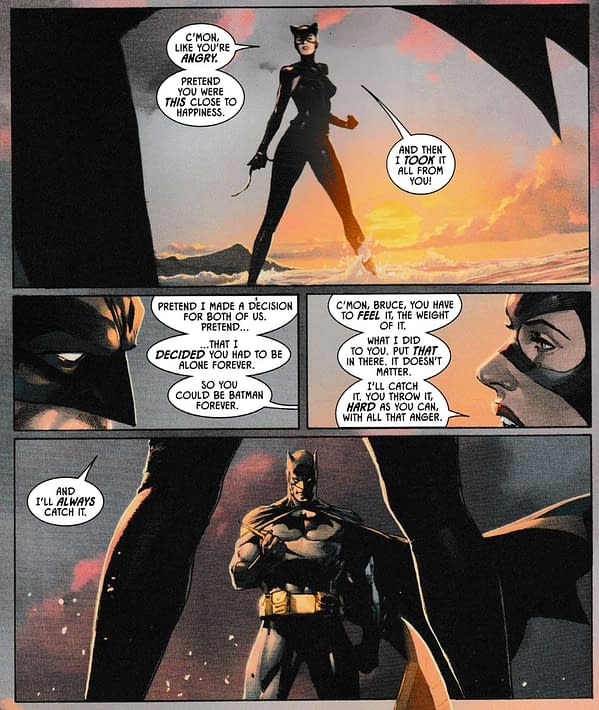 Do you see what she did there? Couples therapy by way of throwing really sharp, deadly objects that just happen to resemble the symbol on on partner's chest. I mean, to be fair, it's better than anything Sanctuary came up with.
Although over at Event Leviathan #4, there's at least one rumour (ironically) brewing courtesy of Silencer…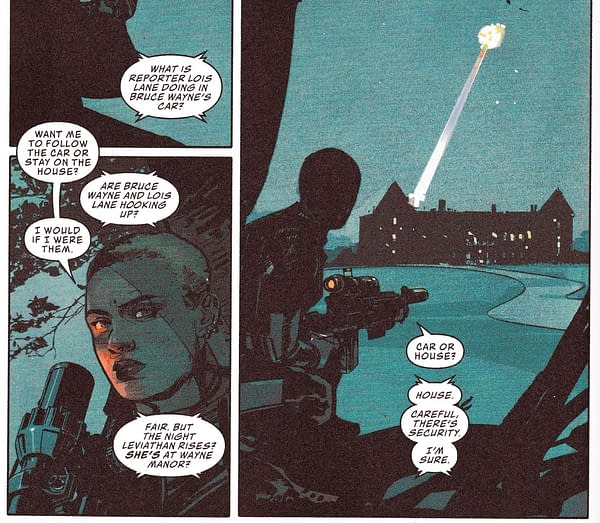 World-famous journalist Lois Lane, Clark Kent's husband, already facing rumours of her involvement with Superman – now linked to late-night assignations at Wayne Manor with Bruce Wayne?
Maybe Catwoman might have some thoughts about that one?
BATMAN #78 YOTV
(W) Tom King (A) Clay Mann (CA) Tony S. Daniel
In the first part of a "City of Bane" interlude, Batman receives help from an ally he thought he had lost for good: Catwoman! Still recovering from the beatings he took from Bane and Flashpoint Batman, the Dark Knight readies himself for a return to Gotham City, and it's Selina Kyle who holds the key. She knows how Bane is fueling his regime, and she'll help Batman shut down the supply line-but first she has to whip the battered hero into shape. In Shops: Sep 11, 2019 SRP: $3.99

EVENT LEVIATHAN #4 (OF 6)
(W) Brian Michael Bendis (A/CA) Alex Maleev
Batman versus Superman! Witness the interrogation of the decade as Bruce Wayne tears into Superman to find the missing piece of the Leviathan puzzle they both need. It's a battle of wits and wills as the greatest detectives in the universe get together to figure out the why and how of Leviathan before it's too late. And when that doesn't work…in comes Lois Lane! From the creative team of Brian Michael Bendis and Alex Maleev, it's another fully painted noir thriller that will tear a bloody trail through the DC Universe. In Shops: Sep 11, 2019 SRP: $3.99
Enjoyed this article? Share it!