Recently on Late Night With Seth Meyers, Tom King said that the one story that he is writing on the series is that 'Batman Loves Catwoman'. Which gave me a reason to reread the entire run with that in mind and see how it relates to the upcoming Batman wedding.
And… there's something.
Firstly, it is being set up in the current storylines, from DC Nation #0 through the Wedding Prelude titles…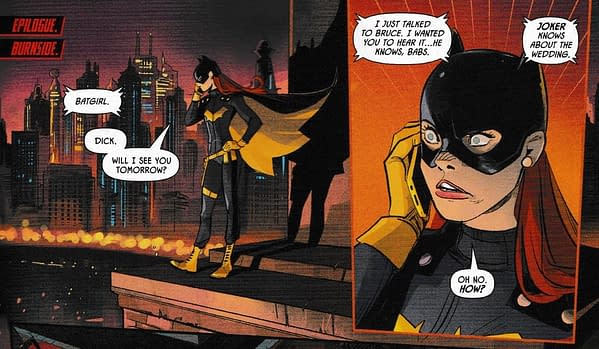 …and the most recent issue, that the Joker is going to try and disrupt the wedding.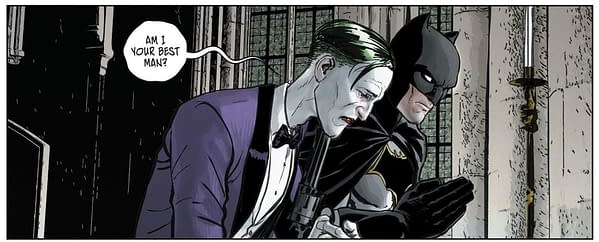 After all, Batman is his first love, and we've all seen the LEGO Batman Movie to know how that goes down.
https://www.youtube.com/watch?v=HHXwi5Mz7ug&t=110s
But what the Joker does do is remind Batman that he can't stop being Batman. Scott Snyder showed us a Batman who made plans for a legacy of Batmen…. Priest gave us a Batman who wants to be obsolete…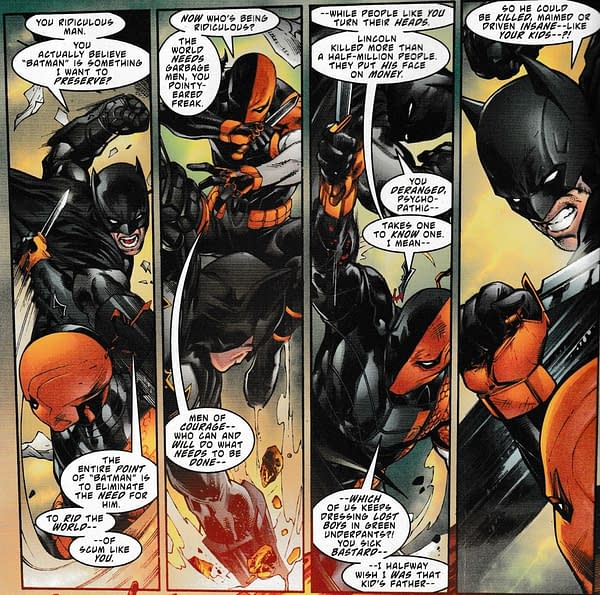 While Geoff Johns stepping in for Tom King has given us a Batman whose Dad has told him to stop being Batman.
Tom has given us an alternative Bruce Wayne who never wanted to be Batman, and a terrible world that results from that.
But a present-day Batman who doesn't have a choice. Or does he?
And that's what it may come down to. Can Batman get married and still be Batman? Can Catwoman? In the Dark Knight Rises, Bruce Wayne and Selina Kyle have to stop being their characters and elope.
When Batman returns in Batman Vs Superman, Selina Kyle isn't mentioned – just a reference regarding jewel thieves to having known a woman or two like that…
Bleeding Cool has been thinking of late that no, they aren't getting married. But reading through Tom King's run, I am getting to understand why that might be. Their intentions for getting married are so they can stop being Batman and Catwoman, but the clues that this isn't possible have been there all along.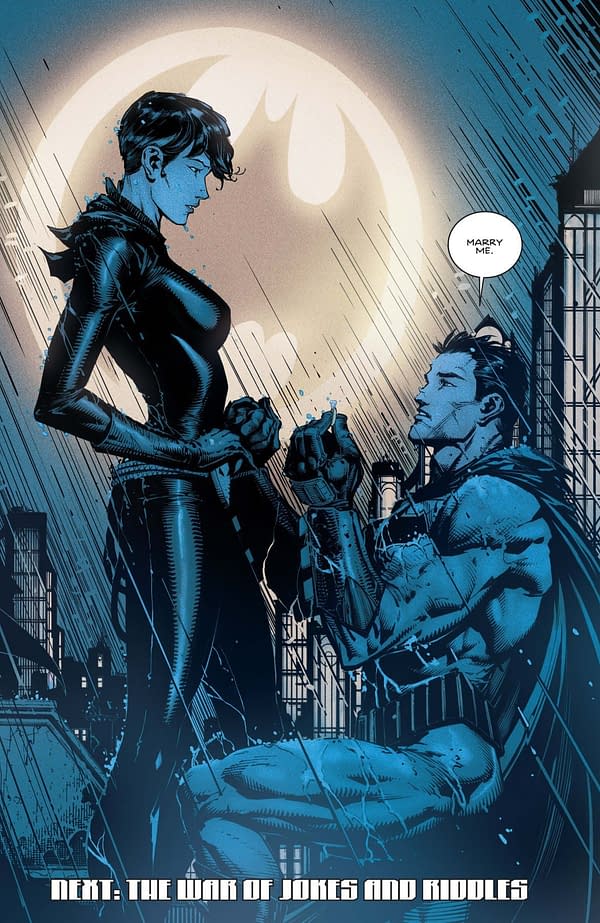 Booster Gold has shown us a world without Batman and it's not great. Catwoman can only steal a wedding dress. It took Batman and Catwoman to save the world from Poison Ivy, not Bruce and Selina. There is still some doubt about the deaths in Catwoman's wake…
And, given the events in Catwoman solicits, they may have to go their separate ways…
Funny what you pick up when you actually read the comics rather than get swept along in wedding nuptials.
What do you think?
Enjoyed this article? Share it!