BC FCBD Roundup: Dimensions Collide with 'Grumble VS. The Goon'
Free Comic Book Day 2019 was yet another embarrassment of riches, with just about every comic producing company out there putting a bunch of great, free comics in our eager little hands.
But what if you missed something? What if you missed Free Comic Book Day entirely? Is there any hope of catching the books you missed out on?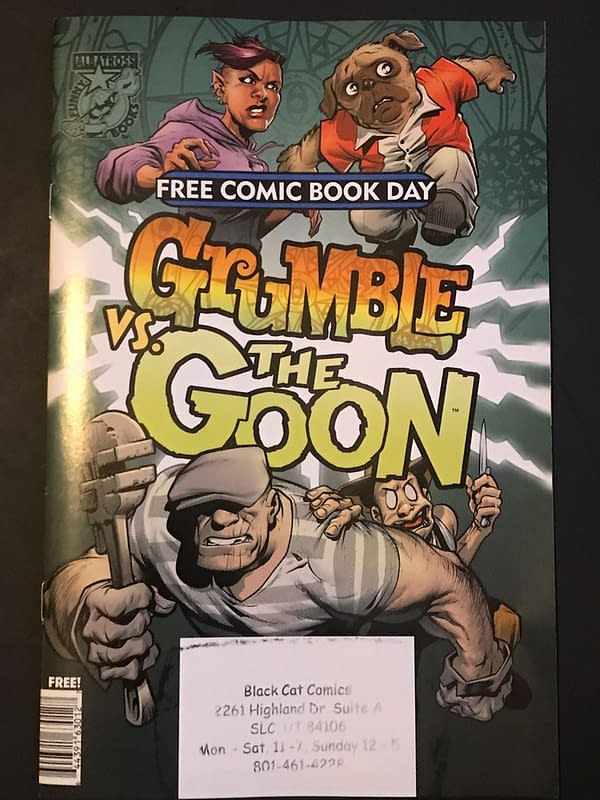 Grumble is blast of a book about a girl with magic powers and a talking dog. Things get weird from there. The Goon is just about the greatest thing to grace comics pages ever. Mash them up and you get Grumble VS. The Goon, with story and art from the creative teams of both books. There's also a back-up story from Eric Powell's Hillbilly, which is worth every moment of your valuable time.
Here's the downside: Grumble VS. The Goon is an original, made exclusively for Free Comic Book Day affair. The back-up Hillbilly story, however, can be found in the first Hillbilly graphic novel, which is fantastic.
That being said, a lot of these special FCBD issues do manage to find their way into graphic novel collections, and I wouldn't be surprised to see this special issue pop up in a collection later. So, all is not lost… yet.
(W) Eric Powell, Rafer Roberts (A) Mike Norton (A/CA) Eric Powell

From the pages of Grumble, Tala and Eddie think it might be a good idea to go dimension hopping when they find death incarnate hot on their heels. Unfortunately, things go from bad to worse when they land in the world of The Goon. And Franky, the newly appointed dog catcher, don't like talkin' mutts that give him the sass!
Rating: Teen