As the crisis that has enveloped the entire comic book industry and left shockwaves throughout social media enters its second day, the world is still without a Twitter account run by "The Great One" Brian Bendis. Though the hackers who took control of the account on Saturday have seemingly been thwarted, Bendis's profile remains stripped bare of a profile picture or header image, and The Great One remains unable to post to it.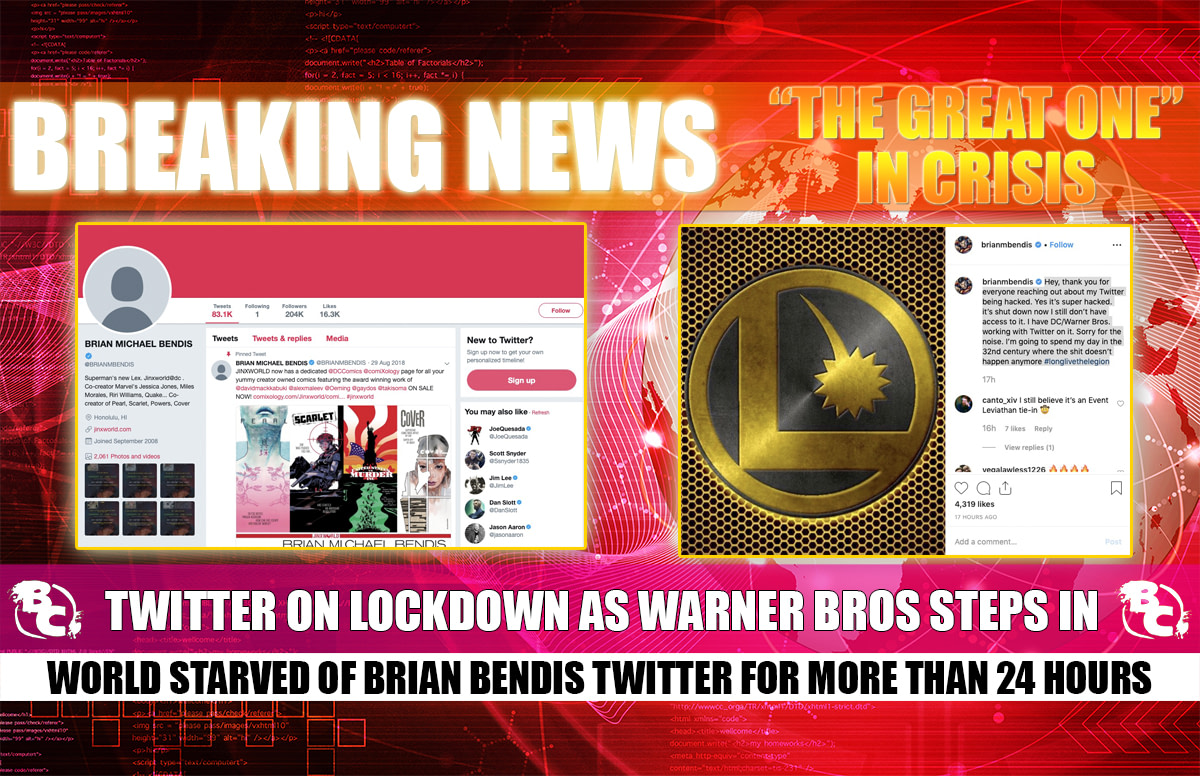 However, Bendis has broken his silence on the crisis, posting a message to fans on Instagram:
Hey, thank you for everyone reaching out about my Twitter being hacked. Yes it's super hacked. it's shut down now I still don't have access to it. I have DC/Warner Bros. working with Twitter on it. Sorry for the noise. I'm going to spend my day in the 32nd century where the shit doesn't happen anymore #longlivethelegion
Hackers gained control of Bendis's Twitter early on Saturday morning, using it mostly to make obscure shoutouts to members of the video gaming community and to post a SoundCloud link to a rap song about Bitcoin. Within a few hours, Bendis seemed to become aware of the hacking, and evidence of a high stakes battle for control of the account began to appear, with alterations to The Great One's bio removed and thousands of tweets apparently deleted as soon as they were posted.
Now, at least, it looks like the situation has been contained, with neither Bendis nor hackers able to access the account. Hopefully Bendis's Twitter access will be restored by Monday, but that still leaves questions about how this could have happened. Some particularly smart and handsome amateur detectives on Twitter have proposed theories…
McFarlane waited until the perfect time to strike, too, on Marvel's 26th anniversary. Brutal. https://t.co/m38Jm1lyX9

— Jude Terror, King of the Judes (@judeterror) June 22, 2019
But of course, there's no evidence at this time to back those claims up. Bleeding Cool will continue to closely monitor the situation for as long as we feel we can milk clicks out of it. Stay tuned, and continue to send your thoughts and prayers to The Great One in his time of need.