 By Hannah Means-Shannon
Gregory Benton brought 50 copies of a large format, self-published comic to MoCCA Fest 2013 in slinky plastic envelopes and the unveiling itself had an immediate effect on curious passers by. Stretched out over the table, the book had the feel of looking, or even falling into lavish paintings, and his silent composition had a definite mesmeric effect. The judges at MoCCA Fest thought so, too, and he received an Award of Excellence for his quickly sold-out limited edition. But he had ideas of expanding the work into a full graphic novel and soon had a contract in hand to do so. The hardback graphic novel will be released by AdHouse Books & Éditions çà et là, shipping in October. Benton is a veteran artist from World War 3 comics, produced the Slave Labor published graphic novel Hummingbird, and though he's worked heavily for Nickelodeon, Disney Adventures, Vertigo and DC Comics, this year marked his auspicious returned to long-form indie comics.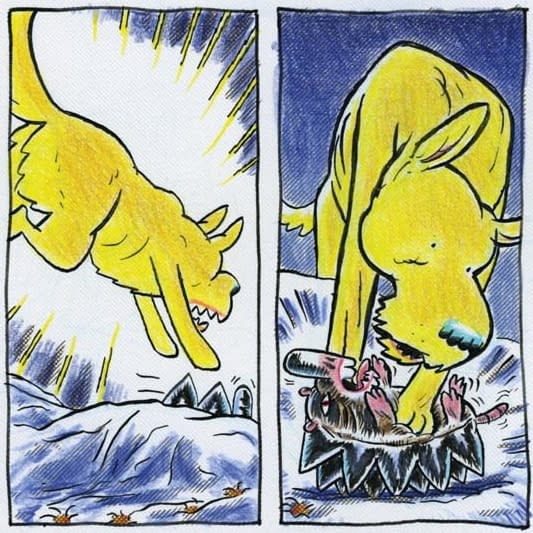 B+F is so unusual in story and style that it appeals to a wide range of reading tastes. It tells a cryptic fable-like story about a girl and her large golden dog inhabiting a protean garden-like world that is both Eden-like in its beauty and primeval in its darker aspects. They struggle to survive, and seem to engage directly with the stuff of life itself. The conflicts in B+F play out like mini-epics both humorous and deadly. The publishers describe the expanded graphic novel as a "mediation on goodwill, hostility, and isolation", but Benton expresses these movements in such a dynamic visual manner that it reads like an adventure story, one that gives a sensory impression of a what a brand new world would feel like, as well as how exhilarating and mysterious it would be. At 64 pages, this is B+F like even those lucky enough to possess the first limited edition have never seen it before. The book is currently under solicitation from Diamond and you can currently view a preview directly at Adhouse books.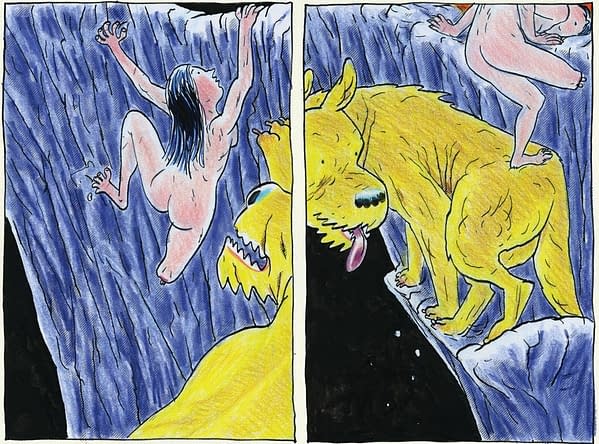 Hannah Means-Shannon writes and blogs about comics for TRIP CITY and Sequart.org and is currently working on books about Neil Gaiman and Alan Moore for Sequart. She is @hannahmenzies on Twitter and hannahmenziesblog on WordPress. Find her bio here.
Enjoyed this article? Share it!