In recent months, publisher Black Mask has stopped soliciting comic books. They also appeared to have stopped publishing them as solicited series got later and later and later.
Representatives tell Bleeding Cool that they have slowed down such activity this year to get delayed books back on schedule and to fix systems that had been stretched thin over the years. And that they will return to Previews next week with comic books scheduled for January.
But that also means some rescheduling, resoliciting and culling of titles lined up, as well as increasing their collection programme and making that more of a focus, even if that means dropping the publication of certain singles that might have preceded such a collection.
Here's how things are looking right now.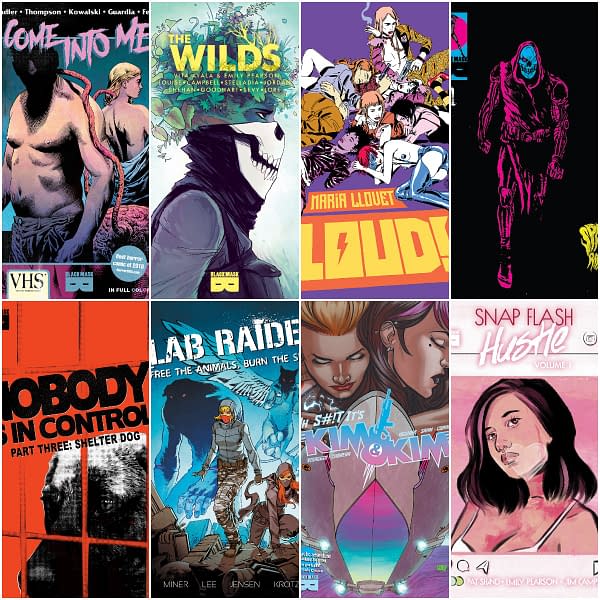 January 2020 Black Mask solicitations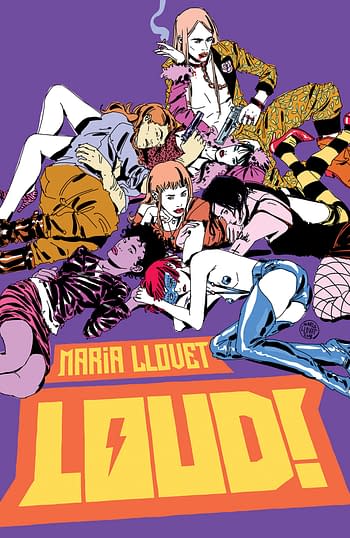 LOUD [OGN – Hardcover]
*New solicitation (was moved from 2019 to 2020)
Writer / Artist: Maria Llovet
Mature
$16.99
Hardcover original graphic novel
The LOUD nightclub. A latecomer stripper, a pissed waitress, a hitmen couple, a suspension bondage performer, a pregnant teenager, a clan of vampires, a pedophile, a lesbian junkie, a divorcing middle-aged woman, a sadistic dominatrix, and many other souls in search of love, drugs, and blood converge at the hottest club in town on a night that none will ever forget. If they survive.
LOUD is like THE HUNGER if directed by Tarantino — a stylish, tripped-out bloodbath of beautiful and vicious decadence.
You'll feel the beat throbbing in your skull, smell the sweat, taste the blood, and lose yourself in the wicked underworld masterfully wrought by MARIA LLOVET (Faithless, There's Nothing There).
Lovingly designed for release as a hardbound edition, LOUD is the kind of book that will get into your spine and give you flashbacks twenty years later, you'll turn to your friend and say "remember when comics had guts and creators made books like LOUD?"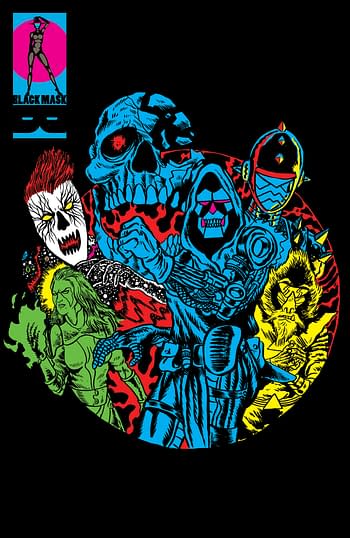 SPACE RIDERS: VORTEX OF DARKNESS #3
Writer: Carlos Giffoni
Artist: Alexis Ziritt
Letterer: Ryan Ferrier
Mature
$3.99
The satanic nightmare continues. A vortex of death and blood takes the riders to an unexpected location before they can reach the empress of darkness, María Lionza. The final barrier, demonic versions of themselves ready to take over the reins of their souls!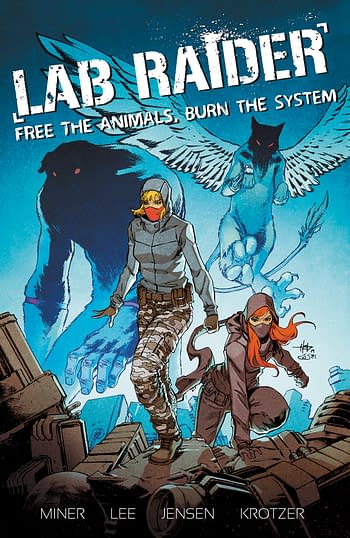 LAB RAIDER TPB
*Issues 2-4 will be digital-only, print trade collects 1-4
Writer: Matt Miner
Artist: Creees Lee
Colorist: Joshua Jensen
Letterer: Matt Krotzer
Mature
$16.99
Synopsis: A pair of young vigilantes break into a shady laboratory where bizarre tests are being run on animals. What at first seems like a simple rescue mission becomes more dangerous when they stumble on secret military experiments, discovering to their horror that the animals they sought to help have been turned into something different, something monstrous… and, once the cages are opened, Jeanette and Sarah quickly become the prey of these weaponized beasts. This high-octane action comic blends vigilante heroics with sci-fi horror for a brutal new adventure. Collects issues 1-4.
Revised 2019 Schedule
In stores 11/20/19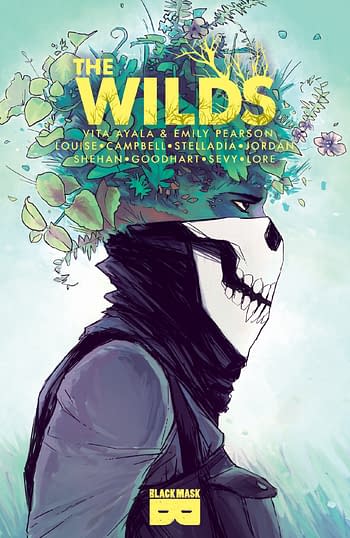 THE WILDS TPB
Writer: Vita Ayala
Artist: Emily Pearson
Colorists: Marissa Louise, Stelladia
Letterer: Jim Campbell
Also featuring short stories from artists Jessi Jordan, Chris Shehan, Isaac Goodheart, Phillip Sevy.
Cover Artist: Natasha Alterici
Mature
$16.99
Daisy Walker is a Runner for The Compound, a mix of post-apocalyptic postal service and black market salvaging operation. Out beyond the settlement walls are innumerable dangers, but, after a decade of surviving, Daisy isn't phased by any of it – until her lover, another Runner named Heather, goes missing on a job. From writer Vita Ayala (Bitch Planet: Triple Feature, Wonder Woman Annual) and artist Emily Pearson (Snap Flash Hustle) comes this bold tale of surviving in bleak times. Collects issues 1-5.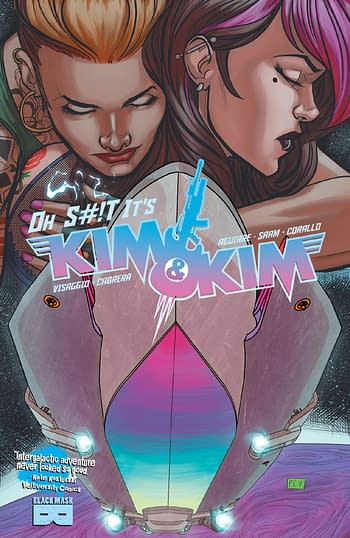 OH S#!T IT'S KIM & KIM TPB
Writer: Magdalene Visaggio
Artist: Eva Cabrera
Colorist: Claudia Aguirre
Letterer: Zakk Saam
Cover Artist: Phillip Sevy
Mature
$16.99
Synopsis: The Fighting Kims are back! Kim & Kim trade their denim vests and spiked chokers for tuxes and gowns as they infiltrate the glitzy space colony of Santa Palma to try and con a master thief. But, as usual, everything goes to hell… and it's definitely Kim Q's fault. Come on, Kim. Get your life together.
A brand new adventure from writer Magdalene Visaggio, artist Eva Cabrera, colorist Claudia Aguirre, and letterer Zakk Saam, the original creative team behind the GLAAD & Eisner nominated Kim & Kim! Collects issues 1-5.
In stores 11/27/19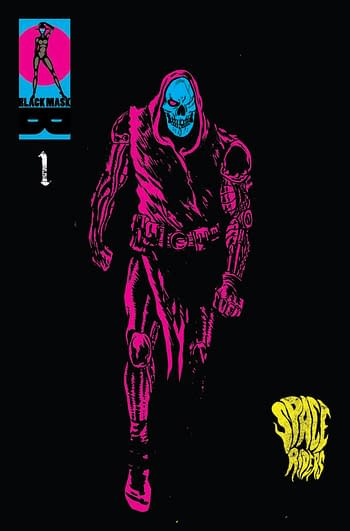 SPACE RIDERS: VORTEX OF DARKNESS #1
Writer: Carlos Giffoni
Artist: Alexis Ziritt
Letterer: Ryan Ferrier
Mature
$3.99
It's been twenty years since the riders defeated the DESTROYER GOD OF EVIL and saved the galaxy. But when THE MOTHER OF ALL EVIL GODS appears and threatens to take control of every dimension and every strain of possible reality, the now cybernetically-enhanced ex-riders will come together and travel into her mind to ASSASSINATE HER SOUL!
It's a suicidal mission into an infinite vortex of blood and death!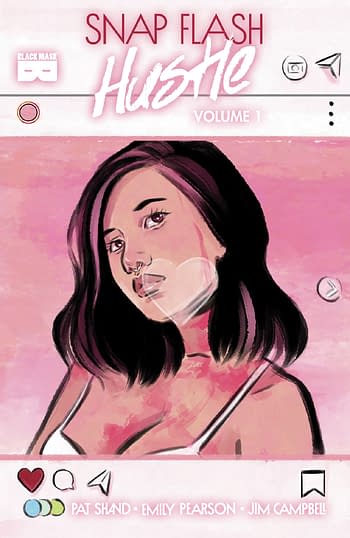 SNAP FLASH HUSTLE TPB
*Issue 4 will be digital-only, print trade collects 1-4
Writer: Pat Shand
Artist: Emily Pearson
Letterer: Jim Campbell
Mature
$14.99
Synopsis: In this stylish crime thriller, Haley Mori, a downtrodden alternative-model, happens upon a secret society of elite models in NYC that are using their platforms to sell narcotics.
Seeing a possible escape from a lifetime of crushing debt, Haley becomes involved and works her way up the ranks, making new alliances and enemies alike while getting a taste of a power she never knew she craved. Collects issues #1-4.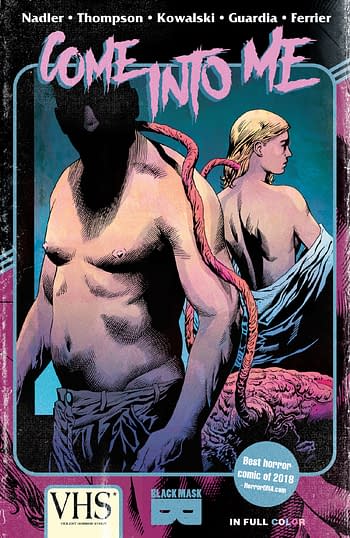 COME INTO ME TPB
Writers: Zac Thompson & Lonnie Nadler
Artist: Piotr Kowalski
Colorist: Niko Guardia
Letterer: Ryan Ferrier
Mature
$16.99
Synopsis: From the critically acclaimed writers of The Dregs comes a new horror series about body image, social media, and memory.
When an entrepreneur with a god complex creates a technology that allows two minds to share one body, he doesn't anticipate the degenerative effects of long-term trials.
Come Into Me is a contemporary comment on connected culture and our longing for approval in the digital age. This is a world where technology and flesh become indistinguishable. Prepare yourself for the insane lovechild of The Fly and Eternal Sunshine of The Spotless Mind. Collects issues 1-4.
In stores 12/4/19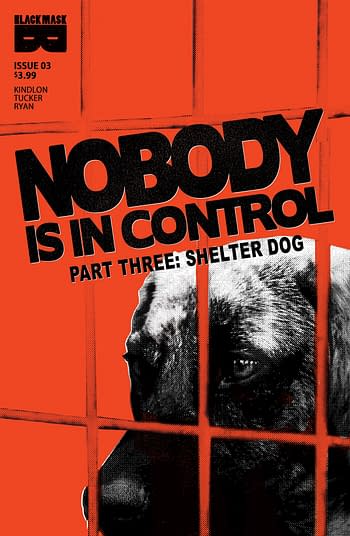 NOBODY IS IN CONTROL #3
Writer: Patrick Kindlon
Artist: Paul Tucker
Letterer: Wallace Ryan
Mature
$3.99
Synopsis: The conspiracy grows to include pornographic manga, America's 1980s fixation on ninjas and, of course, children's books featuring a lovable family of bears. Richard is in deep, and by the end of this issue there may be no way out.
_SERIES TO BE CANCELLED AND RE-SOLICITED IN 2020_
DISMANTLERS
BILLIONAIRE KILLERS
CALEXIT, Vol 2
EMMIE-X
_SERIES GOING STRAIGHT-TO-TRADE (REMAINING ISSUES WILL BE PUBLISHED DIGITAL-ONLY)_
SNAP FLASH HUSTLE (Writer: Pat Shand / Artist: Emily Pearson)
Print trade collecting 1-4 set for November 2019.
Digital-only issues:
#4 on sale 11/6/19
LAB RAIDER (Writer: Matt Miner / Artist: Creees Lee)
Print trade collecting 1-4 set for January 2020.
Digital-only issues:
#2 on sale 11/6/19
#3 on sale 12/4/19
#4 on sale 1/8/20
SEX DEATH REVOLUTION (Writer: Magdalene Visaggio / Artists: Rebecca Farrow, Katarzyna Witerscheim)
Print trade collecting 1-5 set for early 2020.
Digital-only issues:
#4 on sale 11/6/19
#5 on sale 12/4/19
WE ARE THE DANGER (Writer / Artist: Fabian Lelay)
Print trade collecting 1-5 set for early 2020.
Digital-only issues:
#5 on sale 11/6/19
Enjoyed this article? Share it!