This is the Top 10 Bleeding Cool Bestseller List, as compiled by a number of comic stores from their sales on Wednesday and Thursday. It measures what are known as the "Wednesday Warriors", those who can't wait to the weekend to get this week's comics. We salute you, and the keenness you bring to your passion.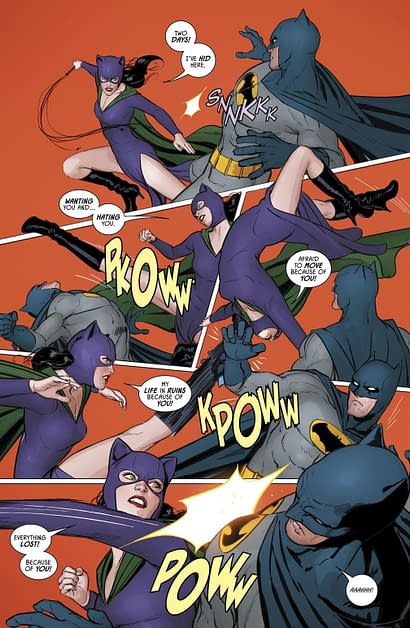 Yes, Batman's out, so it's Batman — but not in every store. Some had Amazing Spider-Man, Isola, and White Knight in that position. And Deathstroke makes it into the top 10 with their Batman vs. Deathstroke episode of Jerry Springer.
Batman #44
Amazing Spider-Man #798
Batman White Knight #7
Justice League #42
Avengers #687
Deathstroke #30
Superman #44
Marvel 2-In-One #5
Walking Dead #178
Star Wars #45
Thanks to the following retailers…
…who had this to say:
—–
This was a solid week of sales with no big surprises. Batman sold really well as always taking our first place almost doubling our second best selling title, which is Amazing Spider-Man. ASM has had a bit of an upswing lately with this Red Goblin story, but I know at least some of the copies I'm selling are being thrown on eBay or bought by speculators.
Deathstroke has seen a good bump this arc as he begins his Damien custody battle with Batman, and in part due to that incredible Mattina cover. Batman White Knight is ending really strong and I'm going to miss this series after the final issue next month. Sounds like DC is going to let Sean Murphy play with his version of the Batman universe some more, which is great news for fans and retailers.
Marvel continues to grow and gain ground with 4 of my top 10 and 10 of my top 20, although Star Wars is barely making our top 20 at this point and it's trickling off a bit. Marvel Two In One has sold stronger than expected and it's one of the few Marvel books we had to order reprints on. Curse Of Brimstone #1 did just okay like most of the other DC New Age Of Heroes. Superman sold out for the first time in ages for no good reason. Maybe we just cut it a little closer to actual sales than we'd like. We try not to sell out of any major titles, just get them close to sell out to catch people weeks and even months later to finally sell out then. We already reordered a few more Superman for next week and bumped the next issue up.
Sadly, there were only two Image and no other Indy books in my top 20 this week including Walking Dead in fifth place, and a solid debut for Isola 1 at spot 11. Spawn just missed our top 20 with a minor bump so far from the Mattina covers for this issue.
—–
Venomized #1 did alright at spot 6 but sold a few less than the Venomverse or even Edge Of Venomverse had in their first few days by this point. I know Donny Cates and Ryan Stegman relaunching Venom will have an strong impact, but it may be time to stop with all the excessive Venom weekly events. Avengers No Surrender is holding steady but there's little buzz for Fresh Start and I'm certainly not ordering 350% of my current Avengers numbers on that first Issue. I was glad to hear that retailers felt energized by C.B. Cebulski's enthusiasm this weekend, but 27 covers on Iron Man #1 still seems incredibly excessive and unnecessary. We're done chasing the out of control variants at our shop.
—–
The buzz around the new ASM, and Batman issues have driven sales in our area making this a strong week for comics.
—–
Not a great week for sales. There don't seem to be any anymore. Things are bad. ASM beats White Knight handily for second place. White Knight just barely ekes out third place from the Walking Dead. Slight uptick for Star Wars which outsold Superman this week. And good old Astro City still makes our list at #10.
—–
The first issue in Brenden Fletcher and Karl Kerschl's gorgeous new fantasy series Isola was our bestseller this week. It wasn't the only Image title that did well (Saga #50 made a repeat appearance), and it also wasn't the only Brenden Fletcher series in our top 10. Motor Crush #11, the last in the second arc, showed up around the middle of our list, too! Batman #44 was our runner up, mostly because of the Selina Wedding Dress cover, which outsold Bruce in a tux by a mile.
—–
The best sellers list this week is very much a "usual suspects" situation, but there are still some points of note. BATMAN #44 -kicking off the arc for the Big Wedding- blew away pretty much everything else on the stands, with demand for the Selina Kyle cover vastly outstripping the Bruce Wayne cover. The heat on AMAZING SPIDER-MAN is still chugging along, with issue #798 finally fully revealing the Red Goblin. BATMAN WHITE KNIGHT maintains its popularity with it's penultimate issue this week.
Further down the list we have standbys like SUPERMAN and AVENGERS, while personal favorite ALL-NEW WOLVERINE begins it's final story arc. Sad to see that book go, but it looks like it'll be doing so with a bang!
—–
Batman 44 took the top spot and we could have sold more except we sold out. People are getting excited about the upcoming wedding. Amazing Spider-Man sold great. Finally ordered enough that we did not sell out of it already. Batman White Knight #7 surprised me and sold out Thursday. Some people bought both the covers for it this time. Deathstroke for the first time in awhile sold well and sold out. Green Lanterns also joined the sold out in 48 hours club this week.
—–
Now THIS is a close race! Six DC titles in the Top Ten, three Marvels, and one Image, with only a fourteen copy spread between first place and tenth place. In terms of buyers, Amazing Spider-Man #798 took first place–but the pair of Batman #44 covers at a low cover price point motivated lots of buyers for both covers, which boosted Batman to the first-place shot. Likewise, the dual buy-what-you-want-without-jumping-through-hoops covers of Batman: White Knight #7 propelled it to second place, pushing Amazing Spider-Man down to third. Curse of Brimstone, Superman, Deadshot and Justice League rounded out DC's top ten, while Marvel 2-in-One and Venomized filled out Marvel's top ten slots, while Walking Dead held in the top ten for Image. Marvel took seven slots in positions 11-20, Image took one more with the three covers for Spawn, and DC took two, which put Marvel ahead in the top twenty.
—–
Notable sales: Lots of low number Amazing Spider-Man – $800. A surge of interest? Or someone wanting to relive childhood?
Enjoyed this article? Share it!