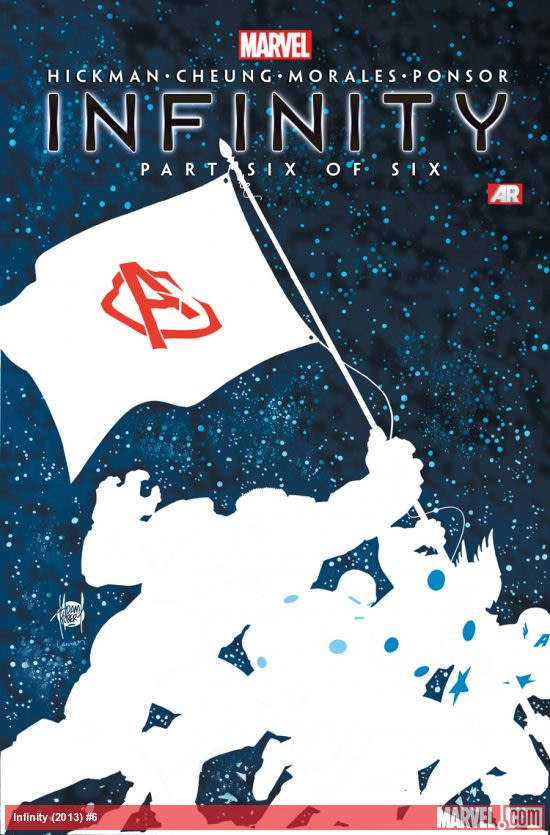 A collation of the top ten charts of a number of disparate stores, measuring sales on Wednesdays and Thursday, measuring the buying patterns of those who can't wait till the weekend to buy their comics. A indication of unstoppable desire…
INFINITY #6

SUPERIOR SPIDER-MAN #22

WALKING DEAD #117

ALL NEW X-MEN #19

SAGA #16

UNCANNY AVENGERS #14

NEW AVENGERS #12

DAMIAN SON OF BATMAN #2

BLACK SCIENCE #1

HAWKEYE #14
Retailer comments:

In what was one of the craziest new comic days of 2013, every publisher delivered in a big way, except for DC. The finale to Infinity brought out Marvel fans like mad. The social media hype around the big events in Uncanny Avengers brought in a bunch too. Image Comics newest, Black Science #1 sold great and we had people coming in specifically for it. Also seemed like everyone who bought Saga gave Black Science a try. Lots of Walking Dead fans flooded in for the new issue and stuck around to chat about the show. All in all a crazy, excellent week in comics!

All the DC Year Zero tie-in books have been selling great. It seems like once they try out one, people have been interested to see what's going on in the rest of them. Also seen a huge jump in Batman & Robin sales over the last few weeks. People who love Snyders Batman run have come in and said they keep seeing him say how good B&R is so they try out the first trade and then end up scooping up tons of back issues.

Marvel takes 6 spots, However Walking Dead Takes the #1 spot.  To no surprise Letter 44 #2 was our 3rd best seller. Dc continues to slide some in the store. We are hoping for December for them to Be back in the top 5 spots.

Thanks for the shout out this morning really help our business so far today.  Over 30 people have come in by just seeing the video and wanting to be part of the sale.

Mad rush of customers on Wednesday thanks to being closed on thanksgiving. Walking dead is still great at drawing in first time comic readers. Superior Spiderman has increased interest thanks to rumors that parker will be coming back. Uncanny avenger had a few more readers but the average fan seemed to think hero "deaths" have been overdone in the last few years. And with human torch, Bucky, Thor, and more having "died" only to return so soon the death card seems over done.

Oddly enough out of the blue crisis on infinite earths issues have been sought out. Magic the gathering comics have also seen new out of the blue interest.

The final issue of Avengers Arena was just edged out of the top 10, as was Aquaman #25

Last two weeks sales have been sluggish. Is everyone playing on their new X-Box One's & PS4's to forget new comics Wednesday? Thanksgiving we were closed, so that's a whole days sales lost.
Bleeding Cool Bestseller List: Has Bane Broken The Back of Infinity?
A collation of the top ten charts of a number if disparate stores, measuring sales on Wednesdays and Thursdays only, those who can't wait till the weekend to buy their comics. An indication of unstoppable desire….
Is this an indication that Infinity is slipping in demand? Not only did Penguin #1 beat it last week, but the crossovers this week don't even make it onto the charts. DC place seven in the top ten with the top four to themselves… the non-Infinitied Guardians Of The Galaxy places, alongside the Battle Of The Atom Wolverine & The X-Men, and the new Saga makes a welcome appearance too.
Batman #23.4 Bane #1

Batman Superman #3.1 Doomsday #1

Detective Comics #23.4 Man Bat #1

Justice League #23.4 Secret Society #1


Guardians of the Galaxy #6

Wolverine And The X-Men #36

Batman: The Dark Knight #23.4 Joker's Daughter #1

Saga #14

JLA #7.4 Black Adam #1


Batman & Robin #23.4 Killer Croc #1
Data provided by the following retailers: