Last month, Dark Horse Comics released The Flaming Carrot Comics Omnibus, collecting select stories from the surrealist comic book icon's four decades of publishing history. We spoke with creator Bob Burden via email interview about the book, learning how he selected which issues appeared in the omnibus, what he's up to next, and just what the Flaming Carrot keeps in his utility belt today.
---
When I hear "omnibus," I usually expect a bunch of issues in nonstop sequential order, but the Flaming Carrot Omnibus is more of a best-of, though still massive at over 400 pages. How did you select which issues to include in this book, and will there be another volume down the road?
When we started out the series in the 80s, everything in comics was "continuity – that is soap opera, with stories just wandering on and on with no endings. But in the early 50s, when comics like Captain Marvel and the Disney books were circulating 3 million copies, the stories were complete in one issue.
It's a lot harder to write a self-contained story. That's why feature film screen writers make more than soap opera writers.
Not doing the issues numerically may seem incomprehensible to many people but Flaming Carrot was never a "continuity" series to begin with.
I always aimed at complete story sequences for FLAMING CARROT COMICS—sequences all self-contained. One issue if possible but however long it took to tell the story, ya know?
I tried to cherry pick the individual, complete-in-one-issue stories for a series of low cover price promotional issues I still may do.
I liked to keep things as concise as possible for the short attention span crowd and avoid "continuity" as much as possible. For me page count should be as long as it is to make the story work.
It's been over ten years since there was a new Flaming Carrot comic. Will he ever return?
It's something I'd like to get back to.
Does the world not need men like the Flaming Carrot anymore?
The world always needs good stories, good characters… Flaming Carrot was done in the 80s and 90s mostly and may be branded as "dated" by some, but so is IT'S A WONDERFUL LIFE or LA DOLCE VITA. If haters try to pin that on me, I just say that it's a period piece, and I know that when I was writing it.
I particularly enjoyed the Flaming Carrot's team-up with Raphael of the Teenage Mutant Ninja Turtles, which is included in the Omnibus. If given the chance, who would the Flaming Carrot team-up with in today's comics landscape?
Strangely, some people were on me as if I "sold out" when I did the TMNT team up. I think the three-issue story held up pretty well.
As for today's landscape, I'd have to think about that. I think my readers could make some suggestions?
A lot of longtime fans are surely anxiously awaiting being able to add this Flaming Carrot Comics Omnibus to their collection. What would you say to potential new fans who didn't get a chance to read any of these back in the day? How do you describe Flaming Carrot Comics to the uninitiated?
For some people, for the kids these days I run into, Flaming Carrot is kind of like Keyser Söze sort of a myth, and some people are not sure he even exists.
To get a quick fix, I would say that Flaming Carrot is considered to be like THE FAR SIDE of comics or THE SEINFELD of comics. A lot of modern-day comic readers have no idea who Flaming Carrot even is. That's why I was planning to put it out as a monthly comic at a low cover price, to get people introduced and interested.
You do have another project on the way, a comic book mini-series called Hitman for the Dead, and to promote it and the Flaming Carrot Omnibus, you wrote a prose novella to sell at conventions. What was writing that novella like, and how have fans reacted to it?
We printed up about 600 or 800 copies for the summer cons and started selling them at San Diego comic con. They sold well. I was selling them with the promise that if the books weren't worth between 100 and 400 dollars by next year that I would buy them back.
I had fun writing the story. It was a comic book script but the whole thing really evolved as a novel. I thought it would take six months to a year to write but knocked it out in about three and a half weeks. The story really blossomed and it was a good thing. I got tired of waiting for the comic to get off the ground so I just did it up as a vintage paperback.
It has been well received but has not blown up yet or gone as viral as I thought it would.
How does it feel to return to making a brand new comic book series after some time off?
I've been writing all along. All these years. Mike got me on board again after all these years but I'm not sure why or what happened. I see Flaming Carrot and Gumby and Mystery Men pretty much pigeonholed me. I was a humorist. I did try to beak that mold with the Mystery Men stories years ago. And now with HITMAN FOR THE DEAD I'm doing something more serious.
When can we expect Hitman for the Dead, the comic, to start coming out?
It's been ready to go for a long time; we just have to come to terms. It's a good series. If you don't believe me go read the novel for free on the website. Seems like everyone that reads it on the internet for free winds up buying a copy.
One last question: what would the Flaming Carrot be likely to carry in his utility belt these days?
Some WMDs and ETFs… and drones the size of mini-wheats? Some gluten and some Vape to use on bad guys. He would give them an ice-bucket-challenge when they weren't looking. He might have some Wiki-leaks in there too. And some digital things.
---
The Flaming Carrot Omnibus is available now.
FLAMING CARROT COMICS OMNIBUS TP VOL 01
MAY190252
(W) Bob Burden (A/CA) Bob Burden
The Eisner Award-winning, surreal superhero series The Flaming Carrot, returns with a new omnibus collection! Check out a comic book series that for many years most people believed to be nothing more than a ridiculous legend or an amusing joke. Doctor recommended. Maximum strength formula. New hope for a nation suffocating in the swill of its own mediocrity. Collects Flaming Carrot #1-2, #4-11, #25-27. Featuring the crossover with the Teenage Mutant Ninja Turtles!
In Shops: Sep 18, 2019
SRP: $24.99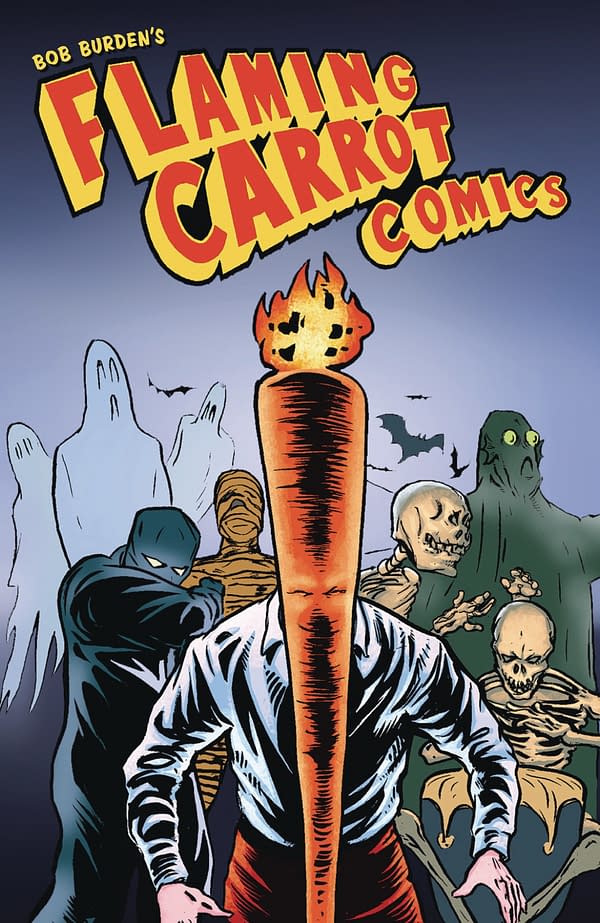 Enjoyed this article? Share it!