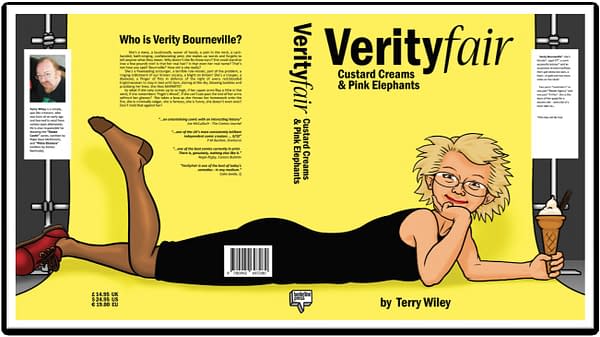 The blog for British comic book publisher Borderline Press reads,
Borderline Press is a publishing company set up to spotlight new and unseen talent from the UK and across the world. If you have an unfinished comics project, a web comic or a project you feel passionate about and want collected in print; then contact Phil Hall atinfo@borderline-press.com and we'll discuss the future!
Well, it appears that Borderline Press will now be an unfinished comics project, at least for a while. Owner, ex-retailer, ex-publisher of the Borderline digital comics magazine and ex=news editor for Comics International, Phil Hall writes,
Because of distributor cock-ups, health issues and a bunch of general problems, Borderline Press is officially on hiatus for the foreseeable future.

On a personal level, I need to take myself away from this for a while – doctor's orders – so there will be nothing scheduled or published before August 2015 when Santa Claus versus the Nazis will come out.

Robotz was cancelled. I found out about it in a circular email from the artist, which kind of sums up everything about this year.

I'm not packing it up; I just some time to sort my life out and Borderline Press just compounds things almost on a daily basis.

Be patient; stick with Borderline Press and don't forget, if you haven't got all our books so far, they are all fantastic.
My favourite was the latest iteration of the Sleaze Castle comic book, Verity Fair, by Terry Wiley who doesn't seem to have the greatest luck with publishers… I do hope he is discussing the future.
Previous posts detail other examples of his woes with one common factor.
The Fanfare distribution deal will hopefully take a huge amount of strain off my shoulders. The simple fact that the remainder of the Seth & Ghost order will be delivered to the warehouse (where the rest of the stock is now kept) and not my living room means that life at home is less fraught. Plus Stephen Robson, at Fanfare, reckons I can now spend most of my time just promoting and do most of the conventions as a visitor, rather than as a dealer.
…
One thing I've learned over the last year has been that websites are not even a recognisable revenue stream. In fact, there might be a plethora of new, independent publishers out there, all doing, ostensibly, what I'm doing, but I'd bet very few of them are actually making money from their independent revenue sources. You do need distributors and as a result you pay through the nose. The irony is Borderline Press and a heap of other, more established independent comic publishers, offer loads of discounts, special offers and treats if you buy stock directly from them, yet people would rather go into a comic shop, pay the full asking price, and possibly get insulted by the holier-than-thou comic shop owner/employee. If it made any sense I'd happily have a go at explaining it for you.
…
Down time continues. It might not have been so quiet if Diamond had remembered to list Fanfare books in February. It's great when an unreliable group of people are pretty much responsible for the success or failure of small businesses. I'm betting someone, somewhere, in their hierachy gets massively priapic a lot of times…
…